The Atlantic Daily: 9 Nostalgic TV Shows to Watch
Writers and editors from around our newsroom share their picks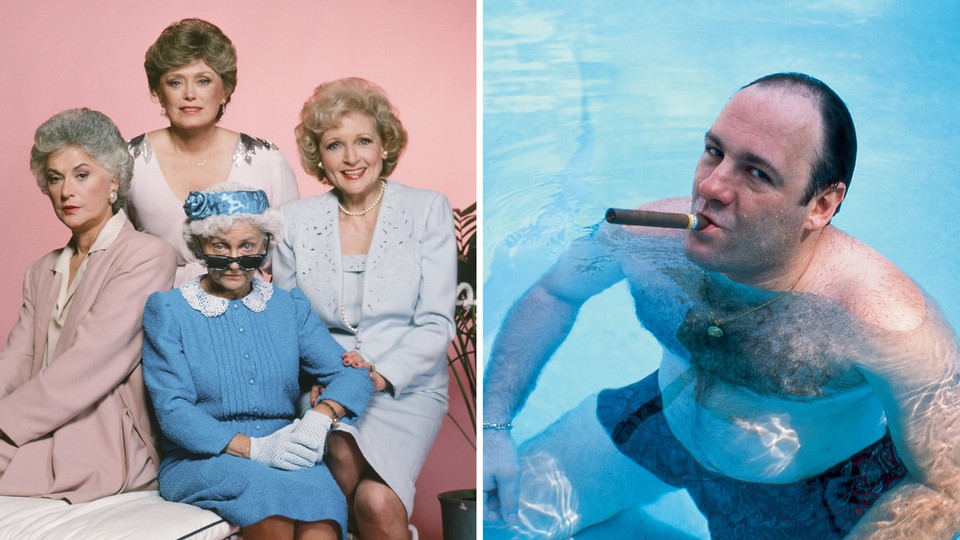 Every weekday evening, our editors guide you through the biggest stories of the day, help you discover new ideas, and surprise you with moments of delight. Subscribe to get this delivered to your inbox.
Updated at 4:39 p.m. ET on November 16, 2020.
A worsening pandemic may leave many Americans stripped of holiday comforts. Although an old TV show is no substitute for a hug from a loved one, perhaps some solace can be found in the familiar faces of beloved characters. I asked writers and editors from around our newsroom to share a nostalgic TV pick.
TWIN PEAKS (NETFLIX)
Twin Peaks, a disorienting mystery about the murder of a beloved high schooler, isn't exactly built for bingeing. But the early-'90s cult phenomenon from David Lynch and Mark Frost remains an enthralling watch. Its masterpiece of a first season takes its time, challenging the viewer by slowly doling out reveals and creating a sense that everything and everyone—even the characters investigating the case—are just a little off. Come for the spooky scares, but stay for the show's endlessly bewitching surreality. It's damn fine.
— Shirley Li, staff writer who covers culture
JEOPARDY (NETFLIX)
The game is newly bittersweet after the death of Alex Trebek. But to watch Jeopardy right now is also to appreciate the gift that the show and its beloved host have given to viewers over the decades: soothing distraction, coupled with an abiding respect for the sanctity of facts. The show's format has changed very little over the years. If you watch an egregiously large number of older episodes, though, as I've been doing lately, you'll witness the smaller evolutions: the scope of the questions. The fashion choices. The styling of the sets. (I've never been quite the same after realizing that, in the '80s, the show's podiums were carpeted.) Q: This is nerdy nostalgia at its most wholesome. A: What is vintage Jeopardy, no question.
— Megan Garber, staff writer who covers culture
MAGNUM, P.I. (CBS ALL ACCESS)
Misremembered as a showcase for lush Hawaiian location shoots and Tom Selleck's legs, Magnum, P.I. was a remarkably experimental project hiding in plain sight on CBS prime time. Sure, some episodes are standard case-of-the-week fare; many others explode the boundaries of the private-eye serial. "I Witness" is Rashomon in an Aloha shirt, "The Case of the Red-Faced Thespian" a rollicking Miss Marple pastiche. Magnum is the best kind of nostalgia viewing: The familiar comforts await you—the Ferrari, the chopper, the seaside estate and its haughty majordomo—but so does a far richer anthology of stories than you likely recall.
— John Swansburg, senior editor
BORGEN (NETFLIX)
I've been getting into Borgen the past few weeks. On the face of it, the show is a Danish version of The West Wing (a political drama centered around a thoughtful, liberal leader). Yet Borgen is, I think, a step darker than its American counterpart, and regularly grapples with the compromises involved with being the prime minister at the head of a coalition government for a mid-tier country. And in its first season, the show keeps returning to a question: What is the point of being in power, beyond the narrow retention of power?
— Prashant Rao, senior editor who oversees the Global section
SISTER, SISTER (NETFLIX)
Remember when surprises could be a good thing? Sister, Sister begins with an extremely unlikely one: two twin sisters, separated at birth and living with different adoptive parents, run into each other at a mall as teenagers. It's the ultimate '90s sitcom: consistent, wholesome laughs brought on by the hijinks of an ensemble that remains lovable well after the show's original run.
— Hannah Giorgis, staff writer covering culture
GOLDEN GIRLS (HALLMARK CHANNEL, HULU)
The show can seem like a time capsule to a vanished world—its color palettes scream the '80s, and its beloved protagonists do forgotten things such as dialing rotary phones and wearing brooches. But there may be no show as timeless and effortlessly "modern" as Golden Girls. Here are four roommates who predate Boomers yet grumble like Millennials and subvert convention like Zoomers. They are endearing, sassy, and sarcastic feminists whose wit can encompass artful allusions to Shakespeare and affirming reclamations of the word tramp. Golden Girls has impossible, ageless charisma.
— Bhumi Tharoor, senior editor, strategy
THE SOPRANOS (HBO)
The Sopranos has a well-deserved reputation as a Peak TV drama, but rewatching it, I realized just how funny the show can be. It has subtle, running gags, like the Mob-backed Museum of Science and Trucking, and the many malapropisms. (My favorite is when Carmine Sr., a New York boss, declares, "There's no stigmata connected with going to a shrink.")* The show's ability to add humor to decidedly grim situations might be just what you need for the bleak winter ahead.
— Caroline Coppel, copy editor
FRASIER (CBS ALL ACCESS, HULU)
There's never been a better time to laugh your way through 30 minutes of zany theatrics from a tightly knit cast of characters—a pod, if you will. The odd-couple relationship between Frasier and his father, Marty, who not only live together but socialize constantly, feels entirely familiar as households spend every waking minute in the same space. And who among us, after cleaning groceries with a Clorox wipe, can't empathize in a new way with the notoriously germaphobic Niles Crane? We're all Niles now.
— Mary Stachyra Lopez, audience editor
THE O.C. (HBO MAX)
The O.C. is a perfect shot of 2000s nostalgia for anyone who grew up watching it. If you've never seen it, then you're in luck, because it's the smartest and most critically underrated teen drama in TV history, unfairly maligned for burning out too quickly. Yes, the show packs perhaps too much plot into its explosive first season and the third is particularly messy. But stick with it all the way to the end, as its soapy antics of life in California's rich suburbs reorient toward goofy self-awareness.
David Sims, staff writer who covers culture and put together this list of feel-good films
---
* This newsletter previously misattributed a quote from The Sopranos. Carmine Sr., not Little Carmine, declared the end of mental-health "stigmata."
Did someone forward you this newsletter? Sign up here.