The Atlantic Daily: The Abortion Question Comes for Amy Coney Barrett
Today, the Supreme Court nominee answered "the question that has defined her nomination"—with a nonanswer.
Every weekday evening, our editors guide you through the biggest stories of the day, help you discover new ideas, and surprise you with moments of delight. Subscribe to get this delivered to your inbox.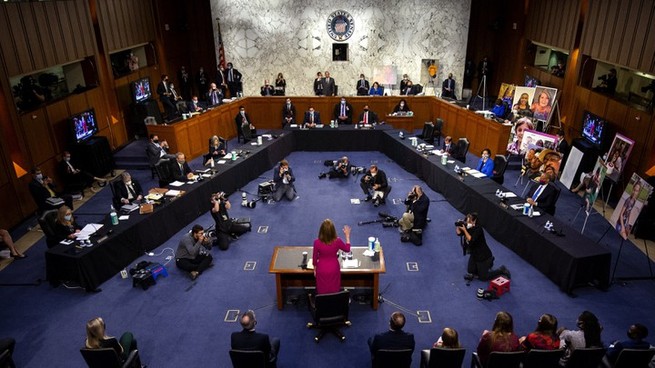 Amy Coney Barrett didn't answer the question. Today, the Supreme Court nominee demurred when asked to weigh in on Roe v. Wade, the 1973 decision establishing women's constitutional right to abortion.
Emma Green, a politics writer who's been covering the proceedings, offers a reality check:
We will not know by the end of Barrett's nomination hearings how she would rule on an abortion-related case. … The only way to know the answer is to wait and see what she does on the bench, after her lifetime appointment is secure.
Here are two things we do know so far about Barrett—and how she's being pitched—as pulled from Emma's recent reporting:
1. Barrett is everything conservatives want in a nominee. The trade-off is that she'll always be tied to President Donald Trump.
2. Republicans are pitching Barrett as a feminist icon. And they're doing so at a moment when the party is struggling to win the votes of American women.
Further reading: Barrett's religious background might make her less predictable than many presume, argues T. M. Luhrmann, an anthropology professor at Stanford University.
One question, answered: Is there a safe way to be home for the holidays?
With winter approaching, our staff writer Joe Pinsker asked the experts. Here's the short version:
While reporting, I had two main questions: Will Americans go home for the holidays? And should they go home for the holidays? One epidemiologist I spoke with told me that he thought the answers to those questions were "yes" and "no," respectively. There's a good deal more to say than that, but that pair of responses should guide how people make plans during a dangerous holiday season.
For detailed advice on holiday safety, read the full piece.
21 days remain until the 2020 presidential election. Here's today's essential read:
"American voters might be surprised to learn that their elections are subject to foreign observation," Yasmeen Serhan reported from London earlier this month. That's a trickier task than normal this cycle.
Today's break from the news:
NASA finally made a toilet for women.
---
Dear Therapist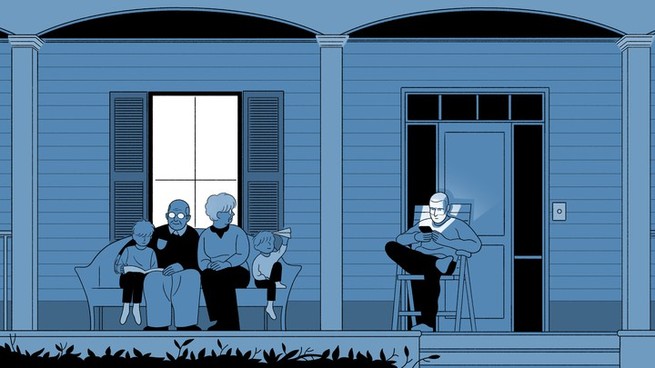 In her latest column, Lori Gottlieb advises a grandparent whose daughter's family doesn't appreciate the help she and her husband are providing:
Any time I want to talk with my daughter about an issue between us, she tells me she doesn't have time and it's not a priority for her. … We're kind of stuck, and we don't want to hurt the grandkids at all. Any advice?
Read the rest, and Lori's response. Every week, she answers questions from readers about their problems, big and small. Write to Lori anytime at dear.therapist@theatlantic.com.
---
Did someone forward you this newsletter? Sign up here. Need help? Contact Customer Care.