The Atlantic Daily: Fires Don't Care About Swing States
The western wildfires reach national political salience. What took so long?
Every weekday evening, our editors guide you through the biggest stories of the day, help you discover new ideas, and surprise you with moments of delight. Subscribe to get this delivered to your inbox.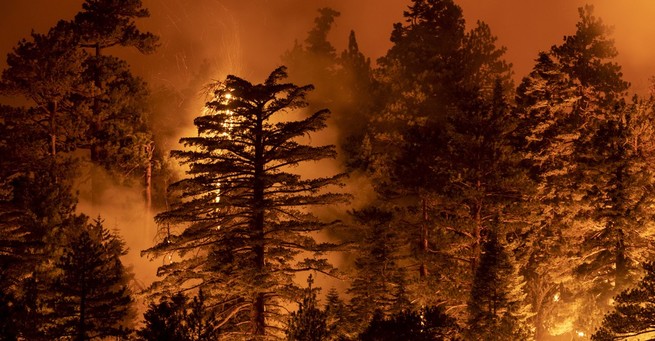 By the time President Trump flew West—and by the time his 2020 opponent, Joe Biden, gave his first speech on the matter—the fires had been burning for weeks. Millions of scorched acres and dozens of smoke-filled days later, the national political conversation had finally caught up.
Why did it take so long? Here are two factors to consider:
Further reading: My colleague Robinson Meyer offers a useful analogy for understanding the intensity of the fires: Imagine boiling a pot of ravioli until all the water evaporates, until the pasta begins to smoke. This phenomenon helps explain why large swaths of the forests have lit up like kindling.
One question, answered: Short of a vaccine, rapid tests are supposed to make the biggest difference in getting life back to normal.
When will they be here? And how big of an impact will they actually make?
"Testing is going to be a big part of any way back to normalcy," Alexis C. Madrigal, who has covered testing extensively, told the hosts of our Social Distance podcast. Here's a snippet of their conversation:
Alexis C. Madrigal: What people are trying to develop right now are faster tests, something on the order of a few minutes. They're inexpensive paper-strip-type tests, more like pregnancy tests. And [they] would decentralize testing radically so you wouldn't have to go to a testing center. You would just be able to buy these things at retail or maybe go to a testing kiosk.

Katherine Wells: Is this, like, you just spit on a paper strip and it turns a color?

Alexis: Yeah, or you swab your nose … It's an easy test. It's a fast test. And it's a cheap test. Instead of costing from $10 to $150, it costs from $2 to $10.
What to read if … you're wondering why everything seems sold out online:
The problems go beyond supply-chain scrambles. "The coronavirus has eaten away at the entire system by which things are bought and sold in America," Amanda Mull reports, "and few signs of improvement are on the horizon."
What to read if … you need a break from the news:
After watching her best friend struggle with miscarriages, Debbie Vibber offered to serve as her surrogate. She ended up getting pregnant—with quadruplets.
"Nineteen years later, the kids are grown up and the friends—and their kids—are still as close as family," Julie Beck reports in "The Friendship Files."
---
Did someone forward you this newsletter? Sign up here.