The Atlantic Daily: The Real Message of the RNC
Our reporters share their thoughts.
Every weekday evening, our editors guide you through the biggest stories of the day, help you discover new ideas, and surprise you with moments of delight. Subscribe to get this delivered to your inbox.
Going into this week's convention, the Republican Party was, our staff writer Annie Lowrey pointed out, remarkably quiet on how they plan to govern.
So how has the party presented itself to the public? What's been the central messaging so far? Our reporters share their thoughts:
It's the Flight 93 convention.
Our polling expert Ronald Brownstein notes its doomsday tone: "The convention's apocalyptic rhetoric and repeated warnings about Democrats have loudly echoed [Michael] Anton's conservative call to arms."
It's a showcase of Trump's impunity.
David A. Graham, a staff writer on our Ideas team, argues that the real message of the RNC is that the president can get away with almost anything.
"There's no new agenda, just Trump," our White House correspondent Peter Nicholas argues.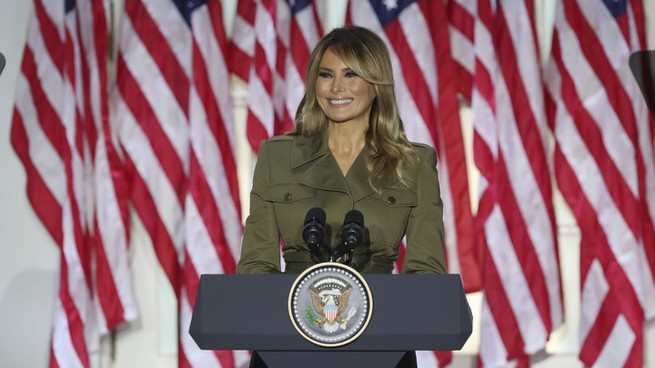 Five big moments of the week, analyzed by our Politics and Ideas teams
1. Melania Trump gave a speech that was "disconnected from reality."
"It mixed sad laments about the partisan and cultural divides that her husband foments and exploits, and that she herself has done little to overcome," David Frum writes.
2. The Republican Party tried to pitch itself to women.
"If last night's unending suffragette talk is any indication, Republicans are extremely nervous that women are not sold on a second Trump term," Emma Green reports.
3. Larry Kudlow tellingly used the past tense to talk about the pandemic.
"If the pandemic were truly in the past, however," Russell Berman writes, "Kudlow would have been delivering that message to a packed, roaring crowd at the Spectrum Center in Charlotte, North Carolina."
4. The McCloskeys offered an unsubtle message to white America.
The couple, who waved guns at Black Lives Matter protesters in June, "didn't talk about race explicitly, but racial fear was clearly the subtext of their segment."
5. Nikki Haley and Tim Scott drew prime speaking slots. But they aren't the GOP's future.
Trumpism is, our politics staff writer Adam Harris argues.
One question, answered: What happens when a hurricane hits during a pandemic?
The arrival of Hurricane Laura has turned what was a distant fear this spring into a reality.
Back in May, Jacqueline Landry reported that emergency managers on the Eastern Seaboard were being forced to reevaluate their hurricane-response plans because of COVID-19. She warned:
The pandemic creates a paradox for emergency managers. COVID-19 means they will need more resources than usual to respond effectively to a natural disaster. But the response to the disease has already consumed many of the resources that would be available.
What to read if … you'd like to better understand this virus:
Here are four key reads from our team:
What to read if … you're following the situation in Wisconsin:
The shooting of Jacob Blake by police sparked new protests, including a strike by the Milwaukee Bucks in the middle of playoff season. The NBA had it coming, Michael Weinreb argues.
Meanwhile, the killings in Kenosha represent a grave turning point in the fight over police violence, Elaine Godfrey reports.
What to read if … you're looking for an evening read:
Newly available documents "offer fresh insights into larger questions of how the Vatican thought about and reacted to the mass murder of Europe's Jews, and into the Vatican's mindset immediately after the war about the Holocaust, the Jewish people, and the Roman Catholic Church's role and prerogatives as an institution." Read the Pulitzer Prize winner David I. Kertzer's report.
---
Did someone forward you this newsletter? Sign up here.