The Atlantic Daily: 9 Podcast Picks From Around Our Newsroom
At a time when in-person social interaction is so limited, podcasts can help bring chatter, and new voices, back into our lives and homes.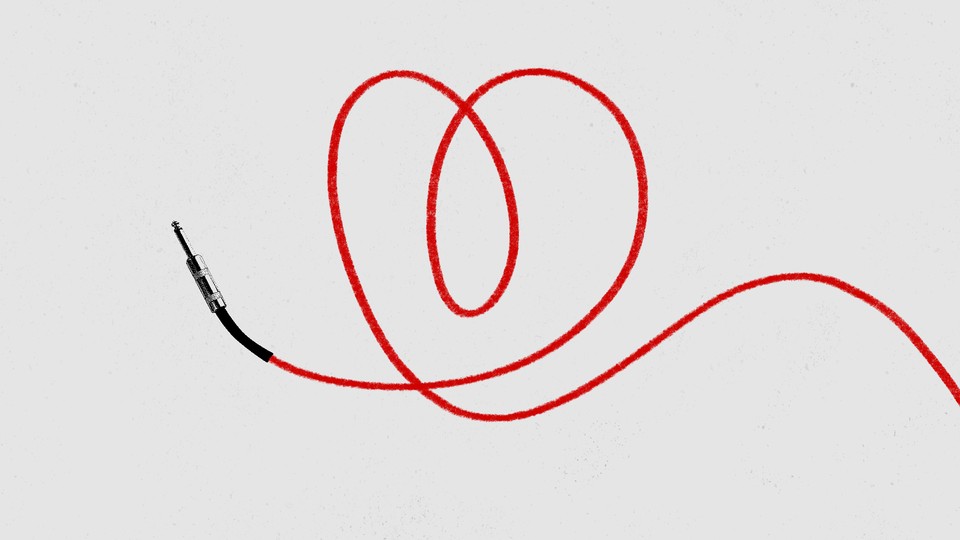 Every weekday evening, our editors guide you through the biggest stories of the day, help you discover new ideas, and surprise you with moments of delight. Subscribe to get this delivered to your inbox.
I asked nine people from around our newsroom, including members of our Atlantic podcasting team, to pick an episode worth streaming in this moment.
Be sure to also check out our Atlantic podcasts:
Floodlines is the story of an unnatural disaster.

Social Distance offers some scientific perspective on this outbreak.   

The Ticket helps you get to know the people and the politicians who make the news.
WTF With Marc Maron, "Ellen Page" (Episode 1148)
Marc Maron, an actor and a comedian, is one of the O.G.'s of podcasting. Since 2009, he has interviewed President Barack Obama, Paul McCartney, and Cate Blanchett, among many others, while also using his platform to document his life—career successes and failures, breakups, sobriety. In May, his girlfriend, Lynn Shelton, a television and film director, died suddenly of acute myeloid leukemia. Since Shelton's death, Maron has grappled with his shock, anger, and pain on air, often breaking down into tears, including during a recent interview with Ellen Page. Maron's grief also transcends his own experience and mirrors a larger, collective grief that has taken hold of the nation in the midst of the pandemic.
— Thomas Gebremedhin, senior editor
The Service, "The Club" (Episode 4)
We typically think of alliances as permanent, and of the current president as ripping those apart, but in fact such partnerships have always been a combination of strategy and convenience. The Service is a fantastic podcast series from Radio New Zealand that uses the story of the country's Security Intelligence Service to delve into New Zealand's place in the world, its role in the Cold War, and how its often-fraught relationship with the United States changed over time. It feels relevant to a moment when all of America's friendships around the world seem to be in flux.
— Prashant Rao, senior editor overseeing our Global section
Song Exploder, "Solange - Cranes in the Sky" (Episode 94)
I love hearing the musicians behind my favorite songs deconstruct their process, but my interest has mostly been in the production. This changed after I found Song Exploder: Listening to Solange's interview with Hrishikesh Hirway turned what was, for me, a sonically interesting track into a devastating-but-comforting song. In a year of both stasis and upheaval, I need a beloved artist to tell me "It's okay not to be okay."
— Shan Wang, senior editor
5-4, "Bush v. Gore" (Episode 1)
Presented by the Slow Burn co-creator Leon Neyfakh, 5-4 is, as its attorney hosts put it, "a show about how much the Supreme Court sucks." Each episode tackles a different SCOTUS ruling, running through the case's history and legacy. It's certainly a chat show, but the case-by-case episodes give it a structure that allows it to be loose. The first episode, Bush v. Gore, is a great place to start. The 2000 case is arguably the modern turning point in the court's politicization, not to mention an instructive moment to revisit as the country heads into another fraught election.
— Kevin Townsend, podcast producer who's worked on Social Distance, The Ticket, and Floodlines
Slow Burn, "The Nazi and the Republicans" (Season 4, Episode 3)
I love Slow Burn, Slate's documentary podcast, for its ability to imbue history with a deep sense of urgency. And although I recommend the show's entire fourth season, which centers on the white supremacist David Duke and the conditions that allowed for his political mainstreaming, I especially recommend a moment in the middle of Episode 3. Anne Levy, who survived the Holocaust as a child and lives with its memories, publicly confronts Duke, who insisted that the Holocaust was a hoax. Retold by Levy, the exchange is stop-you-in-your-tracks gripping and, in the end, cathartic—as Duke, unable to answer for his lies, flees the scene.
— Megan Garber, staff writer covering culture
Invisibilia, "Locked-In Man" (part of Season 1, Episode 1)
The title of this segment, I recognize, makes it sound a little on the nose for the moment. But it's actually the story of Martin Pistorius, a man who spent more than a decade living with locked-in syndrome—unable to move or communicate with the outside world. The segment is a hopeful and empathetic exploration of how to manage being trapped with your most meddlesome and intrusive thoughts. The reporter, Lulu Miller, somehow manages to find a few moments of lightness and comedy in Pistorius's story, which feels extra miraculous right now.
— Alvin Melathe, podcast producer who's worked on Floodlines and Social Distance
This Land, "The Case" (Episode 1)
One of the most consequential Supreme Court decisions this year was McGirt v. Oklahoma, wherein the Court ruled that much of the state of Oklahoma can still be considered part of the Creek Nation's reservation. A year before the decision, which marks one of the most significant victories for indigenous sovereignty in recent years, Crooked Media host Rebecca Nagle delved into the case with This Land. The episode is a wonderful starting place for anyone searching for a deeper understanding of the ongoing dispossession of Indigenous Americans by the descendants of settler governments.
— Vann R. Newkirk II, staff writer and host of the podcast Floodlines
Limetown, "What We Know" (Episode 1)
I'll admit that the first time I heard this podcast I briefly thought it was a true story. The first episode of the series, which is about a fictional place called Limetown where all the residents mysteriously disappear, is so well-produced and haunting that just thinking about it gives me chills. It's a good binge and a total guilty pleasure.
— Julie Bogen, senior associate editor
In 2018, the reporters Brian Palmer and Seth Freed Wessler visited more than 50 Confederate museums, shrines, and monuments to investigate those working to keep the Lost Cause alive. Their conversations with museum executives, docents, and descendants of Confederate veterans shed light on the people who have embedded a false version of history into their institutions, and their identities. After the George Floyd protests and amid a renewed debate over Confederate monuments, it's worth reexamining how racist symbols and stories are preserved, and why.
— Morgan Ome, assistant editor