The Atlantic Daily: Is There a Song of the Summer?
What will be this year's track? Our culture writer weighs in. Then, nine writers and editors from around our newsroom share their picks.
Every weekday evening, our editors guide you through the biggest stories of the day, help you discover new ideas, and surprise you with moments of delight. Subscribe to get this delivered to your inbox.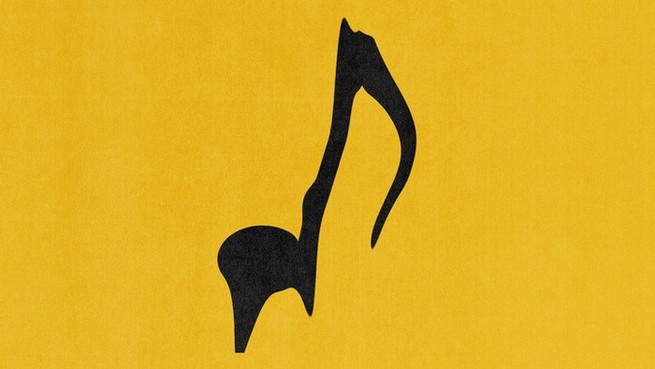 "Can one great bop unite the sweltering, socially distanced masses?" our culture writer Spencer Kornhaber asks. He explains:
The mythology of the song of the summer honors the shared, in-person amusement culture that threads between mall food courts and sidewalk boom boxes. The pandemic's shutdowns have squelched that culture and made the sonic zeitgeist harder than ever to define.
Unfortunately, the answer isn't straightforward, but Spencer analyzes a number of candidates in his new piece—including the three standout summer songs you'll find below. Follow along on Spotify as you read.
"ROCKSTAR," BY DABABY AND FEATURING RODDY RICCH
"Rockstar" … has been the biggest hit in the country for five of the past six weeks. Its success is not that surprising, given that the relentlessly entertaining DaBaby and coolly skilled Roddy Ricch are two of the biggest rap phenoms to emerge in years. But the track's plaintive guitars and melodies are unusually somber for DaBaby—and certainly don't scream vacation.
"WATERMELON SUGAR," BY HARRY STYLES
Harry Styles has arguably mounted the most traditional campaign for song of the summer with "Watermelon Sugar," a now-surging single off his December nostalgia-rock album. With a trembling vocal performance and lyrics comparing a lover to "the end of June," the song is so airy and wistful that it threatens to waft away.
"RAIN ON ME," BY LADY GAGA AND ARIANA GRANDE
Another super-jolting smash … reduces electronic dance music to its chemical essence as two divas cry out about making the best of horrible circumstances.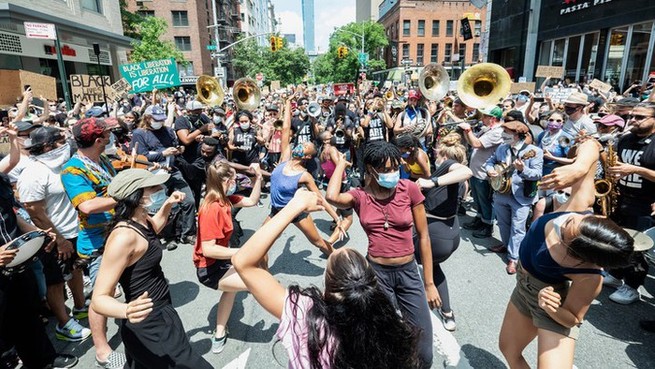 Staff Picks From Our Newsroom
There may be no clear song of the summer, but here's what our staff is listening to. Follow along on Spotify.
"MBANGU TE," BY YA LEVIS
As Spencer notes, I have indeed already been singing along to the songs from Pop Smoke's posthumous album that have been floating through the air (and I've been pleasantly surprised to hear the sultry "Mood Swings" just as much as the 50 Cent–inflected "Got It on Me.") But my personal song of the summer is one whose lyrics largely evade me. Twirling around my room to "Mbangu te," by the Congolese singer Ya Levis, I get so engrossed in the honeyed French vocals and mellifluous strings that I can almost forget I'm not outside dancing with other people.
— Hannah Giorgis, staff writer covering culture
"PEOPLE," BY AGUST D
Listening to "People" by Agust D is like splashing cool water on your face after a rough day. The song, written and produced by the BTS member Min Yoongi for a solo mixtape project, seeks not to erase the difficulties of life, but to face them. The beautiful track, mostly in Korean, ruminates on the cyclical nature of existence and the inevitability of pain—a reality that's become inescapable during the pandemic. "Everyone would live on / Everyone would love / Everyone would fade away / and be forgotten," Min raps, and his words aren't haunting. They're liberating.
— Lenika Cruz, senior associate editor covering culture (and our resident BTS expert)
"ROSE ROUGE," BY JORJA SMITH
With her newest song, Jorja Smith offers us a joyous anthem for tempestuous times. Her cover of the 2000 Saint Germain track opens with shimmering keys and warm, soulful runs—instead of the hushed cymbals and soft crooning that kick off the original (which sampled Marlena Shaw). The refrain "I want you to get together" resounds against the current backdrop of protests against racism and police brutality—this is a jazzy call to action and a celebration of blackness.
— Stephanie Hayes, deputy research chief
"GASLIGHTER," BY THE CHICKS
In a different universe, I'd be tipsily hijacking the aux cord at every barbecue I could to put on the Chicks' indignant divorce bop "Gaslighter." Like any great song of the summer, it offers a catchy melody, sharp message, and singable hook. But most important, it has the beautifully economical couplet "'Cause, boy, you know exactly what you did on my boat / And, boy, that's exactly why you ain't comin' home," which just begs to be scream-sung in a car full of friends or during the waning hours of a party. Alone in my house will have to do.
— Ellen Cushing, special projects editor
"STAY AWAY," BY CARLY RAE JEPSEN
Is it a little on the nose? Yes, but Carly Rae Jepsen's "Stay Away," from Dedicated Side B, is upbeat and impulsive, and allows me to remember human contact with joy instead of fear.
— Julie Bogen, senior associate editor
"LOSE YO JOB," BY JOHNNIQUA CHARLES REMIXED BY IMARKKEYZ AND DJ SUEDE THE REMIX GOD
— Alan Taylor, senior editor overseeing the Photo section
"BE HAPPY," BY DIXIE D'AMELIO
The teens are sad and on TikTok. The debut single from one of the platform's biggest stars (Dixie and her sister, Charli, have 29 and 71 million followers, respectively) doesn't add much to the conversation artistically, but, boy, it sure is catchy.
— Caroline Mimbs Nyce, senior associate editor
"INSIDE OUT," BY SPOON
Following the driving, guitar-heavy first opener on Spoon's 2014 They Want My Soul, "Inside Out" feels off-kilter. It's a spacey tune, with Britt Daniel singing about distortions in time between muddled arpeggios and synth fills. The song is going somewhere—it's still moving—but it takes its time getting there, making this track newly relevant for a summer in which the days tend to blend together.
— Will Gordon, assistant editor
"I WOULDN'T WANT TO SAY," BY MARK LANEGAN
It is most un-summery, more of a leave-me-on-the-bathroom-floor number actually, but Mark Lanegan's "I Wouldn't Want to Say," from his new album, Straight Songs of Sorrow, is my pick. Lanegan—one of the grunge undead, former frontman for Screaming Trees—sings like a fallen angel chewing ruefully on his own burned feathers, and the music he makes these days is a kind of rushing, dopamine-deprived electronic folk. "No one else to curse with this gene / Someone said it's designed for survival …  Swingin' from death, from death to revival." Take this to the beach—and toss your black heart into the ocean.
— James Parker, staff writer
What is your choice for this year's song of the summer? Tell us.