The Atlantic Daily: 11 Books We're Reading This Summer
Writers and editors offer inspiration from their reading lists.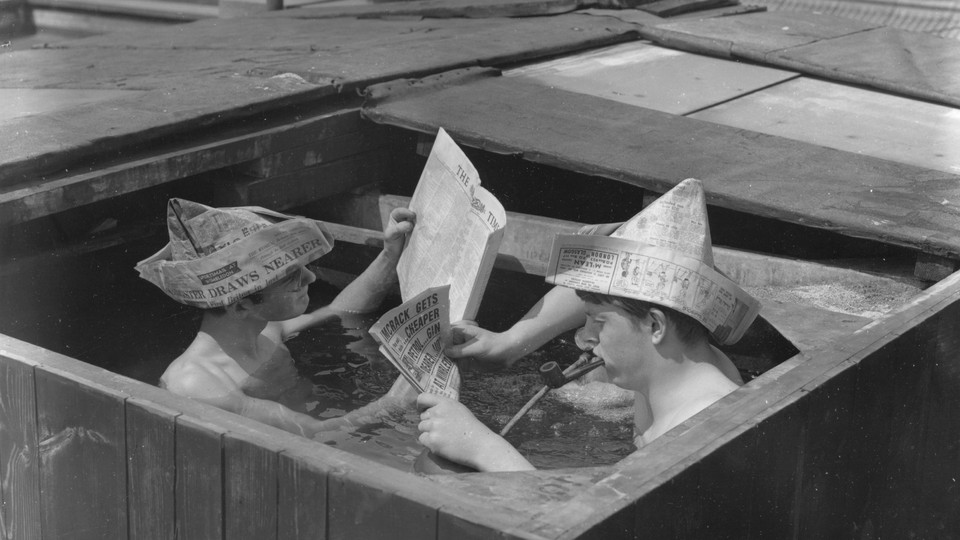 Updated at 3:35 p.m. ET on August 6, 2020.
Every weekday evening, our editors guide you through the biggest stories of the day, help you discover new ideas, and surprise you with moments of delight. Subscribe to get this delivered to your inbox.
Reading can feel hard right now. It's as if the books themselves got heavier and longer, and closed off like clams. If you're struggling to pry one open, let us help: Today, 11 writers and editors from around our newsroom offer inspiration from their own reading lists.
If nothing here jump-starts your motivation, try revisiting our critics' picks for 20 books to read this summer.
Happy reading.
What Our Newsroom Is Reading This Summer
RED, WHITE & ROYAL BLUE, BY CASEY MCQUISTON
The best thing I've read In These Times is a fictional romance between the bisexual son of the first female U.S. president and the prince of England*. Sorry, it's true! Casey McQuiston's novel is a Netflix rom-com on the page, a plot-driven love story that provides comfort, escapism, and literal palace intrigue. With such little room left in my brainspace right now, this is exactly the sort of low-stakes, fun reading I want to fill it with.
— Tori Latham, copy editor
THE ORIGINS OF TOTALITARIANISM, BY HANNAH ARENDT
Arendt's work is urgent and timely. Her book is dense, and often difficult to read, but much of it feels incredibly prescient, discussing what drives anti-Semitism, imperialism, and, of course, totalitarianism. If you don't want to read the entire book, this BBC Radio discussion of her life and work is also fascinating.
— Prashant Rao, London-based editor of our global section
GIRL, WOMAN, OTHER, BY BERNARDINE EVARISTO
There's nothing quite like the gift of becoming so absorbed in the mind of a fictional character, so immersed in their world, that you forget where you are. Girl, Woman, Other, which devotes sections to each of its 12 main characters, gave me this experience over and over again. I wanted to spend all day with this book and then stay up late to keep reading it.
— Amy Weiss-Meyer, deputy managing editor
A BURNING, BY MEGHA MAJUMDAR
I've been loath to read much political fiction lately—the world is plenty chaotic enough. A Burning thrills with each turn, though, and it's taken hold of me. Each character in Majumdar's debut novel feels the ramifications of India's revolutionary fervor differently, but they all crackle with wit and vibrance.
— Hannah Giorgis, staff writer covering culture
FAGGOTS, BY LARRY KRAMER
Larry Kramer's groundbreaking novel about gay life in 1970s New York had been on my bookshelf for years, but it was only after Kramer died in May that I actually cracked it open. I'm grateful I did. Faggots is shaggy and lurid and a little sermonizing, but, as my colleague Spencer Kornhaber noted in his lovely obituary of Kramer, it is also profoundly moral—blistering with rage and brokenheartedness, full of ideas, easy to love even when it is hard to like.
— Ellen Cushing, special projects editor
THE VIEW FROM SOMEWHERE, BY LEWIS RAVEN WALLACE
I've always been fascinated by the idea of objectivity and how those in power are able to dictate what is truth and what is acceptable in journalism. With everything happening right now in the world, reading about how Black, queer, and other marginalized reporters have navigated and challenged this idea throughout history has been particularly illuminating and comforting.
— Nesima Aberra, assistant editor
THE NICKEL BOYS, BY COLSON WHITEHEAD
For some reason, a lot of my quarantine reading has involved twist endings. There's something delicious about an author revealing a secret just about 45 pages after you begin to suspect it, and something annoying about a protagonist who can't figure out what's obvious to readers. The Nickel Boys, a novel loosely based on real abuse in a Florida reform school, is a gift in uncountable ways, and one small part of its mastery is a perfectly executed twist. As a reader, I in no way saw it coming, yet it made perfect sense, and made the whole story richer.
— Rachel Gutman, deputy managing editor
VALLEY OF THE DOLLS, BY JACQUELINE SUSANN
My grandmother, my mother, and I all read this book as teens, and I often reread it in times of stress. This 1960s best seller has all the catharsis of reality TV, but it's a book, so I feel like I'm doing something with my life other than bingeing shows in poor taste.
— Lora Strum, assistant editor
THE THREE-BODY PROBLEM, BY LIU CIXIN
After five years and a barrage of recommendations, I picked up The Three-Body Problem, the popular first novel of a science-fiction trilogy by Liu Cixin (translated by another writer, Ken Liu, whose stories I'd also recommend). The English translation opens with scenes of political violence during the Cultural Revolution. An interstellar thriller follows. I've struggled with finishing books lately, but not this one.
— Shan Wang, senior editor
THE LITTLE OLD LADY WHO BROKE ALL THE RULES, BY CATHARINA INGELMAN-SUNDBERG
Who doesn't love an underdog? A group of pensioners turn to a life of crime rather than put up with the poor conditions of their Stockholm retirement community. While their comical heists make for an entertaining summer read, this novel also makes a pointed statement about society's neglectful treatment of the elderly.
— Mary Stachyra Lopez, audience and engagement editor
THE GLASS HOTEL, BY EMILY ST. JOHN MANDEL
A few years ago, when a devastating pandemic was a much more theoretical proposition, I read this Canadian author's beautiful, lyrical Station Eleven, about the days before (and decades after) a devastating global flu outbreak. I fell in love with it so hard that I forced at least half a dozen friends to read it too. Now her next book is finally here. I'm looking forward to starting it as soon as I've torn myself away from my Terry Pratchett rereading spree.
— Helen Lewis, London-based staff writer
---
Did someone forward you this newsletter? Sign up here.
---
*This newsletter previously misstated the sexual orientation of a character in the book Red, White, & Royal Blue.