The Atlantic Daily: What Our Newsroom Is Watching This Summer
Writers and editors share the works that impressed them the most.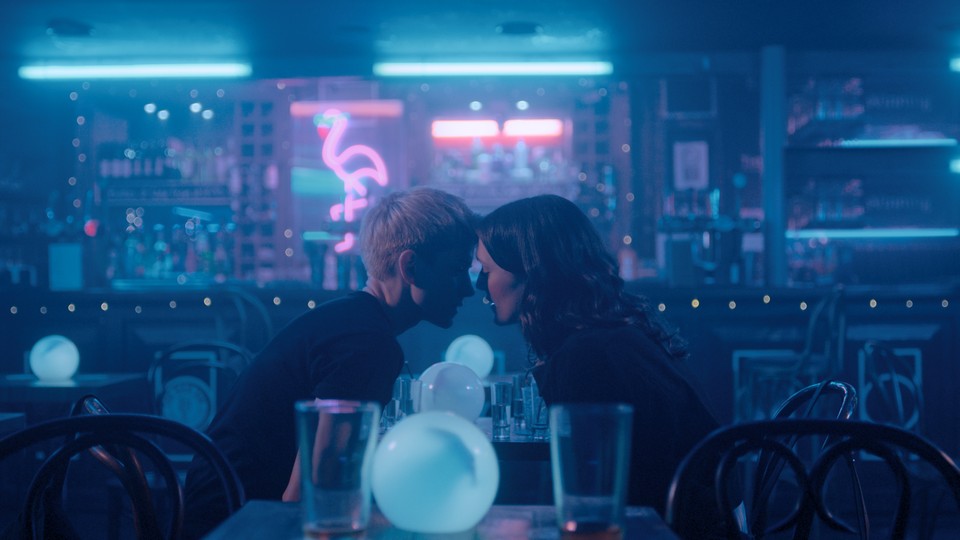 Every weekday evening, our editors guide you through the biggest stories of the day, help you discover new ideas, and surprise you with moments of delight. Subscribe to get this delivered to your inbox.
Heading into another socially distant weekend spent largely in front of the television? Consider one of these: Today, writers and editors from around our newsroom share the works that impressed them the most so far this summer. (Specifically missing summer blockbusters? Try something unexpected from our critic David Sims's latest watchlist.)
If you somehow still have the attention span for a book right now, you win my admiration. Find the literary version of this list here.
TV SHOWS
AGENTS OF SHIELD (ABC)
In its final season, Agents of SHIELD—initially an alien-of-the-week procedural that doubled as a trailer for the Marvel Cinematic Universe—has abandoned all pretense of seriousness. Our Scooby squad's remaining members find themselves bouncing through the 20th century, and the show itself shuffles through decades and genres: a Hollywood noir in the '50s, a buddy-cop dramedy in the '80s. Jumping the shark? No, this is landing on the shark's back and surfing off into the sunset.
— Karen Ostergren, deputy copy chief
RUN (HBO)
HBO's Run, a romantic-comedy-slash-thriller created by Vicky Jones, the director of the stage production of Fleabag, begins with two lovers going on the lam. Their transgression is more social than criminal, though: Ruby, an unhappy wife and mother of two, absconds from the banality of domestic duties with her college ex-boyfriend, Billy. As the leads, Merritt Wever and Domhnall Gleeson crackle with an enthralling, propulsive chemistry that makes the bite-size series feel like a full journey.
— Hannah Giorgis, staff writer covering culture
THE GREAT (Hulu)
— Julie Bogen, senior associate editor
FEEL GOOD (Netflix)
In these times of near-endless reasons to feel bad, why yes, I wanted to Feel Good. This hilarious, semi-autobiographical show starring and written by Mae Martin delivered on its title's promise. It explores the highs and lows of addiction and new (queer) love across six vibrant, well-paced episodes. Pro tip: Martin's set on Comedians of the World (also on Netflix) is a great introduction to the Canadian stand-up's charmingly nervy style.
— Kelsey J. Waite, copy editor
CATASTROPHE (Amazon)
Watching this delightful, cringeworthy British comedy has become one of my few bright spots in these largely monotonous days. The premise: Rob and Sharon have a six-night stand, Sharon gets pregnant, they decide to become a couple, catastrophe ensues. When real life already feels so chaotic, the show is a great escape into someone else's problems, and a good reminder that it's still possible to find humor amid everyday turmoil.
— Tori Latham, copy editor
DERRY GIRLS (Netflix)
Derry Girls is a transcendent comedy of the universal (teen girls wanting to make out) and the specific (the family lives of Catholics in Derry toward the end of the Troubles, the bloody sectarian conflict in Northern Ireland). There is a sight gag involving a blackboard during Season 2. I cried because I was laughing so hard. I wish this experience for everyone.
— Annie Lowrey, staff writer covering economic policy
I've been feeling particularly cooped up this summer and grasping for any kind of adventure. In this reality show, contestants are dropped in a remote location—alone—with only 10 items. Each day is a fight for food and shelter—and against loneliness and exhaustion. With $1 million on the line, participants weigh how much "adventure" they can really take.
— Mara Wilson, assistant editor
THE BABY-SITTERS CLUB (Netflix)
This is the wholesome content we need for a pandemic summer. The very '90s book series about a group of tweens who form a baby-sitting club translates surprisingly well to 2020, landline and all. The Netflix episodes are modernized enough to appeal to new, younger audiences; and, for the Millennials who grew up reading the series, revisiting the idyllic town of Stoneybrook is a welcome alternative to doomscrolling on Twitter.
— Mary Stachyra Lopez, an audience and engagement editor
MOVIES
PALM SPRINGS (Hulu)
This Lonely Island–produced rom-com, which follows a pair of wedding guests who live the same day over and over, has to walk a tonal tightrope between existential and uproarious—and it pulls it off. Time-loop films tend to end with the protagonists learning some big moral life lesson about time being a blessing, but Palm Springs uses the device to observe the way adulthood often involves feeling stuck. The plot may be unintentionally topical, and yet, the story—and the effervescent chemistry between the stars—inspired joy in me as I watched. My colleague David Sims called it the "comedy of the summer"; I'd argue it's the comedy of the year.
— Shirley Li, staff writer covering culture
TRAIN TO BUSAN (Netflix)
When two of Hollywood's top directors recommend a film, you shut up and watch it. A short time after Barry Jenkins (Moonlight) recounted squirming through this zombie thriller with his partner, Lulu Wang (The Farewell), my partner and I found ourselves doing the same. That night, we screamed and gasped and laughed and cried, grateful to this zany, spectacular film for allowing us to feel such a range of emotions, at a time when it's easy to feel mostly numb.
— Caroline Mimbs Nyce, senior associate editor
DA 5 BLOODS (Netflix), LAGAAN (Netflix), and STAR TREK II: THE WRATH OF KHAN (rent online)
As a film critic starved of fresh releases and the theatrical experience, I've been doing the best I can to find new and old favorites over the summer. My favorite recent release was probably Spike Lee's Da 5 Bloods, which I admired for all of its rage, melancholy, and ambition. A classic of my youth that I joyfully rediscovered streaming on Netflix is Ashutosh Gowariker's Lagaan. The 2001 Bollywood epic starring Aamir Khan might be the best sports film ever made, though it's more than just a cricket movie.

Maybe the happiest movie experience of the summer for me was going to a drive-in theater to watch Star Trek II: The Wrath of Khan on a big screen—a sci-fi classic, to be sure, but also the first film I had seen outside of my living room in many months.
—  David Sims, staff writer covering culture
---
Did someone forward you this newsletter? Sign up here.