The Atlantic Daily: South Korea's COVID-19 Exceptionalism
The country just reported zero new domestic coronavirus infections for the third day in a row. What's behind its dramatic success?
Every weekday evening, our editors guide you through the biggest stories of the day, help you discover new ideas, and surprise you with moments of delight. Subscribe to get this delivered to your inbox.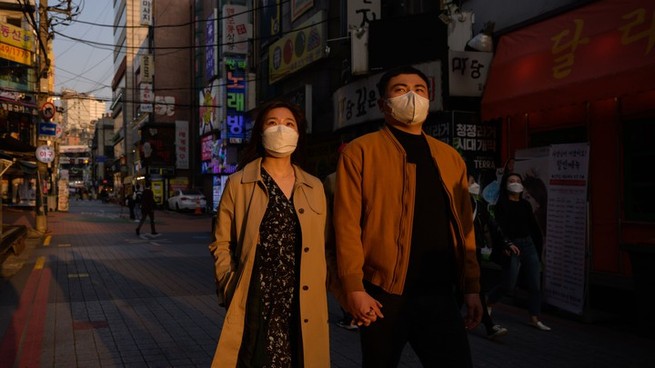 Seven weeks ago, the United States and South Korea had the same number of coronavirus deaths. Now America's toll measures in the tens of thousands, but South Korea's remains under 300. The country's successful flattening of its curve offers a rough sense of what's working—and what post-peak life might look like.
How South Korea did it  
Derek Thompson reports on the country's three-pronged strategy: Test, trace, isolate.
1. Test.
By mid-February—while the U.K. was talking about "herd immunity" and President Donald Trump was predicting that the virus would "miraculously" disappear in weeks—South Korea was churning out thousands of test kits every day. By March 5, South Korea had tested 145,000 people—more than the U.S., the U.K., France, Italy, and Japan combined.
2. Trace.
The national mapping of citizen activity yields fast results. On a Saturday in April, a 58-year-old man was diagnosed with the coronavirus. Surveillance data showed that he had voted in the election and visited several restaurants in previous days. Within 48 hours, South Korea had identified—and, in some cases, interviewed—more than 1,000 people who had potentially come into contact with him.
3. Isolate.
To separate the sick from the healthy—and the somewhat sick from the very sick—South Korea's patients are divided into several groups. The elderly and those with serious illnesses go straight to hospitals. Moderately sick people are sent to isolation dorms, where they're monitored.
A glimpse at post-peak life
Uri Friedman, our global reporter, spoke with people around the world, including South Korea, to better understand what life looks like after the curve flattens. He found that cities were coming back to life, but not the life we once knew.
One of the people he spoke with was Sujin Chun in Seoul. A staff writer who covers global affairs for the South Korean newspaper JoongAng Ilbo, Chun is back in the newsroom. Guards at the entrances check people's temperature, and there's hand sanitizer everywhere.
The city's bars, restaurants, and public transportation are filling up again, Chun reports, but the collective mindset remains one of caution: "We are very well aware that it is not time to relax and [think], Things are normal now; let's party. It's not like that."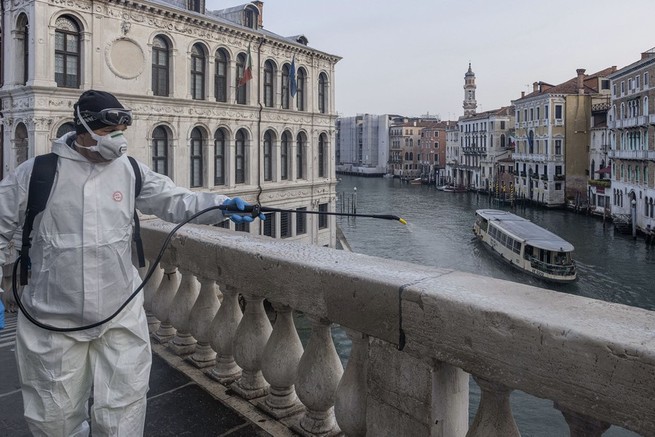 One question, answered: Photos from around the world show biohazard-clad workers spraying down public spaces with disinfectant. (See more photos of this phenomenon.) A reader named Joshua asked: Is that effective? Why aren't we doing that here?
James Hamblin, our health reporter, answered this question on our new Social Distance podcast. Listen to the full episode here, or read his response below.
The speculation is that some of this was hygiene theater to make people feel more safe by showing them this big, strong government response. The only theoretical way that it could possibly matter is if people are walking around seeding the sidewalks with coughs and sneezes, and you walk on it and get a little bit on your shoe, and then walk into your house and then touch your floor. I could see spraying down any [high-contact] surfaces, like walking into the subway and spraying that down every hour. I'm hoping everybody is doing their best to take off shoes every time they come into their home and not touching the bottoms of them and also washing their hands right when they get in. So no, I'm not worried that we should be doing more spraying down. There's a million things we should be doing before that.
What to read if … you'd like to be moved by powerful writing:
My colleague Caitlin Flanagan has written an extraordinary essay about having Stage IV cancer amid a pandemic: "I've come close to dying a few times, and I'm not afraid anymore, just sad. But if I die from the corona­virus, it will be one more un­necessary American death."
Atlantic-approved quarantine activities:
What to read if … you'd like to read about something—anything—other than the coronavirus:
Astronomers discovered a new black hole 1,000 light-years away, closer than any other found to date. "On the scale of the Milky Way, it's in our backyard," one researcher told our space reporter Marina Koren.
As many stay-at-home orders expire and businesses reopen, do you have questions about what's safe to do and what isn't? Send them to us.
---