The Atlantic Daily: What to Watch During Social Distancing
Eight shows and movies to stream right now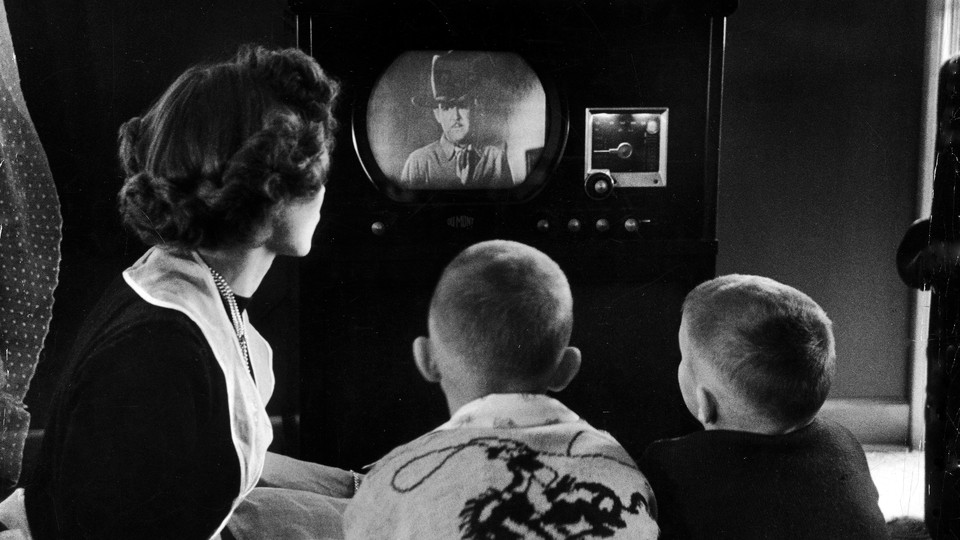 Every weekday evening, our editors guide you through the biggest stories of the day, help you discover new ideas, and surprise you with moments of delight. Subscribe to get this delivered to your inbox.
There's enough uncertainty about pressing matters. Let us take one low-stakes decision off your plate: picking your next binge-watch. Here are eight shows and movies to stream right now, courtesy of our writers and editors. After that, we'll continue your regularly scheduled programming: what to read today about the ongoing pandemic.
What to stream during social distancing
Just because there's a pandemic going on doesn't mean you have to watch movies about pandemics. In fact, maybe it's best you don't: As my colleague Megan Garber argued earlier this week, Outbreak, a standout of the genre, is particularly ill-suited to this moment.
So what to stream instead? Prolonged social distancing might've already sapped your queues, and any relief seems far off—the shutdowns will likely force a lag in new releases at a time when Americans desperately need entertainment.
Our film critic David Sims offers some practical advice for picking out a pick-me-up. Here are just two of his tips (read more here):
Make a project out of it. For example, try watching every movie by a certain director.
There's more than just Netflix. Explore platforms like The Criterion Channel or Mubi.
Our Culture team is also here to help. I asked eight writers and editors to select a show or film worthy of your attention during these fraught times. You'll find their selections below.
None of them are about pandemics.
---
Megan Garber, staff writer

Love Is Blind
Available on: Netflix
When I need a break from my news-bingeing, I turn to Love Is Blind, the Netflix reality show in which singles date (and fall in love! and get engaged!) while isolated in "pods," unseen to each other. LIB is a terrible show on numerous levels—if you haven't already, read Hannah's piece on its contradictions—but it's also, like so many terrible shows tend to be, addictive. And in a time when people are essentially isolated in their own pods, its premise—that some of the most meaningful human interactions transcend the physical—can feel almost profound. Almost.
Mood: Chaotic escapism
Spencer Kornhaber, staff writer

Sunset Boulevard
Available on: Amazon Prime
Dwell not on whether Norma Desmond, the psychopathic shut-in of Billy Wilder's 1950 satirical masterpiece, might represent a cautionary tale about what happens after too long in quarantine. Just savor how rare it is for a bona fide classic to be freely available to stream and cracklingly enjoyable even to viewers with TikTok-addled attention spans. Trump recently praised the film when carping about Parasite's Oscar win, so a night spent in non-xenophobic appreciation for Sunset Boulevard counts as an act of political reclamation too.
Mood: Nostalgic fun
Sophie Gilbert, staff writer

Broadchurch
Available on: Netflix
To slightly paraphrase Benjamin Franklin, three things are certain in life: death, taxes, and the utter superiority of the British crime procedural. I came to Broadchurch embarrassingly late, given how long it's been streamable on Netflix and how devoted its fans are, but found in it everything a TV show should have. Dour, twisty murder mystery? Check. Spectacular scenes of the Jurassic Coast? Yup. Olivia Colman? You got it. There's even an early Phoebe Waller-Bridge appearance in Season 2, not to mention David Tennant slurring whole new syllables into the word "Miller."
Mood: Glum pastoral (with cups of tea)
    
Rosa Inocencio Smith, assistant editor

Bones
Available on: Prime Video and Hulu
For a show about a forensic scientist tasked with solving ever-grislier murders, Bones is strangely comforting. Part of that comes from the tried-and-true procedural format and the goofy workplace comedy mixed in with dark humor and drama. More important, though, is the rock-solid competence of the lead characters (played by Emily Deschanel and David Boreanaz) and the deep empathy of their relationship and their work. Most plotlines come to justice within 45 minutes, but the slow-burning romance is well worth binge-watching—and with 12 seasons to stream, you won't run out of episodes.
Mood: Earnest but skeptical
Shirley Li, staff writer

Pushing Daisies
Available on: CW Seed
This short-lived series from Hannibal creator Bryan Fuller had one spirited premise: Ned (Lee Pace), a gentle pie maker with the ability to revive the dead, brings back his childhood sweetheart, Chuck (Anna Friel), whom—given that a second contact with Ned sends the reanimated person to a permanent death—he can never touch again. The quirky superhero story–slash–fairy tale can sometimes be too saccharine for its own good, but every slice of Pushing Daisies offers a charming, earnest meditation on life, death, and the cost of sacrifice. Besides, Ned and Chuck's love story is the definition of social distancing.
Mood: Equal parts zany and melancholy
David Sims, staff writer

The Bridges of Madison County
Available on: HBO
Lately I've been drawn to calmer, quieter genres a world away from the stress of current life—comedies, romances, intimate dramas. Clint Eastwood's The Bridges of Madison County, an adaptation of Robert James Waller's treacly best seller, is something of a forgotten gem. It chronicles a brief affair between a photographer (Eastwood) and an Iowan housewife (Meryl Streep) and demonstrates Eastwood's best qualities as a director: stark and simple visuals, clear and focused storytelling, and leaving plenty of room for great acting. It was exactly the kind of onscreen energy I've been craving.
Mood: Wistful and serene
Hannah Giorgis

Sex and the City
Available on: HBO
Carrie Bradshaw doesn't need me to advocate for her. The capricious, fiscally irresponsible Sex and the City protagonist has been a fixture of TV lore and New York City cultural propaganda for decades now. And yet! Revisiting the series again now, this time with my roommate who's never watched it all consecutively, I've been immensely amused not just by Samantha Jones's hijinks or Miranda Hobbes's snark—I am also beside myself at the thought of how abysmally Carrie would manage in quarantine.
Mood: Implausible whimsy
Lenika Cruz

Itaewon Class
Available on: Netflix
I'm watching a Korean drama on Netflix called Itaewon Class, and it's exactly the sort of entertainment I need right now: a slick blend of drama and humor, tightly plotted, unpredictable, well acted, easily available, addictive, and non-dystopian (I'm already reading Severance, so I have the pandemic-content bases covered). Without giving too much away, it's about a group of young people running a bar in the Itaewon neighborhood of Seoul, but the show begins 15 years earlier, giving it the feel of a modern epic. (If you've seen Parasite, the actor who played the rich college friend, Park Seo-joon, is the protagonist of Itaewon Class.)
Mood: Dark at times, hilarious at others—but always compelling
Today's outbreak reading guide
What to read if … you're feeling anxious:
Try cooking. When our writer Hannah Giorgis started to feel overwhelmed this past weekend, she found comfort in the tedium of a ritual: stirring—and stirring, and stirring some more—her first-ever batch of risotto. "I needed an activity that demanded my full attention," she writes.
What to read if … you just want practical advice:
What to read if … you'd like to read about something—anything—other than the coronavirus:
A crossword-puzzle writer examines the hidden bigotry of the form. They're largely written and edited by older white men, who decide what makes it in—and what doesn't.
Tip of the day: Post your boring life on Instagram. It's morally obligatory. All the lonely people out there just want to see your face.
One question, answered: Should you take Advil for COVID-19? A viral tweet advising against it is dividing doctors. Our health reporter Olga Khazan takes stock of the ongoing debate in her latest.
We are continuing our coverage of the coronavirus. View all of our stories related to the outbreak here. Let us know if you have specific questions about the virus—or if you have a personal experience you'd like to share with us.
This email was written by Caroline Mimbs Nyce, with help from Isabel Fattal, and edited by Michael Owen. Questions, suggestions, typos? Reply directly to this newsletter or write to caroline@theatlantic.com anytime.