The Atlantic Daily: The Government Needs to Move Faster
Here's what we're thinking about as America awaits a congressional stimulus package.
Every weekday evening, our editors guide you through the biggest stories of the day, help you discover new ideas, and surprise you with moments of delight. Subscribe to get this delivered to your inbox.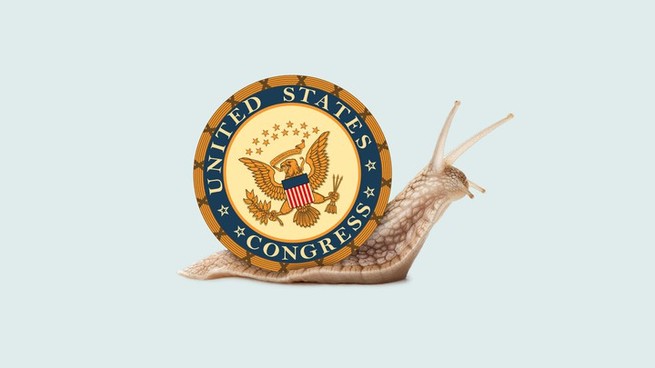 Brace yourself for a string of more bad economic news.
The stock market has lost more than a third of its value. America will likely set a record for joblessness claims this week. Private projections are bleak. On Friday, the investment bank Goldman Sachs estimated a 24 percent drop in economic growth in the second quarter.
As one expert put it, the economy currently sits in a medically necessary coma, a freeze on activity designed to prevent the spread of this deadly virus.
Now the government must ensure the patient can someday wake back up. But a trillion-dollar aid package is currently caught up in a multiday, partisan back-and-forth on Capitol Hill.
As Americans await its passage, here's a recap on where things currently stand on the economic front:
What to read if … you just want practical advice:
One question, answered: A few readers wondered whether they should practice social distancing within their household—by, say, isolating themselves from a spouse.
Albert Ko, the chair of the epidemiology department at the Yale School of Public Health:
That's really hard to do. Again, what we're really worried about is large gatherings. In the home, close contact is almost inevitable.
Crystal Watson, a senior scholar at the Johns Hopkins Center for Health Security:
If you get sick, try to maintain some distance. Otherwise, households should go about their normal business.
What to read if … you'd like to read about something—anything—other than the coronavirus:
We could all use some puppy photos right now. In honor of National Puppy Day, our photo editor Alan Taylor has given you just that.
We are continuing our coverage of the coronavirus. View all of our stories related to the outbreak here. Let us know if you have specific questions about the virus—or if you have a personal experience you'd like to share with us.
This email was written by Caroline Mimbs Nyce, with help from Isabel Fattal, and edited by Shan Wang. Sign yourself up for The Daily here