The Atlantic Daily: 13 Songs to Get You Through Social Distancing
Take a break and tune out with these songs, selected by three of our music critics.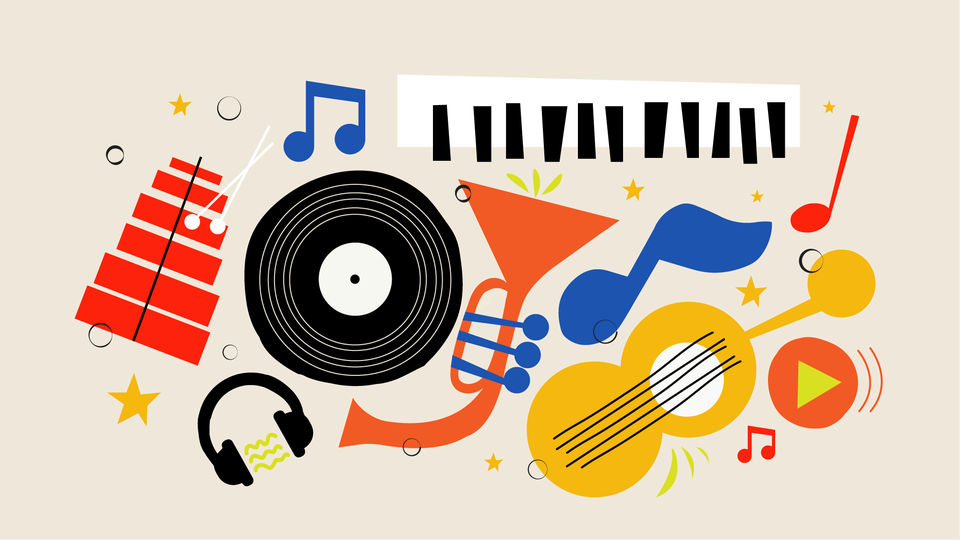 Every weekday evening, our editors guide you through the biggest stories of the day, help you discover new ideas, and surprise you with moments of delight. Subscribe to get this delivered to your inbox.
One of the many dreadful side effects of our collective distancing is quiet, a miserable, seismologically registrable quiet. The white noise of everyday life—the humming of your local bar, the turning of car tires—is lost. In its place is the unpleasant silence of a whole world stuck on pause.
Let's fix that. Today, we offer a playlist, assembled by three of our music critics: Hannah Giorgis, Spencer Kornhaber, and James Parker. They each picked a few tracks, each tuned to one of the very specific moods you might be experiencing during this period of self-quarantine.
A kitschier newsletter might ask you to now turn up your bass and fill the aforementioned void with sound waves from your speaker. But we'll just leave this Spotify link here and let you decide what to do next.
For perking up without wanting to go anywhere:
"Party" by Planet 1999
Pop music's caffeine tastes sour lately—it's too brash, too silly, and too in love with the physical world—so instead I've regulated my energy with gentle, abstracted substitutes. In the video for this happy-slurry dance track, folks in casual wear bop around a digital purgatory, which feels awfully relatable. — SK
For when all you can do is stare out the window like the lead of an indie movie:

"Cut Me" by Moses Sumney
As the days stretch on, so does the space for constant rumination. Thankfully, "Cut Me," the fourth single from Moses Sumney's græ: Part 1, washes over you with all the force and reassurance of a hot shower. Cry if you need to; nothing is more human. — HG
For a boost to the immune system:

"Misfit Love" by Queens of the Stone Age, live in the studio at The Henry Rollins Show, 2007
Look at this band, these dudes: the greasy, druggy, stylish, heavy, humid closeness and consanguinity of it all. Look at them building this sick, sick groove in successive loops of wonder, in layers of inevitability, in a kind of scowling ecstasy, as if they're inventing not just music but the idea of music. Inhale this; get it deep inside your body. This is medicine. — JP
For post-videochat melancholy:
"Where Are You Judy?" by Andy Shauf
The fantastic new album by sleepy-voiced strummer Andy Shauf is about spending a night out at the bars yet remaining stuck inside one's own head. Here he fantasizes about an ex calling him up to reconnect, and it's a weirdly comforting reminder that pre-quarantine freedom had its quiet madness too. — SK
For when you can't concentrate:

"Sex" by the Necks
In this general glut of horrible news, horrible numbers, and pestilential vibes, it can be—let's put it mildly—hard to focus. The Necks are an Australian improvisational trio, and "Sex" is a nearly hour-long voyage into the galaxy that Miles Davis discovered with In a Silent Way. Slow, twinkling, irreversible build; beckoning theta-states. Whatever you're doing when you put this on, you'll start to do it better. — JP
For when only Morrissey will do:

"My Hurling Days Are Done" by Morrissey
Forgive him his trespasses, as he might—actually probably wouldn't—forgive yours. A yodeler on the Alp of himself, calling in his lost sheep, his black sheep, his whipping boys, in that rich and curling tenor, this, ah, complex individual is still in magnificent voice, and still capable of writing superbly, as demonstrated by this cut from his new album, I Am Not a Dog On a Chain. — JP
For a dramatic lip-synch session in the mirror:

"It's All Coming Back to Me Now" by Céline Dion
Sure, this is one of the strangest songs ever written, but just think of it as an ode to the outside world, which you'll see again … someday. — HG
For an important reminder not to text your ex:
"Si Veo a Tu Mamá" by Bad Bunny
Listen, I get it—social distancing has made dating really weird! But that's no excuse to go full "Marvins Room." Instead of Drake, let Bad Bunny be your muse: "Si Veo a Tu Mamá" is a rueful message to a lost lover who's already moved on, but it's also a bouncy introduction to the Puerto Rican phenom's incredibly fun new album, YHLQMDLG. Rather than yearning ad nauseam, Bad Bunny looks forward. Do the same, and dance along. — HG
For your eerie but life-affirming walk around the neighborhood:
"Happy Cycling" by Boards of Canada
How did the ambient musicians of Boards of Canada anticipate this experience 22 years ago? The stores are closed, the gulls are jeering, and yet you pace ahead to thwart leg cramps. Five minutes in, the endorphins assemble, the creepiness lessens, and there's an unidentifiable new feeling that might even be related to hope.  — SK
For your personal happy hour:
"Stay Flo" by Solange
Solange's collage-like 2019 album When I Get Home has never made more sense. It's like she's trying to remember the chaos of the outside world, rhythm first, and ends up conjuring some fresh, bizarre, and ultimately pleasing sense of order. — SK
For breaks from the news:
"What's Going On" by Marvin Gaye
Because obviously. Gaye voiced Vietnam-era outrage, but never has a sigh of "WTF" sounded so consoling or pure. — SK
For when you'd rather be on a different planet:

"Celebration Station" by Lil Uzi Vert
Lil Uzi Vert isn't subject to the same rules as the rest of us. Where we might trudge through life, the 25-year-old Philadelphia rapper glides. That's never been more obvious than on the long-awaited Eternal Atake, his recent chart-topping second studio album. Uzi immediately followed it up with a separate 11-track record, Eternal Atake (Deluxe) – LUV vs. The World 2. It's nearly impossible to pick just one song from the extraterrestrial experience that is the double release, but "Celebration Station" is a roller coaster unto itself. The run from 1:49 to 2:11 will roll through you with so much energy, it'll feel almost like wind blowing through your hair again. — HG
For thinking about when it's all over:
"One Love Jam Down" by Papa Michigan & General Smiley
"The social barriers come down / Together in a one-love jam down." We're told that there likely won't be a V-E Day on this thing, no single joyful scream-of-the-whistle moment where we all rush into one another's arms and orgiastically reverse the months-long damage of social distancing. But we can dream—and the combined bass-synth squelch on this 1980 classic of positive reggae can keep our dreams juicy. — JP
Listen to this on Spotify. What song do you find yourself returning to in this tense moment? Send us your own pick (along with the corresponding quarantine mood), and we may highlight it in a future edition of the newsletter.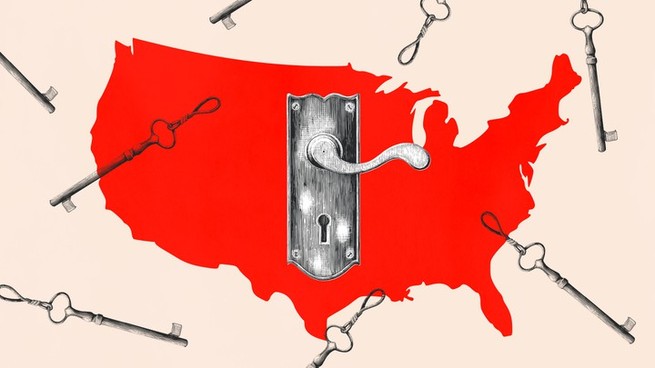 What to read if … you just want practical advice:
One question, answered: Why doesn't the U.S. have a national lockdown?
Other countries—including Western democracies such as Italy, Spain, and France—have responded to the coronavirus crisis by shutting down entire regions or the nation as a whole. America, which currently has the most known COVID-19 cases of any country, has not.
Two health-law experts explain how America's federalist system limits its response options:
Constitutional authority for ordering major public-health interventions, such as mass quarantines and physical distancing, lies primarily with U.S. states and localities via their "police powers."
Today's Atlantic-approved self-quarantine activity:
What to read if … you'd like to read about something—anything—other than the coronavirus:
This email was written by Caroline Mimbs Nyce, with help from Isabel Fattal. Sign yourself up for The Daily here.