The Atlantic Daily: The California Blackout Foreshadows Our Future
The massive power shutdowns are the start of what may become the new normal. Plus, some new movies and shows you might want to watch, reviewed by our critics.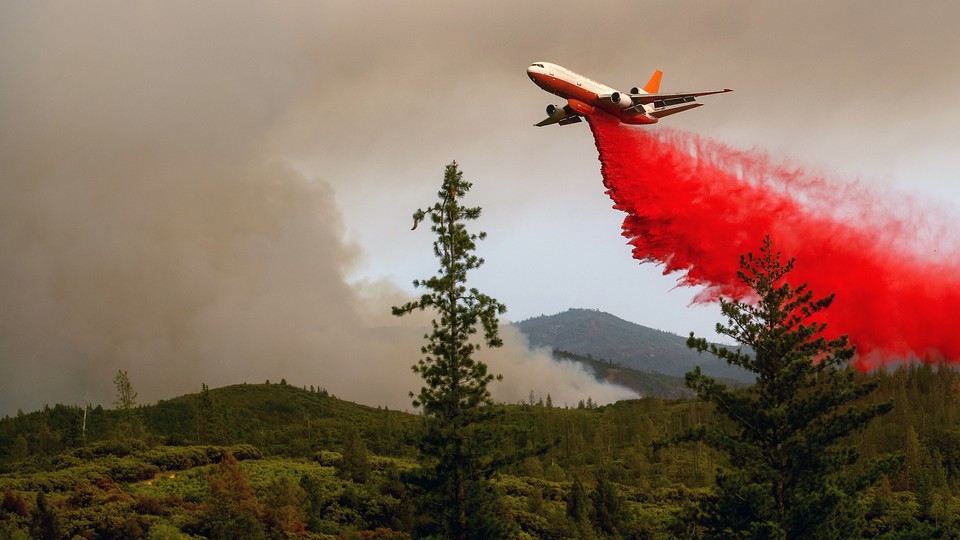 It's Friday, October 11. Today: The California blackouts are an ominous preview of life to come. Plus, here's what to watch this weekend.

Were you forwarded this email? Sign yourself up here. We have many other free email newsletters on a variety of other topics. Browse the full list.
---
This is only the beginning.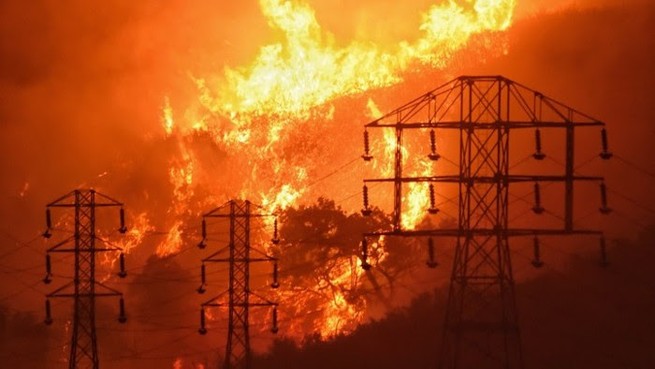 (MIKE ELIASON / AP)
In an effort to prevent wildfires, the California utility company PG&E took preemptive action this week and issued a blackout, cutting power to millions of residents.
Welcome to the future. My colleague Robinson Meyer, who has written extensively about wildfires, calls the move "a preview of mid-21st-century governance."
There are plenty of apocalyptic images of climate change (think: fires, floods). Now add sprawling blackouts to the list. Even if you don't live in the most populous American state, get ready: This relatively mundane kind of frustration, Meyer argues, will become routine in a warmer world, "defin[ing] the mass experience of climate change as much as any deluge or inferno."
---
The problem with power lines—and an expensive solution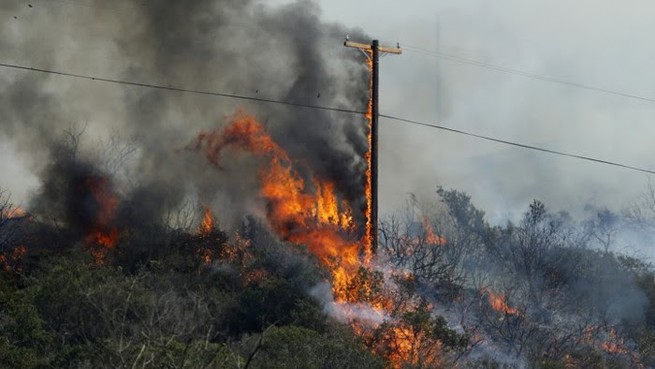 Overhead wires, when mixed with dry brush and whipping winds, can become deadly pieces of infrastructure. Power lines have sparked or accelerated major fires, ones that have taken human lives, in places like California and Tennessee.
A California investigation found them at fault for last year's Camp Fire, the most destructive and deadliest in the state's history—not to mention the most expensive natural disaster in the world in 2018. (PG&E declared bankruptcy in the aftermath.)
Underground wires are a safer alternative, but come at a massive cost, starting at around $1 million per mile, Kendra Atleework reported last year.
Meanwhile, trains offer an interesting historical analogy: Around the turn of the 19th century, locomotives were behind most major fires in America, until increased regulations helped reduce the threat.
Read Atleework's detailed analysis of the power-line problem here.
---
From Our Critics
🎬 Parasite
"A loopily brilliant drama that might be the most thrilling film of the year—as well as the funniest and the most trenchant."
🎬 The King
"The story is nothing more than a royal slog."
🎬 El Camino: A Breaking Bad Movie
"Is it worth continuing a story that already had such a definitive ending?"
📺 Netflix's rap competition, Rhythm + Flow
"Cardi [B] is the show's most reliable entertainment."
📺 A Jussie Smollett episode of Law & Order: SVU
📺 Press
"A fascinating, periodically clunky series about newspapers at war"
---
Buckle up.
(Simoul Alva)
New technological services have eroded hard-won public-safety battles of decades past, from seatbelts to smoking—and we hardly noticed, Ian Bogost writes.
Sixty-five years later, my oldest kids are now about the age my father was when he was hurled from a vehicle, absent a seat belt, to permanent effect. Because of Uber and Lyft, they are far more likely than I was to risk a similar fate.
---
The Atlantic Crossword
1-Down, three letters: Popular Reddit feature, briefly

Try your hand at our daily mini crossword (available on our site here), which gets more challenging through the week.
→ Challenge your friends, or try to beat your own solving time.