The Atlantic Daily: A Mango-Flavored Trolley Problem
A scary new report links vape-device use to a mysterious illness.
It's Friday, September 6. In today's issue: a dangerous mango-flavored trolley problem.

Were you forwarded this email? Sign yourself up here. We have many other free email newsletters on a variety of other topics. Browse the full list.
---
"Safer than cigarettes" doesn't mean safe
(TOSHIRO SHIMADA / GETTY)
Earlier today, the Center of Disease Control and Prevention released a scary new report on 450 cases of a "vaping illness"—sudden, serious cases of a lung illness in otherwise healthy people under the age of 30, linked to vape-device use.
Hundreds have been hospitalized. Several people have now reportedly died.
It's too early to say what is causing this surge of vape-users across the U.S. to get so sick.
Early reports suggest dark-market cannabis products may have played a role here, but that doesn't mean nicotine-vapes are off the hook: The Food and Drug Administration is investigating over 120 reports of seizures and other neurological symptoms from 2010 to 2019. (E-cigarettes can be used with either nicotine or cannabis—the latter of which, of course, remains illegal on the federal level.)
Though vaping is often billed as a safer way for smokers to ingest nicotine, the long-term effects aren't well studied since the technology is so new. Different flavors of "vape juice" could even lead to different health outcomes, Diana Crow reported back in 2017, with some more harmful than others.
Amanda Mull cautions us about what we still don't know when it comes to the health consequences something industry touts as "safer than cigarettes." Read her full analysis of the CDC's latest report here.
The challenge of regulating vaping
Today's announcement is especially worrisome considering vaping's skyrocketing popularity: Teen e-cigarette use jumped 78 percent since 2017, undoing decades of declining tobacco-use rates among teens. Juul, the company that controls around 70 percent of the nicotine-vaping market share, even stood accused of marketing its product in ways that were all too teen-friendly.
Government regulators are left playing catch-up. E-cigarette devices only moved under the FDA's official tobacco regulatory purview in 2016. Now, the agency finds itself attempting a sort of balancing act, trying to curtail youth vape use while also keeping products available for those who already smoke and are seeking a less-harmful alternative to cigarettes—as Mull called it, "a mango-flavored trolley problem."
---
Get Caught Up
The former president of Zimbabwe died today at 95. Robert Mugabe went from hero of the struggle against white-minority rule to deposed oppressor, Steven Gruzd writes, charting the rise and fall of a man who ultimately seemed unequipped for governing.

The recent case of a Palestinian refugee allegedly detained before his freshman year is an extreme example of the immigration labyrinth non-American students face. Overall international-student enrollment has declined in recent years, and the Trump administration's immigration policies have left some colleges scrambling with visa paperwork.

The SoulCycle protests, sparked by its founder's decision to host a Trump fundraiser, seem to have worked. Calls for boycotts like these usually don't make a dent, Jim Hamblin writes, but new data suggests people really, actually, truly quit. What's different this time around?
---
From Our Critics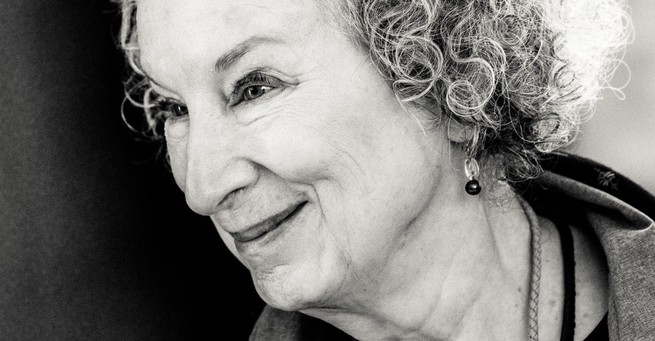 (Rosdiana Ciaravolo / Getty)
Margaret Atwood's sequel to The Handmaid's Tale is scheduled for official release next week. Sophie Gilbert caught up with the writer in Atwood's native Canada:
It isn't that she minds doing interviews—she prefers it now to when she first started doing press, in the 1960s and '70s, when reporters "couldn't quite get their heads around female people writing, and also Canadian people writing," and seemed fairly hostile to the idea of both. And now it's different because—?

She tilted her neck upward regally, fluffing her gray curls so they sprung outward, an imperious, septuagenarian Orphan Annie in the gentle afternoon light. "Because"—her eyes twinkled at me—"I'm venerable."
→ Read the rest. You can also read our coverage of the television series here.
---
The Iowans who still support Steve King, despite his racist comments
(RICH KOELE / SHUTTERSTOCK / THE ATLANTIC)
Elaine Godfrey reports:
One of Representative Steve King's most ardent defenders is a man named Mark Leonard. And Mark Leonard is obsessed with the Civil War.
---
16-Across, nine letters: Dance Moms star turned YouTuber whose "Boomerang" video has more than 700 million views

Try your hand at our daily mini crossword (available on our site here), which gets more challenging through the week.
→ Challenge your friends, or try to beat your own solving time.
---