The Atlantic Daily: How Dogs Make You Fall in Love With Them
And a few other findings about our canine companions. (Yes, this email contains several pictures of dogs.) Plus: What to read and watch this weekend
It's Friday, August 16. In today's issue: Doggos on doggos. Plus: What to read and watch this weekend.

Were you forwarded this email? Sign yourself up here. We have many other free email newsletters on a variety of other topics. Browse the full list.
---
The science of man's best friend
(Getty)
When you look in your dog's eyes, it all might seem so simple: You love him, he loves you, the end. But researchers are still learning new things about our canine companions—how their bodies work, what stories lie in their DNA, and even why they might have a tactical reason to give us such heartwarming looks.
Today's newsletter is one for the dog lovers: Compiled below are some highlights from recent coverage of man's best friend. (More of a cat person? Here's a little something for you.)
Puppy eyes are real.
Hard to say no to a face like that? You may have evolution to thank: Our canine companions have a special pair of muscles above their eyes that allow them to create all those heartfelt gazes we know and love. There's even some evidence that these muscles were developed specifically to help dogs better connect with humans.
Neutering is more controversial than it used to be. 
Research suggests it is linked to harmful outcomes in some breeds. For example, one study "found higher rates of obesity and orthopedic injury in golden retrievers that had been fixed." Today, the American Veterinary Medical Association advises veterinarians that there isn't a "single recommendation that would be appropriate for all dogs." (In other parts of the world, like Norway, the practice is heavily discouraged.)
Grain-free food might not be good for your pooch.
The Food and Drug Administration issued a warning this spring: Grain-free food could cause a life-threatening heart problem in dogs. The style of food has become more popular in recent years and now makes up about half the dog-food market. It is "a cautionary tale about how contemporary American culture approaches health and nutrition—and not just for pet owners," writes Amanda Mull.
Centuries ago, dogs gave rise to a powerful contagious cancer.
This is one heck of a story: "One of the strangest living things on the planet started as a dog, but has turned into something else entirely," reports Ed Yong.
Tempted to get one of those doggie-DNA kits? Here's what you should know.
Canine genetic science is still in its infancy, and vets are still figuring out how to deal with the influx of tests. "A typical vet isn't likely to be familiar with the details of hundreds of mutations," Sarah Zhang reported earlier this year. And the tests themselves aren't regulated. "There's a number of labs doing it, but I'm not totally convinced there's the best quality," one vet told Zhang.
---
Get Caught Up
---
From Our Critics
The second season of HBO's Succession brings new levels of horror and pathos to the Roy family, writes Sophie Gilbert. Things have only gotten grimmer in this show with no heroes.

One Child Nation, which won the Grand Jury Prize at Sundance earlier this year, captures the absurd logic of China's one-child policy, as well as its devastating consequences, writes Brandon Yu.

Where'd You Go, Bernadette trails an enigmatic woman facing a creativity crisis. "The cast is stacked, but the story is messy," writes David Sims.
Read
Edna O'Brien's Girl, a novel set during the reign of Boko Haram, is the book to read "for the sights and sounds and, yes, smells of some Nigerians' harrowing experiences," Terrence Rafferty writes.

What happens when you lose the place you come from? Our Books Briefing this week examines stories of displacement.
Listen
Bon Iver, the one-man folk band turned experimental noise-pop collective, has an impressive new album out. In i,i, Justin Vernon's falsetto is "distinct—more Muppet than man," Spencer Kornhaber writes.
---
Weekend Read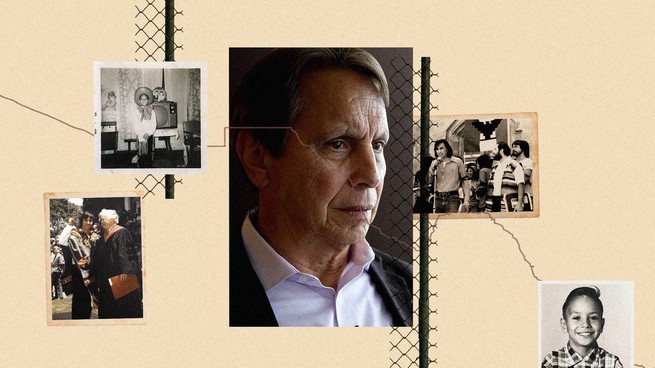 (Robert Spriggs / Nana_Studio / Shutterstock / Katie Martin / The Atlantic)
Juan Sanchez fought for migrant kids. Then he got rich. Jeremy Raff reports:
For decades, civil-rights leaders had lauded him as a champion of social justice who was providing migrant children excellent care. By the time we sat down in November, former allies—including his own employees—had abandoned him, arguing that the moral meaning of his shelter empire had changed as the Trump administration weaponized the country's immigration bureaucracy.
→ Read the rest. Or watch a short documentary about Sanchez here.
---
The Atlantic Crossword