The Atlantic Daily: How Today's Teens Pass Notes During Class
Throwing a crumpled-up piece of paper across the room is so 1998—enter Google Docs. Also, some reading, listening, and watching recommendations for the weekend
It's Friday, July 26. In today's issue: Google Docs for notes; Slack for chores. Plus: recommendations for books, shows, and music from our critics.

Were you forwarded this email? Sign yourself up here. We have many other free email newsletters on a variety of other topics. Browse the full list.
---
Platforms: The Remix
These days—to offer a twist on a familiar refrain from the tech world—humans are also eating software. As productivity tools and social networks become more and more integrated into people's daily lives, users are reworking them for more customized purposes.
Some use cases even the most expansive-thinking product managers in Silicon Valley likely didn't see coming.
Our staff writer Taylor Lorenz has reported deeply on the good, bad, and ugly—and it can be very ugly—faces of technology and internet culture. Today, we're going off the map and presenting you with the weird, from her latest stories:
---
Instagram, but for party invites

Typical use

Social network: It's a platform for sharing photos (especially ones that make you look cooler than you are).
Alternative use
E-invites: "When teenagers are planning a big party, they'll sometimes create a new Instagram account," Lorenz reports, "often with a handle that includes the date of the party, like @Nov17partyy or @SarahsBdayOctober27." The accounts are set to private, but if one follows you (or accepts your follow request), that's how you know you've made the list. Party on, Wayne.
---
Google Docs, but for passing notes
Typical use
Word processor: It's collaborative writing tool (I'm using it to write this draft right now) and a way of sharing documents.
Alternative use
Chatting: Are those high-school students taking lecture notes or gossiping? Google Doc's built-in chat feature has become a popular avenue for students to chatter online during school hours, under the guise of doing classwork. Similarly, Google Docs comments are an ephemeral way of passing notes: When the teacher walks by, a student simply hits Resolve, wiping the messages from the screen. A+ for creativity.
---
Slack, but for keeping in touch with your family
Typical use
Workplace chat: Slack is a digital office space where co-workers can check in with one another, share files, and coordinate projects.
Alternative use
Household chat: Hey Dad, just following up: Did you get my ping? Some families are using the messaging app to communicate with one another and track household issues.
A former app designer named Peder Fjällström, for instance, customized a Slack account for this very purpose, Lorenz and Joe Pinsker report. Any family member could report when the household was, say, low on milk, or flag that the laundry machine wasn't working. Fjällström and his wife even used it to let the kids know when dinner was ready. But a warning to those considering borrowing this for their own households: Fjällström's family's experiment only lasted a few months.
(See also: Asana, a type of project-management software, used to track family projects like a bathroom renovation.)
---
AirDrop, but for pranks
Typical use
File sharing: AirDrop allows users to share files (photos, contacts, and more) from one Apple device to another over Bluetooth and Wi-Fi. (The feature must be turned on, and the devices need to be within a 30-foot radius of each other.)
Alternative use
Meme sharing: Ever get a random, goofy file-transfer request while on the bus? Blame the youths. Teens have honed the art of spontaneously sending funny photos to strangers in public spaces. Using the tool, teens can plop in a meme, a photo of a celebrity, or really anything they find funny, and fire it off to any phones nearby. The target receives a pop-up notification with a preview of the file transfer.
→ For more weird and wild ways teens and adults alike are (mis)using software, check out some of Lorenz's other recent coverage.
---
(Netflix / Chad Griffith / Paul Spella / The Atlantic)

Listen
Watch
Read
Don't be fooled by its beachy setting: Machine, by Susan Steinberg, "is as propulsive as it is disorienting, subverting expectations at every turn." "Summer uplift, this is not," Ann Hulbert warns.
---
How ticks go undetected
I never thought I'd say this, but tick saliva is absolutely fascinating:
Ticks use saliva to manipulate the body of their hosts so their bites stay painless, itchless, and as unobtrusive as a bug swelling with blood can be.
→ Before you head out into the woods for the weekend, read Sarah Zhang's full story here
---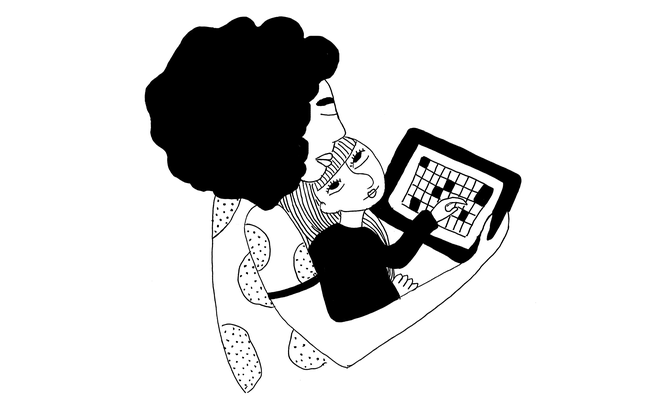 1-Across, 6 letters: Mad Money host
Try your hand at our daily mini crossword (available on our site here), which gets more challenging throughout the week.
→ Challenge your friends, or try to beat your own solving time