A Very Trumpian Fourth of July
A guide to today's festivities: complicating some historical figures, some patriotic reads, an oldie but a goodie, and, yes, a brief word about those tanks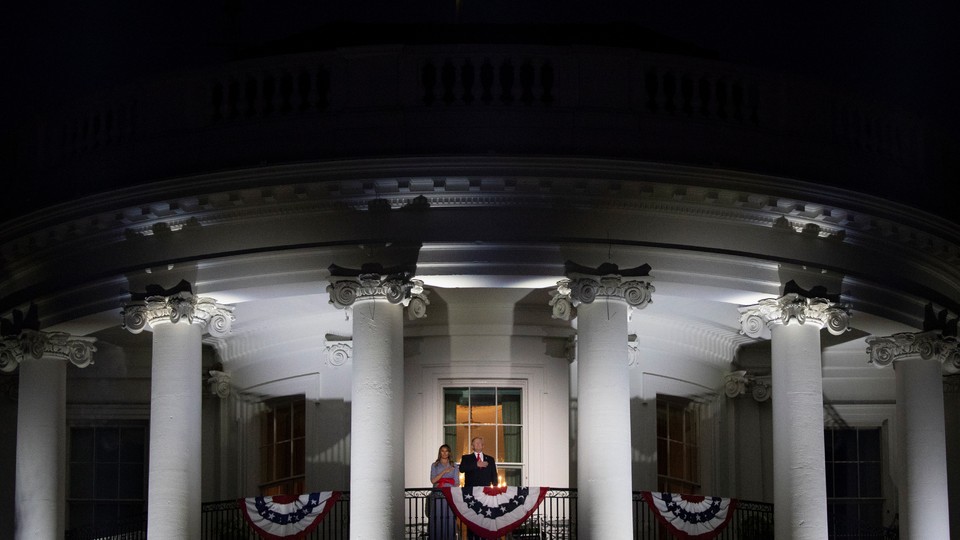 It's Thursday, July 4. 243 years ago today, the American experiment was officially born.
All the President's Tanks

Prepare for a day of flags, fireworks, and, well, tanks—at least in Washington, D.C. In the shadow of overwhelming reports about conditions at the southern border and a bewildering battle over the 2020 census, the capital is celebrating the Fourth of July the way President Donald Trump always wanted: with a military parade. Expect to see:
Tanks that weigh around 60 tons (or "about 41 Toyota Corollas"),

Horses parading down Constitution Avenue,

Flyovers by presidential 747s,

The Navy's Blue Angels squadron performing aerobatics,
And the president himself. Trump will address revelers from the Lincoln Memorial beginning at 6:30 p.m. EST. He is the first president since Harry Truman to give a speech during the festivities on the National Mall.
When Trump teased the idea of a military parade early last year, many decried it. But he "is hardly the first American president—or politician—to be enamored of the military and its equipment," Krishnadev Calamur wrote in 2018. (Somewhat incredibly, President John F. Kennedy's inaugural parade featured a nuclear weapon.) Charlie Dunlap, a former major general, even argued such a parade could help bring America together—and boost the morale of American troops.
But fast forward to today: Not everyone is thrilled about Trump's theatrics. Local leaders in D.C., Peter Nicholas reports, are "question[ing] whether they'll be repaid for cleanup and other expenses." After all, the administration and Congress still owe the city millions for the 2017 inauguration.
Meanwhile, the Trump brand will likely reap financial and political benefits. For starters, the three Trump-adjacent groups—the White House, the Republican National Committee, and the president's re-election campaign—control the event's VIP guest list. And, according to one watchdog organization, room prices at the nearby Trump International Hotel are surging.
Tom Nichols pulls no punches in his critique: "President Trump's plan to turn the Fourth of July into a gigantic ritual of reassurance for his spun-glass ego has now fully matured from a crackpot idea into an expensive, authoritarian, and truly weird hijacking of our most important national holiday."
---
How to Spend Your Fourth

Feeling patriotic?
Kick off your morning with this Civil War-era ode to the American flag by Julia Ward Howe, published in our April 1863 issue.
And here's a little Abraham Lincoln for you, courtesy of Conor Friedersdorf: "Think nothing of me—take no thought for the political fate of any man whomsoever—but come back to the truths that are in the Declaration of Independence."
Feeling a little wary about celebrating?
You aren't alone. America's origin story centers a complicated protagonist: Thomas Jefferson. The Atlantic's October 1996 cover story questioned the sanctification of the Declaration's author, arguing that he "was demonstrably a racist, and a particularly aggressive and vindictive one at that."
Meanwhile, one modern political theorist believes that we don't even properly understand that fundamental document, thanks to a typo. Whoops.
Feeling like you need to see Will Smith battle some space creatures?
That wouldn't be a bad call. The 1996 movie Independence Day, Daniel D. Snyder argued, is "the American id, set to film, featuring aliens."
"It crumples under any intellectual scrutiny, and there is a kind of joy to be found in that," wrote Megan Garber on the 20th anniversary of the film. (But should you encounter a rerun of the movie's 2016 sequel, skip it.)
Feeling Americana'ed out?
Block out the noise with this wonderful long read on the interior lives of animals: "For many scientists, the resonant mystery is no longer which animals are conscious, but which are not."
---
This email was written by Caroline Mimbs Nyce from planet Earth, not Mars, and edited by Shan Wang. Questions, suggestions, typos? Write to caroline@theatlantic.com.