The Atlantic Daily: Seventh in Line to the Throne
We'll never be royals—but Meghan Markle and Prince Harry's new baby? Plus: the incredible life of the 'goddess of good sex,' cancer fakers online, and more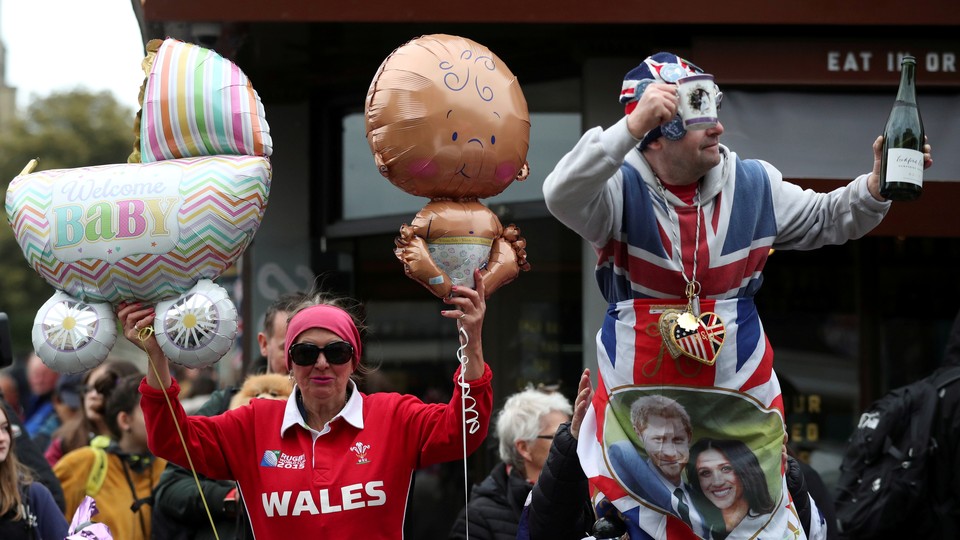 What We're Following
(Hannah Mckay / Reuters)
The new royal baby will be seventh in line for the British throne. Meghan Markle and Prince Harry welcomed their first child today, and while the arrival of any new member of the royal family always spurs months of hubbub and paparazzi, this birth is of special historical significance: It's the first interracial birth in the monarchy's recent history, and the baby could be a dual American and British citizen. With the two-year tumult of Brexit currently on hold, the yet-unnamed baby gives Brits a much needed unifying distraction to discuss.
U.S. warships are heading to the Middle East. It's not exactly clear what's going on: Unspecified threats by Iran against American troops in Iraq led the White House and National Security Adviser John Bolton to quickly cobble together the bellicose response, but the potential for violent escalation beyond all the bluster is very real. Iran has the serious potential to hit back against the U.S.—by closing the Strait of Hormuz, which is an integral part of the oil trade, it could wreak havoc on the global economy, and it's capable of inflicting harm on American troops in Syria, Iraq, and Afghanistan with its broad military presence in the region.
The National Hockey League is facing a reckoning over concussions in the sport. The degenerative brain disease CTE has become linked to the wear and tear of pro football, but it's also a been a problem in the NHL. Last week, the widow of Todd Ewen, a former hockey player who took his own life in 2015 and potentially suffered from the disease, sued the league in relation to his death. The lawsuit might spur more players and their families to push the NHL to fully acknowledge the dangers of hockey—and to do more to guard against injury. Watch our short documentary on Todd Ewen and the NHL's negligence toward head injuries.
---
Snapshot
(Kurt Strumpf / AP)
Born in 1928 as Karola Ruth Siegel to parents who would later perish in the Holocaust, how has Dr. Ruth turned into the world's most famous sex therapist?
---
Evening Read
(Shutterstock)
Marissa Marchand was a single mom diagnosed with terminal cancer, or at least that's what she appeared to be to other members of a private Facebook group for people battling cancer. She posted frequently—and believably at first—until she went silent around December.
Around the time Marchand stopped posting in the Facebook group, she was arrested in Colorado for faking terminal cancer on the crowdfunding platform GoFundMe and accepting donations through multiple accounts. It seemed she had faked her illness to the Facebook group, too. At trial, she pleaded guilty and was sentenced to community service. "The entire group was devastated, angry, and in a state of disbelief," Stephany Angelacos says. "Everyone felt they had come to know her so well. There was a huge sense of betrayal." (Marchand and her lawyer did not respond to requests for comment.)
---
Dear Therapist
(Bianca Bagnarelli)
Every Monday, Lori Gottlieb answers questions from readers about their problems, big and small. This week:
Many years ago, a close friend confided that she had been pregnant at age 16, and that after being with her baby for five days, she was obligated to give him up for adoption. When she told me, she was in her mid-40s and married to a lovely man with whom she had a 7-year-old son. She was clearly still anguished over this secret, which she had never told her husband ...

When her second son was about 14, she suffered a brain injury as a result of a surgical procedure and was left seriously handicapped …

My friend died about 15 years after her injury. Her son is now 38, and a few years ago, his dad and I married. My husband and I have talked about whether or not his son should be told of the existence of another half brother—my husband has two children from a first marriage, with whom this son is very close—and his inclination is to say nothing.
→ Read the rest, and Lori's response. Write to Lori anytime at dear.therapist@theatlantic.com.
---
The Atlantic Crossword
(Araki Koman)
Have you tried your hand at our daily mini crossword (available on our website, here)? Monday is the perfect day to start—the puzzle gets bigger and more difficult throughout the week.
→ Challenge your friends, or try to beat your own solving time
---