The Atlantic Daily: Facebook and Instagram Crack Down on (Some) Extremists
Alex Jones and Louis Farrakhan were among those banned. Plus: The "5GE" on your phone is definitely not 5G, using air conditioning to help combat climate change, and more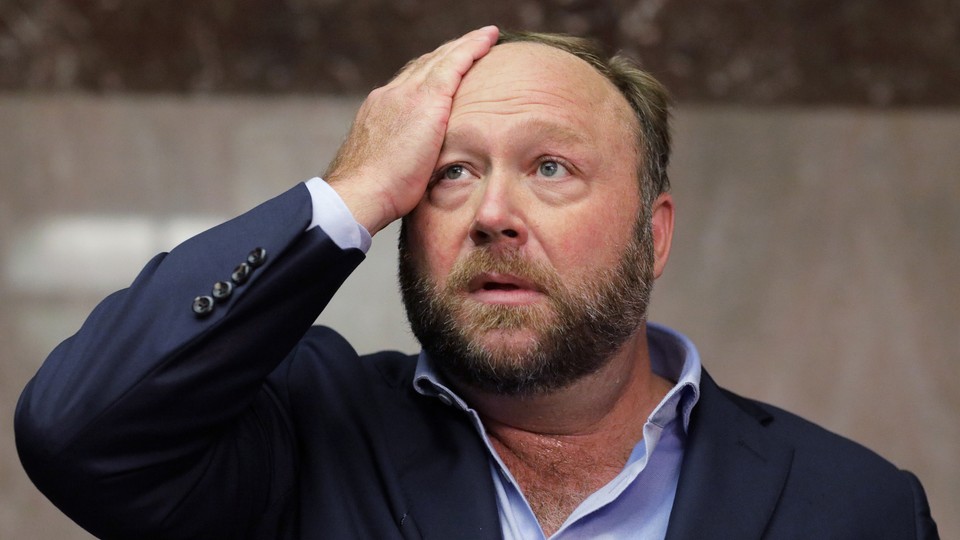 What We're Following
(The Atlantic)
Facebook and Instagram cracked down on extremist figures. Accounts from Alex Jones, Milo Yiannopoulos, and Louis Farrakhan—among several others—were all kicked off both platforms. The move comes as Facebook, which owns Instagram, continues to grapple with its inability to root out extremist views and misinformation, and its complicity in election interference. Instagram might be best known for seemingly flawless influencers, but the platform has become fertile ground for conspiracists who collectively have garnered millions of followers. "Banning these extremist figures is a step toward stricter moderation of extremist views," writes Taylor Lorenz, "but time and again, we've seen that the internet's worst actors always find new ways to exploit platforms."
Some colleges are taking serious steps to stop the spread of measles—imposing wide quarantines. Hundreds of students and employees at UCLA and Cal State LA were ordered into isolation recently, after coming into contact with someone who had contracted the disease. What's it like to be quarantined on a college campus? Duoduo Ying, a UCLA sophomore, was instructed to pack up his belongings and report to a building on campus after being unable to prove that he had been vaccinated as a child. Ying was thankfully able to procure his records before having to spend the night in quarantine—but that still gave him enough time to make a TikTok video shotgunning cans of Sprite. College students will be college students.
---
Snapshot
---
Evening Read
(Arnd Wiegmann / Reuters)
Suddenly seeing 5GE appear in the corner of your phone that indicates cell service? It's not the super-fast, future-of-wireless 5G network technology—that's not really here yet.
Simply put, 5G is the future of using your phone. It's also at the heart of a massive struggle between the biggest phone makers in the world. Building its infrastructure is a geopolitical flash point, with American strategists begging other countries not to use the Chinese company Huawei's equipment …

The major carriers have built test 5G networks in some cities, and a few devices support them. But 5G is supposed to coalesce into a service people actually use late this year at the earliest, and more likely in 2020 or 2021. It uses new frequencies that my iPhone cannot even pick up.
---
Urban Developments
Our partner site CityLab explores the cities of the future and investigates the biggest ideas and issues facing urban dwellers around the world. Gracie McKenzie shares today's top stories:
What if air conditioning could help stop climate change instead of causing it? Using technology currently in development, AC units could get turned into machines that pull carbon dioxide out of the atmosphere and transform it into fuel.

The Place de la Riponne in Lausanne, Switzerland, is a historically significant, dramatically sited grand square. But somehow, the city managed to mess it up. To reimagine the area, officials piloted a radically inclusive public consultation, one that the city's socialist mayor calls "turning a blank page to explore the field of the possible."

L.A. is a sprawling city with nearly half a million single-family lots. Could homeowners' backyards be utilized for tiny affordable-housing units?
Keep up with the most pressing, interesting, and important city stories of the day. Subscribe to the CityLab Daily newsletter.
---