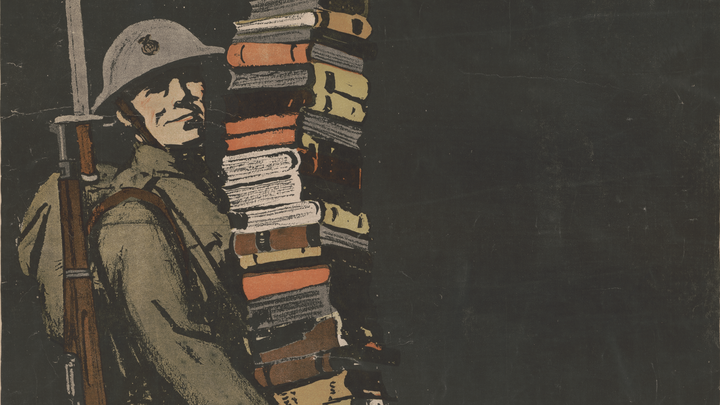 The end of May in the United States is a time for memorializing the impact of war—in particular, the sacrifices made by service members and their families. Yet the ultimate costs of war—to individuals, communities, and countries—are in many ways incalculable, and attempts to honor the military can sometimes seem shallow. The author Ben Fountain critiques such celebrations in his satirical novel about a young soldier's homecoming. The fiction writer Julianne Pachico explores what it means for children to grow up amid a conflict that lasts decades. And the journalist Steve Coll examines the factors that have kept U.S. troops in Afghanistan for almost 18 years.
David Means's dystopian novel about an experimental treatment for trauma questions whether a nation's battle scars can, or should, ever be erased. The Army veteran Christopher Combest charts his own path toward regaining his creative voice after combat. And Herman Wouk, who died on Friday at the age of 103, leaves as his legacy a set of novels that capture World War II with cinematic scope and moral clarity.
Each week in the Books Briefing, we thread together Atlantic stories on books that share similar ideas, and ask you for recommendations of what our list left out.

Check out past issues here. Know other book lovers who might like this guide? Forward them this email.
---
What We're Reading
The tragedy of the American military
"If I were writing such a history [of the current political climate], I would call it Chickenhawk Nation … the story of a country willing to do anything for its military except take it seriously. "
📚 War Dogs, by Rebecca Frankel
📚 Billy Lynn's Long Halftime Walk, by Ben Fountain
📚 A Time to Fight, by Jim Webb
---
How Pakistan has perpetuated the Afghan conflict
"The post-9/11 years have seen the slow dissolution of the shotgun marriage arranged between the U.S. and Pakistan in the quest to rout al-Qaeda."
📚 Directorate S, by Steve Coll
📚 Ghost Wars, by Steve Coll
---
The Lucky Ones is no ordinary coming-of-age novel
"In tackling the challenge of delineating childhood life and brutal war, of untangling the ordinary and the extraordinary, [Julianne] Pachico dares to disorient her readers."
📚 The Lucky Ones, by Julianne Pachico
---
An ambitious, dystopian retelling of the Vietnam War
"A larger implication looms over [the novel within a] novel: The more successful the treatment is in blurring painful memories, the less reason there is for a country still at war ever to withdraw."
📚 Hystopia, by David Means
---
Finding your creative voice again after combat
"When I would sit down to write, like I had done my entire life before deploying, I'd come up with nothing but blank pages … Large, significant pieces of who I was had been killed off somewhere in the desert, missing in action, never to come home."
---
In Memoriam
The great war novelist America forgot
"Readers under 40 know [Herman] Wouk, if they know him at all, as a name on the spine of a paperback shoved into a cottage bookshelf at the end of someone else's summer vacation ... What they don't know is that Herman Wouk has a fair claim to stand among the greatest American war novelists of them all."
---
The Reference Desk
Write to the Books Briefing team at booksbriefing@theatlantic.com or reply directly to this email with any of your writing- or reading-related dilemmas. We might feature one of your questions in a future edition of the Books Briefing and offer a few books or related Atlantic pieces that might help you out.
This week's letter comes from a reader overwhelmed by all the books she wants to read. She asks:
1) How do I limit what I read when everything is advertised so well?
2) How do I avoid the distractions of another good book to finish a great book?
3) Is there a method to reading modern-literature classics and new, hot-off-the-shelves fantastic reads?
These are questions that I, your humble Books Briefing correspondent, am either very well or very poorly qualified to answer. At this precise moment, the left half of my desk here at The Atlantic is host to more than 50 books. The right half of my desk, which is undeniably the tidier half, looks like this:
I turned to our archives in search of advice from more organized readers than me. Juliet Lapidos argues that finishing every book you read is an act of mental fortitude and a skill to be strengthened over time. Pamela Paul has been keeping track of every book she reads for the past 30 years—an exercise that's also become a way of commemorating moments in her life.
My favorite reading methodology, though, might be that of Susan Minot, who sees books not as tasks to be completed, but as "worlds to dip in and out of." It's important, of course, to challenge yourself to be well read—but with all the pages of great literature out there, thinking of books in this way, more as encounters than agenda items, might help relieve some of the pressure. What a miracle it is, after all, that a book is a place you can return to—a place that remains the same even as you grow and change and learn to appreciate it differently. So: Peek in. Explore. Come back again. Give yourself permission to wander.
---
From the Forum
(Nicole Xu)

The Books Briefing is collaborating with The Masthead, The Atlantic's premium membership program, on a books discussion group that—like each Books Briefing issue—is focused on a monthly theme, and is driven by members' reading tastes and recommendations. May's topic is recovery from war. @ekstrom0 writes:

I recently finished Aminatta Forna's novel Happiness, which tackles something we probably have all experienced: the human aftermath of several kinds of wars. She contrasts a war against nature (wolves and foxes) in the war-zone-free Western societies with the experiences of Africans who've emigrated to London, who have actually been through wars. It's like nothing else I've ever read on the subject.

Masthead members can read the whole discussion here, plus more conversations in the Masthead reader forum. If you'd like to become a member, here's how to sign up.
---
This week's newsletter is written by Rosa Inocencio Smith. The book she's reading to relax right now is The Unhoneymooners, by Christina Lauren.
---
Comments, questions, typos? Reply to this email to reach the Books Briefing team.

Did you get this newsletter from a friend? Sign yourself up.
We want to hear what you think about this article. Submit a letter to the editor or write to letters@theatlantic.com.