The Atlantic Daily: Destroyed in the Social-Media Era
Notre Dame burned as hundreds of people filmed, photographed, and shared the images of flames. Plus: Trump before Trump, raising boys right, and more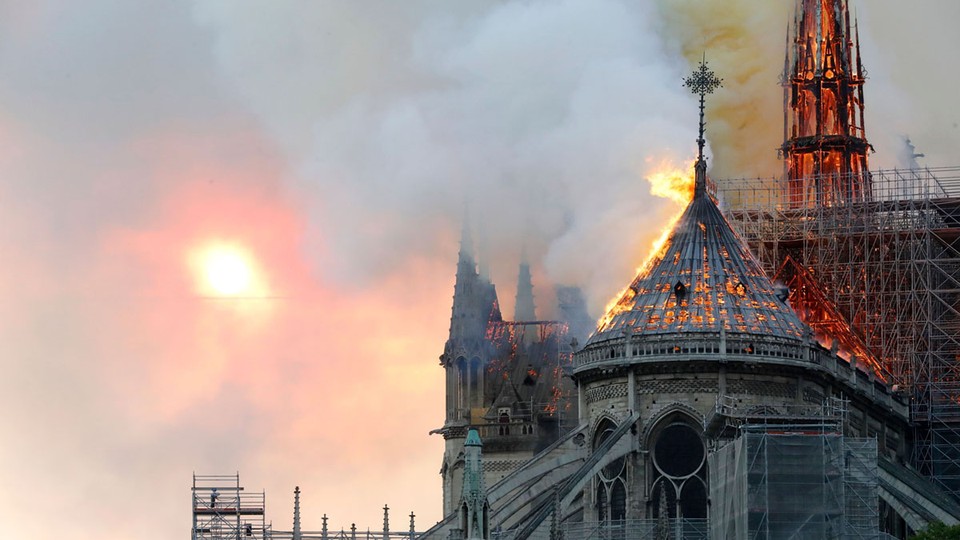 What We're Following
(Philippe Wojazer / Reuters)
A massive fire erupted at Paris's Notre-Dame Cathedral today. The nearly 900-year-old Gothic church, which is a tourist hub in the city and one of the most recognizable sites in Europe, was severely damaged—its spire toppling over and its roof collapsing. The photo editor Alan Taylor compiled these 16 photos of the licks of flame and billows of smoke that enveloped the church. For Parisians, the loss is nearly incomprehensible: For centuries, the church has survived a plague, the French Revolution, and Nazis—only to be felled by a senseless fire. "Built in the Gothic era, destroyed in the social-media era," Rachel Donadio writes.
The unwitting face of the team behind last week's first-ever black-hole image fell victim to the black hole of the internet. A picture of a giddy Katie Bouman, a 29-year-old postdoc fellow at MIT, reveling at the image on her computer screen quickly ricocheted online as an inspiration for women in the male-dominated world of science. But within hours, the image was co-opted by internet trolls who peddled memes and videos across Reddit, Twitter, and YouTube smearing Bouman as a fraud. (Trolls also tried to co-opt the image of Bouman's male colleague, who wanted no part of it.)
Comments by Representative Ilhan Omar of Minnesota ignited a firestorm over whether she minimized the 9/11 terrorist attacks. Omar was making a point about prejudice against Muslim Americans, argues Conor Friedersdorf, and the right-wing outrage machine—egged on by Donald Trump—warped her words to score political points. The core of Omar's argument, Peter Beinart says, is a deeply American one: Religious minorities have as much of a claim to the United States as the rest of the country. But David Frum argues that the Democrats flocking to Omar's defense are playing right into Trump's hands, letting the president turn her into the face of their party.
---
Snapshot
(Jonathan Ernst / Reuters)
After a decade of flailing through an infamous car crash, multiple ailments, major surgeries, and a very public dissection of his infidelities, Tiger Woods won the fifth Masters of his career this Sunday at the Augusta National Golf Club, and his first major title since 2008. The country was eager to indulge in the comeback story of the 43-year-old who once looked to be on track for one of the most accomplished careers in the history of his sport.
---
Evening Reads
(The Atlantic)
Legal scandals overhead. A divided opposition; a loyal base. A TV personality leading a country. He was Trump before Trump, Rachel Donadio writes:
I've seen this movie before, but not about Special Counsel Robert Mueller's report on President Donald Trump's ties to Russia. No, I saw the one that was set in Italy and starred Silvio Berlusconi. Like so many other American remakes, the one with Trump is bigger and louder, and the male lead wears rather ill-fitting suits. But the version I witnessed foreshadowed the current American predicament and offers some insights into what can happen to a democracy when image becomes disconnected from reality.

Before the "bunga bunga" came the "bling bling." In the last two decades of the 20th century, before social media became the vortex it is today and the primary means of channeling emotions, Berlusconi rose to power in an era of television. He was at once Rupert Murdoch and Donald Trump—a real-estate magnate who invested in television stations and then used his political connections to help him expand his broadcast empire.
(Cohen / Ostrow / Getty)
How can boys learn that there's more to manhood than the very small window of what is traditionally considered "masculine"? Julie Beck interviews the psychologist Michael Reichert:
Friendship is a critical influence on what boys are learning about cultural norms and permission to be yourself. Because of the way children are separated by gender beginning in elementary school, boys' first friendships are often with other boys. They learn to practice skills of sharing and intimacy and connection with other boys well before they do it with girls. And we know from research that boys' friendships can be rich and deep and life-sustaining. Boys will say, "Without my friends I think I'd die."
---
The Atlantic Crossword
(Araki Koman)
Have you tried your hand at our daily mini crossword (available on our website, here)? Monday is the perfect day to start—the puzzle gets bigger and more difficult throughout the week.
→ Challenge your friends, or try to beat your own solving time
---