The Atlantic Daily: All Politics Isn't Local
A former French prime minister is running for office in Spain. Plus: a massive political upset in Wisconsin, movies and shows to watch this week, and more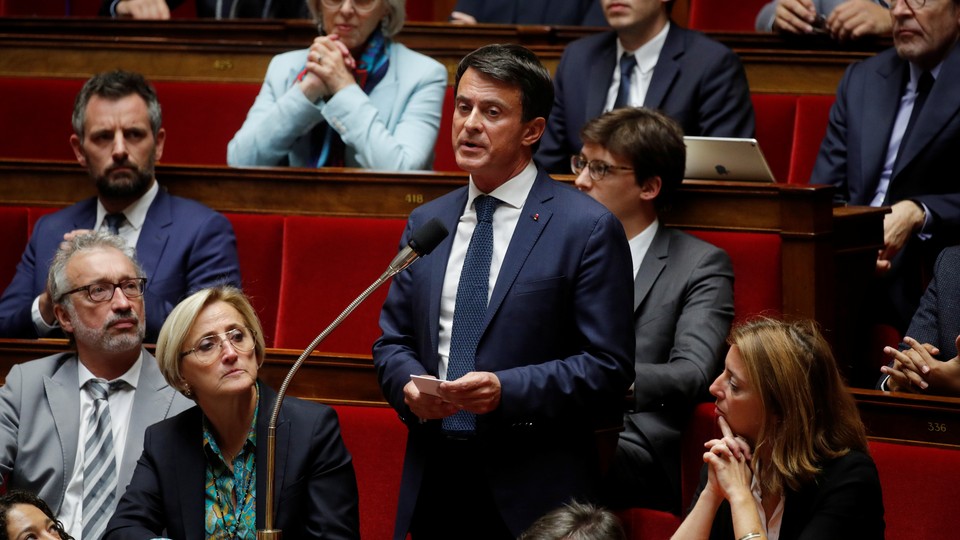 What We're Following
The European project: One mayoral candidate in Barcelona used to be the prime minister … of France. Manuel Valls was born in Barcelona to a Catalan father, but at an early age he moved to France before ascending the ranks in the country's Socialist Party. After stepping down as prime minister in 2016, he decamped to Barcelona. His campaign, like his dual identity, is centered on the ideal of a global, transnational Europe—but in the age of Brexit, that notion seems almost quaint. Valls has so far skirted charges of carpetbaggery. In a crowded field, does the Frenchman really have a shot?
What's the matter with Wisconsin? After Trump surprisingly won the purple state in 2016, it overwhelmingly swung blue in 2018 with the victory of a Democratic governor. This week, that momentum hit another roadblock. In a crucial race for a state supreme-court seat, the conservative Judge Brian Hagedorn narrowly beat the liberal Judge Lisa Neubauer—an upset that gives conservatives control of the court for the foreseeable future. The victory should serve as a warning sign to Democrats, argues Charles J. Sykes.
One more thing: Last month, we asked you to help us vote on a new holiday, one that we could celebrate together. Would Lend a Hand Day win out over Get Back in Touch Day? Would Crafter All Day win out over Deadline Day? We have a winner: Step Away Day! Take a little tech sabbath this month (including from, gulp … TheAtlantic.com), and let us know how you unplugged by writing to us at letters@theatlantic.com.
---
This Week in Numbers
💵 Americans still dragging their feet when it comes to filing their tax returns have good reason to dread doing so: The Internal Revenue Service offers this many different types of forms. (Many other countries approach tax filing differently. In Japan and Great Britain, for instance, people don't actually file.)
☔️ In 2018, happiness among young adults in the U.S. seems to have reached a record low: Only this percent of respondents between the ages of 18 and 34 in the General Social Survey reported being "very happy" in life. That number was lower among young men than women. Researchers interrogate the potential reasons.
🎓 "Legacies" get a bump in the college-application process for being the children of alumni. But what do colleges get in return? They claim that the practice helps with fundraising efforts, but the numbers don't add up: From 1980 to 2010 at Yale, the percentage of freshman students who are legacies halved, yet Yale's endowment grew by roughly this many dollars.
---
Our Critics' Picks
(HBO)
Watch: Richard Wright's Native Son gets the HBO treatment, and the James Baldwin treatment, in Suzan-Lori Parks's new adaptation. In theaters now is another superhero movie, Shazam!—but this one is actually joyful and family friendly. And Our Planet, Netflix's stunning and unsparing answer to the BBC's nature series Planet Earth, is now streaming.
Read: Kurt Vonnegut's Slaughterhouse-Five, at 50, "never gets old, is the point. It never wanes in energy," writes James Parker, who's read and reread the novel countless times. "I appreciate, more than ever, the exultant brokenness of this text."
---
Weekend Read
This is the story of the lifelong friendship between Fernando Baldazo, 51, and Elizabeth O'Conor, 49, who grew up on opposite sides of the U.S.-Mexico border, attending high school together in Texas:
Elizabeth O'Conor: Back then, there really wasn't a border. Some of my friends lived in Nuevo Laredo, like Fernando, and came to the school in Laredo, Texas, and vice versa. Going to Nuevo Laredo for lunch or dinner was no big deal. We would do that all the time, without even really realizing we were crossing a border. In high school, I had friends that lived on that side of the border, so I would go to their houses, go to their parties, and at one of those, somewhere, I met Fernando.

Fernando Baldazo: Yeah, my earliest memories are getting together at different parties. When she was a senior in high school, I was living in Mexico. As soon as I finished high school, I moved back to Nuevo Laredo, but I was working and going to school in the U.S. I was working at an electronics store at the local mall here in Texas. I would make her mixtapes for her graduation or for her parties. I had all these electronics and I loved playing with them, so I would just record a tape for her and her friends.
---
Poem of the Week
Happy National Poetry Month. This Friday, an excerpt from "Truth-Seeker, Half-Naked, At Night, Running Down Beach South of San Francisco" by Robert Penn Warren, from our December 1978 issue:
On the beach, flat I fall by the foam-frayed sea
That now and then brushes an outflung hand, as though
In tentative comfort, yet knowing itself to be
As ignorant as I, and perhaps as feckless, also.
---