The Atlantic Daily: The Most Wanted Man in the World
The ISIS leader Bakr al-Baghdadi makes his first public speech since 2014. Plus: the other Notre-Dame that was never rebuilt, unexplained aerial phenomena, and more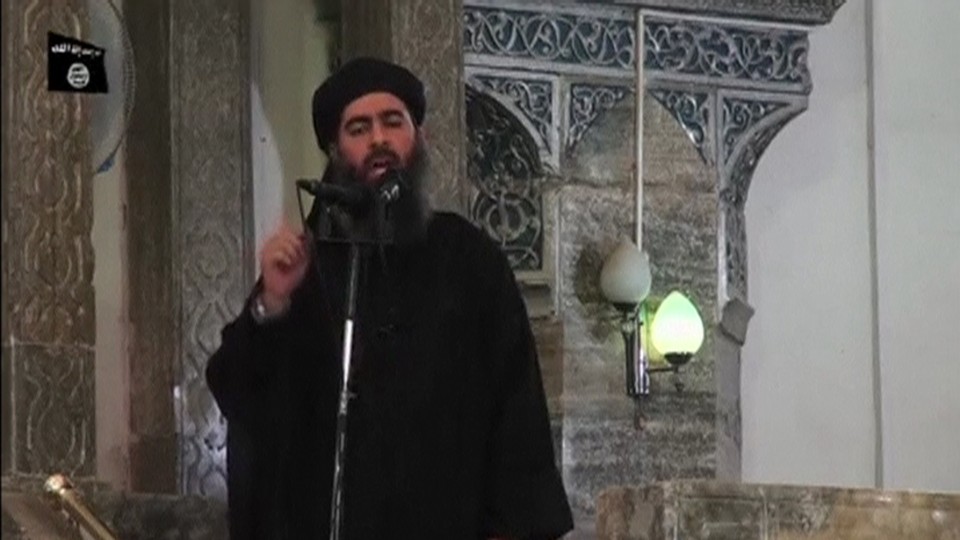 What We're Following
(Giuseppe Cacace / AFP / Getty Images)
For five years, the ISIS leader Abu Bakr al-Baghdadi hadn't been seen publicly. But on Monday the Islamic State released a 12-minute video of Baghdadi in which he sits cross-legged and is flanked by a rifle—an indication that he's neither dead nor disabled. Since 2014, the last time Baghdadi gave a speech, reports have swirled about his demise, most notably the Russian claim that he died in an air strike two years ago. But unlike past Baghdadi speeches when ISIS was presiding over a vast territory, this video mostly forgoes soaring rhetoric. "Now as an insurgent leader again, he has dispensed with the fanciness.
The shows are long, dark, and full of terrors. Avengers: Endgame, the final, three-hour film in the four-part Marvel series that concluded the narrative arc of more than a decade's worth of Marvel Studios movies, broke every box-office record—including the one set by its predecessor, Avengers: Infinity War. (Globally, Endgame made $1.2 billion in a weekend.) That earlier record had seemed like a ceiling—there are literally only so many seats available in each theater. What does this mean for the future of movie-going?
In the sphere of appointment viewing, the HBO juggernaut Game of Thrones gave viewers a dramatic—and dimly lit—battle with a high death count and a "blank, simplistic villain." The episode's plotlines might signal that the magic of the show's earlier seasons is gone for good, as the series wraps up. Our culture staffers discuss.
A fatal shooting at a California synagogue is the latest in a string of anti-Semitic attacks. A 19-year-old killed one worshipper and injured others in Poway, just months after a shooting in a Pittsburgh synagogue killed 11. The California shooter, like the Christchurch mosques shooter and many others before him, reportedly released a manifesto chronicling his white-supremacist ideology. Media outlets would be unwise to republish its contents, argues J. M. Berger, since doing so can inadvertently help abet the shooters' propagandist aims.
+ The sacred spaces, the synagogues, "will do what is necessary to create a sense of safety," wrote Franklin Foer after last fall's attack in Pittsburgh, "which will also invariably inhibit the sense of escaping from the secular world."
---
Snapshot
(Kurt Strumpf / AP)
Call them "unexplained aerial phenomena." Call them "unidentified aircrafts." Call them "suspected incursions." Just don't call them UFOs, if you want to be taken seriously.
---
Evening Read
(Andres Martinez Casares / The Atlantic)
Another majestic Notre-Dame—the Notre-Dame de l'Assomption cathedral of Port-au-Prince—was destroyed during the earthquake that shattered Haiti in January of 2010. It was never rebuilt:
Unlike the French government, the Haitian government has been entirely absent from the discussion about reconstruction of the national cathedral, for many reasons. First, if someone else can be made responsible for the work and financial outlay on a project, then the Haitian government, which is usually poorer than, say, Bill Gates or Jeff Bezos, is going to let the other group do the job—in this case, the Catholic Church. Also, Haiti, infinitely more than France, has extreme and pressing problems that are far more serious than the rebuilding of some old building. Education, basic nutrition, health care, energy infrastructure, infrastructure tout court, sanitation. And, of course, security, as elections approach and gang violence escalates. Not that the Haitian government is doing anything much about those either.
---
Dear Therapist
(Bianca Bagnarelli)
Every Monday, Lori Gottlieb answers questions from readers about their problems, big and small. This week:
I am in a wonderful, loving, and dynamic relationship with my boyfriend of three years. He's an only child of a single mother, and though I know this structure is often rife with challenges, I recognized some uniquely difficult aspects of his mother's personality early on. I'm a therapist, and though I try to avoid armchair diagnoses, I couldn't help but notice her traits of narcissism and histrionic personality disorder.

As you can imagine, we haven't gotten along well. She can read the judgment on my face when I can't handle her self-aggrandizing monologues. All my usual go-to tools when in conflict (reflective listening, nonviolent communication, emphasizing my own shortcomings and vulnerabilities) have fallen on deaf ears. When I've expressed some semblance of displeasure, I've been met with temper tantrums—tears, blame, self-pity, name-calling—that I recognize as narcissistic rage.
→ Read the rest, and Lori's response. Write to Lori anytime at dear.therapist@theatlantic.com.
---
The Atlantic Crossword
(Araki Koman)
Have you tried your hand at our daily mini crossword (available on our website, here)? Monday is the perfect day to start—the puzzle gets bigger and more difficult throughout the week.
→ Challenge your friends, or try to beat your own solving time
---