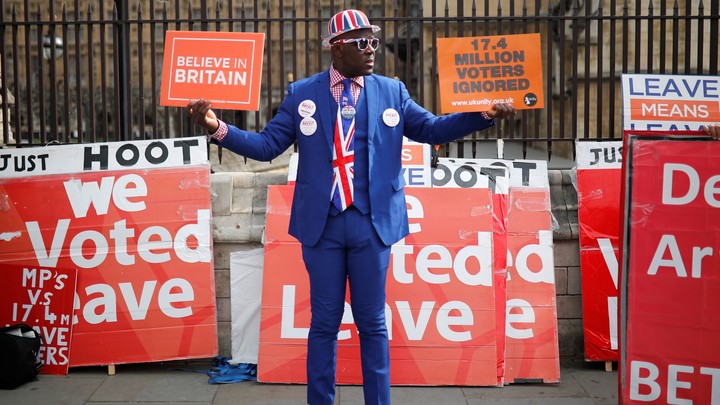 What We're Following
Theresa May is pulling out one of her last bargaining chips: Give me a Brexit deal and I will resign. The prime minister conveyed that message to Parliament on Wednesday, as the country tries to wriggle free of a protracted stalemate on the terms of its exit from the European Union. But as that cliff looms, EU nationals who live in Britain face a decision: These millions of people will need to apply for a new post-Brexit migration designation if they want to stay in Britain. For the U.K., this will become one of the largest immigration undertakings in the country's history. As one immigrant advocate put it: "The system will collapse. This is what I think."
A NASA astronaut was taken off the first-ever all-female space walk—there wasn't a space suit to fit her. Since the '70s, NASA has created different pieces for arms and legs that can be mixed and matched, but that approach didn't account for the difference in body type between men and women. Budget cuts in the '90s forced NASA to eliminate the smallest sizes of space-suit pieces. More women are part of the agency now than when the space-suits were manufactured some 40 years ago (and space exploration has moved a step forward from when engineers had to ask Sally Ride whether 100 tampons would suffice for a seven-day mission). Still, the garb has hardly kept up.
The anticlimactic end of the Mueller investigation leaves a faction of the liberal media scrambling. An array of hyper-partisan Facebook pages, podcasts, and Twitter conspiracists have long speculated on the special counsel's every move and prophesied about Trump's coming demise. One such oddball tinfoil-hat Twitter personality, Louise Mensch, has peddled falsehoods to eager fringe followers in the United States, including, for instance, reporting once that the death penalty was "being considered" for the Trump adviser Steve Bannon. (Bannon is alive as of this writing.) Some of these fixtures of "resistance" media still aren't giving up their theories.
+ Natasha Bertrand reports on a key aspect of the special counsel's investigation that the Attorney General William Barr's summary omitted.
---
Snapshot
(Wanf Zhaobo / VCG via Getty)
Gargantuan ice sculptures were set up for a festival in northeastern China, but as spring creeps in, what happens to those giant ice castles? Our photo editor Alan Taylor pulled together the most striking images of these unusual (non-ancient) ruins.
→ View the full gallery
---
Evening Read
Breast augmentation is a serious, invasive surgery. So why is it so frequently sold to women through crass jokes?
Given how casually breast augmentation is often talked about and advertised, it can seem like skipping the lifetime of follow-up is no big deal. But patients can suffer from the less-than-serious cultural attitude toward cosmetic modifications—and unscrupulous doctors can benefit. "Not everybody putting breast implants in across the country is a board-certified plastic surgeon," Spector says. "You have variation in state laws, and if you're doing things in your own office, all you need is a medical license." Untrained surgeons performing cosmetic procedures in high-volume, low-cost settings can have deadly results. In February, USA Today published an investigation into a group of Miami clinics where eight women had died from surgical complications. (The owner of the clinics has denied any wrongdoing.)
---
Looking for our daily mini crossword? Try your hand at it here.

Comments, questions, typos? Email newsletters editor Shan Wang at swang@theatlantic.com

We have many other free email newsletters on a variety of other topics. Find the full list here.
We want to hear what you think about this article. Submit a letter to the editor or write to letters@theatlantic.com.
Saahil Desai
is an associate editor at
The Atlantic,
where he covers politics and policy.
Shan Wang
is a senior editor at
The Atlantic
, where she oversees newsletters.