The Atlantic Daily: Act Now
Inside Trump's strategy to leverage the Mueller findings while campaigning. Plus: The Democrats keep trying on climate change, the worst disease ever recorded, and more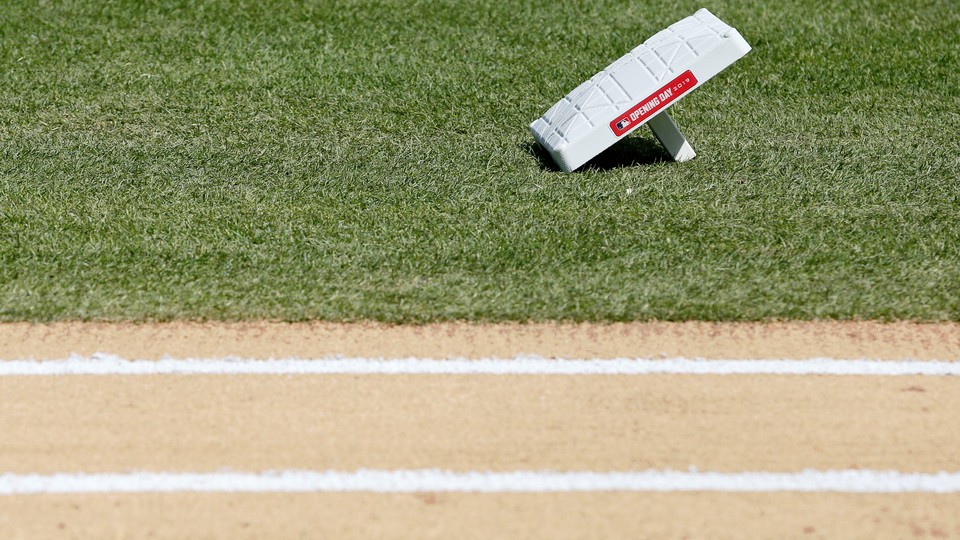 What We're Following
Speaker Nancy Pelosi unveiled the Climate Action Now Act, an effort to prevent the United States from withdrawing from the Paris Agreement. The new bill requires that the White House submit yearly plans on how it'll achieve carbon emissions reduction targets (the Democrats don't lack for ideas, but consensus on climate policy with any hope of passage is another matter). Hanging over all this is the newly defeated Green New Deal.
Robert Mueller may be done with Trump, but President Trump isn't quite ready to move on from Mueller. He's looking to take the seemingly exculpatory finding of the Special Counsel's report to the campaign trail, and use it as a cudgel against the news media and Democrats. Trump and his allies are pushing forward with a narrative that the president and his inner circle were unfairly victimized. Not all Republicans are on board with that strategy.
Will baseball audiences of the future still sit through five-hour-long games? As Opening Day games begin, Major League Baseball will wrestle with changes to tradition, in its quest for more younger fans. The MLB is eyeing structural changes to shorten games so they'll appeal to, say, the cohort that already enjoys the frenetic back-and-forth of American football or the fast spectacle of basketball. Some of changes are already being tested in other leagues (robot umpires, anyone?)—and could make their way up to the big leagues soon.
Anniversaries can be an especially fraught time for victims of mass shootings. In the past weeks, two survivors of the 2018 Parkland school shooting, and the father of a child who died in the 2012 Sandy Hook Elementary shooting, all took their own lives. Nearly 3 in 10 people who survive mass shootings experience post-traumatic stress disorder, and though the people affected may have access to counselors and other support in the immediate aftermath of a tragedy, that support sometimes mistakenly assumes survivors' recovery is linear and incremental.
Editor's note: If you are having thoughts of suicide, please know that you are not alone. If you are in danger of acting on suicidal thoughts, call 911. For support and resources, call the National Suicide Prevention Lifeline at 800-273-8255, or text 741-741 for the Crisis Text Line.
---
Snapshot
---
Evening Read
(B. Gratwicke / Smithsonian Conservation Biology Institute)
This is the worst disease ever recorded:
A century ago, a strain of pandemic flu killed up to 100 million people—5 percent of the world's population. In 2013, a new mystery illness swept the western coast of North America, causing starfish to disintegrate. In 2015, a big-nosed Asian antelope known as the saiga lost two-thirds of its population—some 200,000 individuals—to what now looks to be a bacterial infection. But none of these devastating infections comes close to the destructive power of Bd—a singularly apocalyptic fungus that's unrivaled in its ability not only to kill animals, but to delete entire species from existence.
---
Urban Developments
(Damian Dovarganes / AP)
Our partner site CityLab explores the cities of the future and investigates the biggest ideas and issues facing urban dwellers around the world. Gracie McKenzie shares today's top stories:
Keep up with the most pressing, interesting, and important city stories of the day. Subscribe to the CityLab Daily newsletter.
---