The Atlantic Daily: Will the Public Know What Mueller Found?
The Special Counsel's Russia investigation comes to a close—and now many lingering questions fall to Congress. Plus the "electability" trap, the horror film you shouldn't miss, and more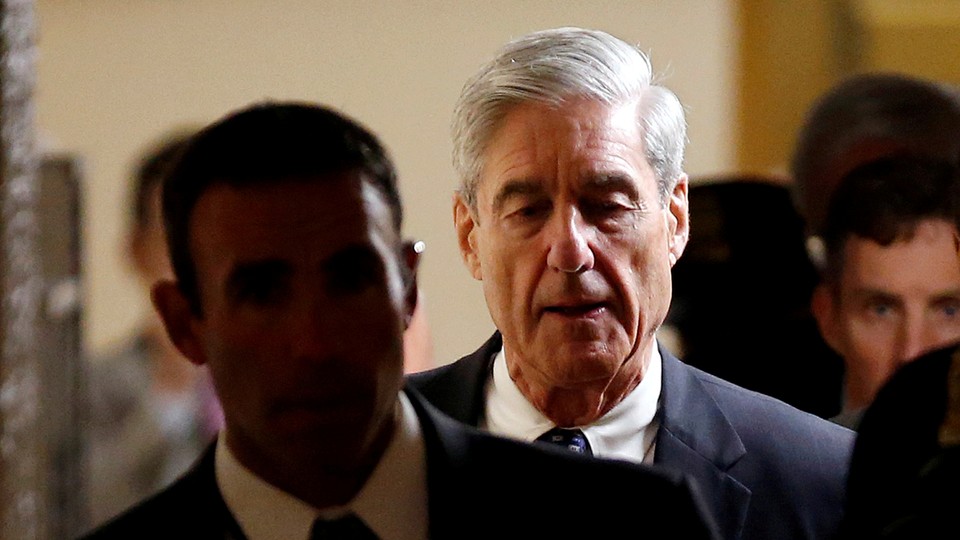 What We're Following
Robert Mueller concluded the nearly two-year-long Russia investigation: He sent a final report chronicling his findings to Attorney General William Barr on Friday. Mueller and his team of investigators have unfurled threads of conspiracy by Russian nationals that have resulted in a number of indictments, though there are still a number of lingering questions that might fall to Congress to handle.
Michael Davidson, Norman Ornstein, and Thomas Mann—who were part of the commission that made the recommendations for rules around special-counsel investigations—write that the regulations were never intended to block Congress from ascertaining vital information. Ken Starr, who served as independent counsel during the Bill Clinton presidency, writes that the "solemn obligation is not to produce a public report," and that Mueller "cannot seek an indictment. And he must remain quiet."
+ Want to keep up with our Mueller coverage? Subscribe to our Politics & Policy Daily for the leading ideas and events in American politics.
The number of 2020 presidential hopefuls grows and grows. Joe Biden, the former vice president, looks to be careening toward a presidential run—as does Senator Michael Bennet of Colorado, a moderate with business experience who is branding himself as a someone who knows how to work with Republicans. With still nearly a year before the first votes are cast, political commentators are hyper-focused on one dynamic in particular: electability. But Peter Beinart argues that all this chatter about whether a certain candidate is electable is based on dubious assumptions and polls that are too early to matter. A better strategy would focus on what candidates would do if they won.
---
This Week in Numbers
📄 Of the 895 current eighth graders who secured a spot this coming year at Stuyvesant—one of several of New York City's test-in public high schools—just seven identify as African American. But black enrollment at Stuyvesant has rapidly declined every year since its peak more than four decades ago: The school enrolled how many black students out of 2,536 total in 1975?
⚾ This week saw the largest deal in the history of American sports: How many million for a 12-year contract for the center-fielder Mike Trout of the Los Angeles Angels? (The question isn't whether Trout should earn that salary, argues Robert O'Connell. It's whether the Angels deserve to be the team paying it.)
💻 The amount of electronic waste Americans generate is up at least 80 percent from 2000, reaching about how many million tons of e-waste in 2012? (Just 29 percent of that is recycled, and fancy device makers such as Apple aren't exactly incentivized to push out fewer new products.)
---
Critic's Picks
(Universal)
Watch: Jordan Peele's complex new film, Us. Unsure of whether you can stomach the horror genre? Us is also an "ambitious sci-fi allegory and a pitch-black comedy of the haves and have-nots," David Sims writes.
Listen: As you wait for HBO's Game of Thrones to return for its final season next month, revisit the composer Ramin Djawadi's score for the show. Spencer Kornhaber visited Djawadi in his studio to lift the curtain on his musical process.
---
Weekend Read
A former Jehovah's Witness is using stolen documents to expose allegations that the religion has kept hidden for decades.
In March 1997, the Watchtower Bible and Tract Society, the nonprofit organization that oversees the Jehovah's Witnesses, sent a letter to each of its 10,883 U.S. congregations, and to many more congregations worldwide. The organization was concerned about the legal risk posed by possible child molesters within its ranks. The letter laid out instructions on how to deal with a known predator: Write a detailed report answering 12 questions—Was this a onetime occurrence, or did the accused have a history of child molestation? How is the accused viewed within the community? Does anyone else know about the abuse?—and mail it to Watchtower's headquarters in a special blue envelope. Keep a copy of the report in your congregation's confidential file, the instructions continued, and do not share it with anyone.

Thus did the Jehovah's Witnesses build what might be the world's largest database of undocumented child molesters.
---
In Memoriam
(Audrey McAvoy / AP / The Atlantic)
The celebrated American poet and translator W. S. Merwin, who died last week at his home in Maui, Hawaii, at 91, was for many years an abiding and stirring presence in The Atlantic's pages. There is much to surface, including one of The Atlantic's rare commissioned poems, Merwin's translation of the closing canto of Dante's Paradiso. If few poets were so prolific, fewer still were as resolute in their restless lyric energy. The constellation of Merwin poems in the Atlantic archives attests to the fluent range of his singular sound and sense, confirming at every turn the longtime poetry editor Peter Davison's view that "the intentions of Merwin's poetry are as broad as the biosphere yet as intimate as a whisper."
Merwin's writing was weighted with melancholy expectations of a premature ending. In 1999's "Term," Merwin writes another ending to the search for just the right word: "who would ever have thought it was the one / saying itself from the beginning through / all its uses and circumstances to / utter at last that meaning of its own." Again and again, his speakers seek an elusive revelation, only to find that what they sought was present all along. In a sense, the familiarity of these endings renders futile all the searching and waiting that Merwin describes. But the ending also redeems the empty steps that came before it.
---