The Atlantic Daily: At Stake in Flowers v. Mississippi
Plus: Clarence Thomas breaks a three-year silence, to listen or not to listen to Michael Jackson's music, The Very Hungry Caterpillar at 50, and more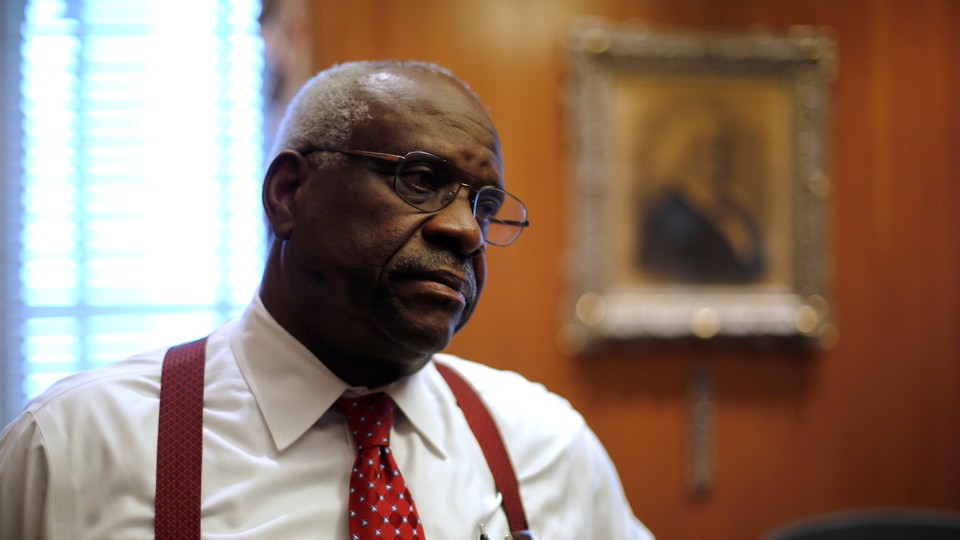 What We're Following
The issue of racial discrimination in jury selection is at the heart of Flowers v. Mississippi, argued before the U.S. Supreme Court on Wednesday. Curtis Flowers, who is black, has been tried six times in two decades in the state of Mississippi, over a 1996 murder of four people. His lawyer is arguing that the white state prosecutor Doug Evans repeatedly, deliberately removed potential black jurors from the case, because of their race. Even if Flowers wins this case, he still might not be freed, Garrett Epps notes: The same prosecutor could try him on the same charges, yet again.
During the hearing, Justice Clarence Thomas made a surprising move: He spoke. Though justices frequently pepper lawyers with questions, Thomas hasn't said a word in Court since 2016—and before that, he went a decade without speaking.
Who is paying Maria Butina's legal bills? Butina was the first Russian to plead guilty as part of Special Counsel Robert Mueller's investigation into Russian election interference, and new revelations suggest that one of her legal backers is a 30-year-old Russian with ties to the Kremlin. That enigmatic funder, Alexander Ionov, has long been trying to meddle in American politics through an NGO he runs. The news of Butina's backer adds a wrinkle to the case.
A landmark case forces Facebook to comply with civil-rights law. The social-media giant has long let users create ads—including for homes, loans, and jobs—targeted toward people of certain races and excluding others. After the practice came to light in 2016, advocates argued it was a violation of fair-housing laws. Yesterday, multiple plaintiffs reached a settlement with the company that will force it to create a new system for selling certain ads. Silicon Valley has long skirted scrutiny and regulation from governments and advocacy groups. That might now be changing.
---
Snapshot
(Penguin Young Readers)
Every 30 seconds, somewhere in the world, a copy of The Very Hungry Caterpillar is sold. On the 50th anniversary of Eric Carle's children's book illustrating the metamorphosis of a hungry caterpillar, Ashley Fetters explores the transformation—and timelessness—of a beloved classic.
→ Read the rest
---
Evening Reads
Michael Jackson's music is a gift—but what should listeners now agonized over the morality of watching his dances and listening to his songs do? Caitlin Flanagan writes:
One of Jackson's most famous songs grapples with the notion of guilt—"I'm starting with the man in the mirror/I'm asking him to change his ways"—and the "Thriller" video is about a young man trying to convince people that he turns into a monster at night. Perhaps, as he began to develop his relationships with young boys, he was testing the public, waiting for a punishment that never came. His plastic surgery seemed to become an act of self-erasure. In the end, the only way he could conquer the night was to have a doctor come and put him under anesthesia.

And through this terrible man, this destroyer, poured a force that can only be truthfully described as art.
---