The Family Weekly: For Survivors of Mass Shootings, There's No Straight Line to Recovery
Plus: Military families are struggling to make ends meet, and how much homework is too much?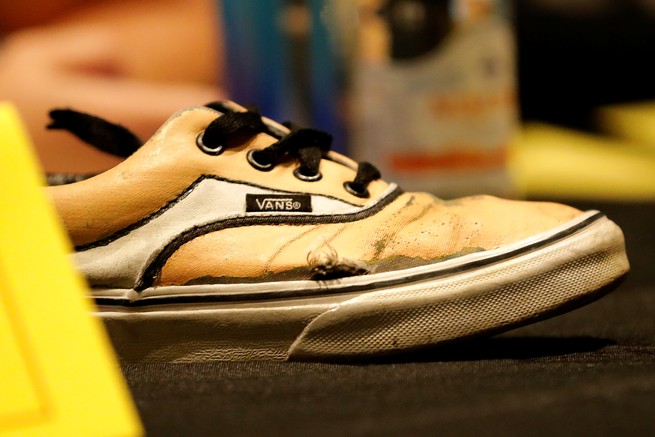 (Emma Gonzalez' sneaker, on the one year anniversary of the school shooting in Parkland Florida. Mike Segar / Reuters )
This Week in Family
At the tail end of March, three people affected by school shootings died by suicide; two were survivors of the Parkland, Florida, massacre last year, and the third was the father of a student killed in 2012 at Sandy Hook Elementary School. It's not uncommon for survivors of these horrific events to develop post-traumatic stress disorder, which can exacerbate depression. Grieving the loss of a loved one isn't a linear process, and it can ebb and flow as the years pass. Support systems, however, sometimes dry up after a year or after a major anniversary—the time when people need them the most.
If you are having thoughts of suicide, please know that you are not alone. If you are in danger of acting on suicidal thoughts, call 911. For support and resources, call the National Suicide Prevention Lifeline at 800-273-8255, or text 741-741 for the Crisis Text Line.
---
Highlights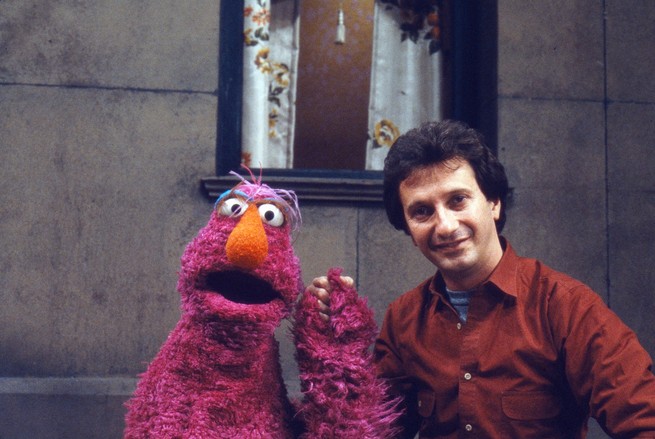 (Charles Baum / Courtesy of Sesame Workshop.)
In this week's installment of The Friendship Files, two former songwriters from Sesame Street take a trip down memory lane. Chris Cerf and Norm Stiles are the minds behind classics from the 1970s, '80s, and '90s such as "Put Down the Duckie" and "Monster in the Mirror." In the process of writing, they fielded calls from angry viewers—including the American Dairy Goat Association. The duo talk about their favorite songs from over the years and the writing process that brought them together as friends.
→ Read the rest
No one really likes homework, and the jury is out on whether it's an effective learning tool. But sometimes it's not students who complain about how much time homework takes up: According to one education researcher, middle-class white parents appear to be more likely to voice concerns about overburdening children with extracurricular work, and are in favor of more free time for their kids. On the flip side, teachers in low-income districts sometimes reduce homework loads once they recognize that many students have to work jobs or take care of younger siblings after the bell rings.
→ Read the rest
Americans say they love the troops, but the country lacks robust policies that can support the unique challenges faced by military families. Nearly a quarter of military spouses are unemployed—four times the rate of the civilian population. These families are losing out on thousands of dollars a year in earned income as the costs of child care, housing, and other necessities rise. As a result, military families are twice as likely as civilian families to report difficulties in making ends meet.
→ Read the rest
In the Jehovah's Witness community, child abuse and assualt has been something of an open secret for decades. In the late '90s, the nonprofit that oversees the religious entity sent out letters to thousands of congregations with instructions for reporting offenders. Those reports have never been released, since they were intended to help the organization internally manage any crises that might have arose. One man, an ex–Jehovah's Witness himself, is determined to leak the most damning documents and bring survivors some semblance of justice.
→ Read the rest
---
Dear Therapist
(Bianca Bagnarelli)
Every Monday, the psychotherapist Lori Gottlieb answers readers' questions about life's trials and tribulations, big or small, in The Atlantic's "Dear Therapist" column.
This week, a husband writes in about an unplanned pregnancy with his wife. Neither of them wanted a second child, but, he tells Lori, their birth-control methods failed and now she's six weeks pregnant. He thinks that the new baby will ruin their career paths, finances, and sex life—but his wife might not want to give up the baby. Either way, he asks, won't the arrival of this unexpected child breed resentment in their marriage and family?
Lori's advice: First and foremost, the husband should give his wife the space she needs to communicate her side of the story. He's made clear that he's upset, but perhaps her feelings are different, and she doesn't feel that she can share them if he's said he will resent her for wanting to keep the baby.
By making her decide, you get to take the moral high ground whenever life becomes inconvenient. See, we can't afford this vacation I really want. See, I can't take the job I really want. See, we don't have the space to be intimate anymore. You know what will be the end of your marriage, more than the baby? The double bind you've put your wife in. It's your decision, honey, but either I'll resent you for the rest of our lives, or you'll resent me for the rest of our lives.
Send Lori your questions at dear.therapist@theatlantic.com.
*
Hear Lori speak in person: She'll be in conversation with NPR's Scott Simon at Sixth & I in Washington, D.C. on Thursday, April 4 at 7:00 pm.  Tickets are available here.