The Atlantic Daily: Moonshot
One small step for man, one big plan for the Trump administration? Plus tuition-free vs. debt-free college, schools that restrict when kids can pee, and more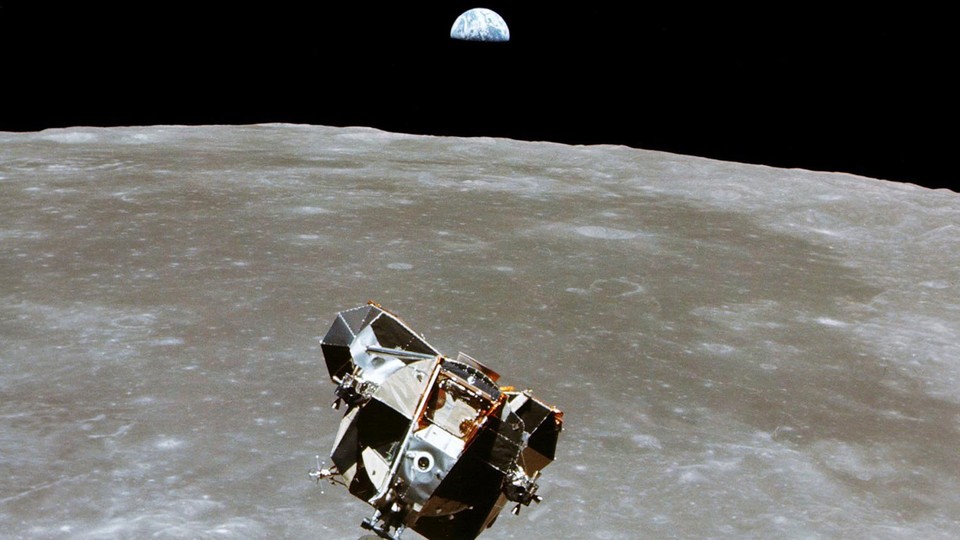 What We're Following
One issue keeps popping up as 2020 candidates head to the campaign trail: free college. From Bernie Sanders to Elizabeth Warren to Cory Booker to Julián Castro, a phalanx of Democrats running for president have made clear their appetite for ameliorating the college-affordability crisis. It's a big shift from past years, when the idea was less mainstream and politicians proffered more piecemeal proposals. Yet candidates have wildly different views on what "free college" actually means. Some are angling for "tuition-free" programs, where the government pays for tuition but not other expenses such as books, while others are clamoring for "debt-free" plans that account for all those extra costs.
One small step for man, one big plan for the Trump administration: Since the last lunar mission in 1972, president after president has promised to put an American astronaut back on the moon. With the 50th anniversary of the first moon landing on the horizon, the Trump administration is in a frenzy to actually achieve that elusive goal. NASA has said that it wants to put a human back on the moon by 2028, and this time around it's asking for aerospace companies to submit designs for spacecraft that can achieve that. The companies angling for the prize—which include Boeing, Lockheed Martin, and Northrop Grumman—have a gargantuan challenge ahead of them: NASA has half the spending power that it did in the 1960s. Trump's urgency is in part a ploy to bolster his postpresidential legacy, but there's still a big hiccup ahead of him: If he loses in 2020, the man-on-the-moon plan could go with him.
---
Evening Reads
(Geoffrey Evatt)
The majority of the world's meteorites are discovered in Antarctica, but in recent decades researchers have found surprisingly few of them. They're now testing an intriguing explanation:
"Though iron meteorites are falling through the atmosphere at equal rates across the planet, they simply weren't showing up on the icy surface as often as they should be compared with their stony meteorite cousins. This raised an intriguing possibility: These missing iron meteorites were hiding beneath Antarctica's ice. To test this idea, Katherine Joy and her colleagues had come to Antarctica as part of the first-ever expedition to search for 'lost meteorites.'"
(Mikroman6 / Getty)
Some schools have onerous rules about when students can go to the bathroom, rules that on their face are intended to fend off potential out-of-classroom misconduct:
"A separate 2015 study underscores the disconnect between discipline-focused bathroom policies and kids' health. While 81 percent of the more than 4,000 elementary-school teachers said they allow kids unlimited access to water, 88 percent also said they encourage their students to hold their pee; 36 percent of participants, meanwhile, indicated they had a 'protocol in place to encourage students not to use the bathroom during class time.'"
But treating bathroom use as a discipline issue can have serious health implications. → Read the rest
---
Urban Developments
(Madison McVeigh / CityLab)
Technology is reshaping our cities—often without permission and sometimes without a clue. That's why CityLab launched a podcast, Technopolis, about how technology is disrupting, remaking, and even overrunning our cities. The urban-innovation expert Molly Turner and the start-up adviser Jim Kapsis will be your guides on this techno-urbanist adventure, drawing from their experience inside both government and tech to get at the heart of what tech is trying to do and what it means for the rest of us, from Silicon Valley to city hall. In this first episode of the show, they tackle a key question: Why are tech investors so interested in disrupting cities? And is all that venture capital good for cities?
---