The Atlantic Daily: What Comes Next for Virginia's Governor?
The Democrat Ralph Northam digs in his heels despite scandal. Plus from TheFacebook.com to Facebook in 15 years, Democrats get excited about taxes, shrinking Chinatowns, and more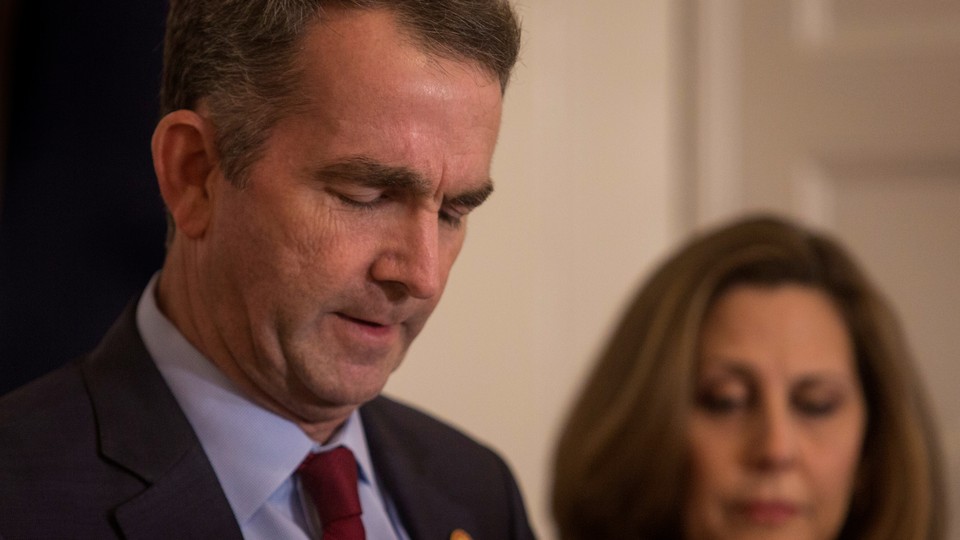 What We're Following
The latest in the Ralph Northam scandal: A picture—of a man in a Ku Klux Klan outfit and another in blackface—from the Virginia governor's medical-school yearbook page has thrown his tenure into tumult. Northam quickly apologized for the image, but claimed in a later press conference that he was neither of the people depicted. The revelation is a betrayal of the black voters who propelled Northam to office in 2017, under promises of ushering in a new era in Virginia's history that would turn a page on its Confederate, white-supremacist roots, Vann R. Newkirk II writes. But more than Northam's career is at stake: By remaining in office, argues Adam Serwer, he gives current—and future—public servants a way to squirm out of their own racist statements and actions.
Facebook turns 15 today. As the platform aged from scrappy dorm-room start-up to Silicon Valley behemoth, it's transformed the social lives of millions, if not billions, of people. The platform has created a new category of relationships: the zombie friendship of Facebook friends who only vaguely keep in touch from afar through posts and updates on the site, extending a friendship far beyond its normal life span. Facebook's meteoric rise has been predicated on a zealous belief in the power of "connection," but that blinkered faith has led Facebook to undervalue how the site could be misused. (For more: Alexis Madrigal talks to people present for TheFacebook.com's founding.)
Tell us: How old were you when you first joined Facebook, and do you remember why you joined? Has the way you use it changed over the years? What might cause you to leave the platform for good? Write to letters@theatlantic.com, and we may feature your response on our website and in future editions of The Atlantic daily.
Democrats are getting excited about a topic that makes many snooze: taxes. Representative Alexandra Ocasio-Cortez and Senator Elizabeth Warren have both put out gargantuan plans to lessen income inequality by massively raising taxes on the über-rich: The former's plan would hike marginal tax rates to nearly double what they are now, while the latter would target wealth such as property, assets, and even art. Both plans could be stymied by the same problem: an ineffectual IRS. For decades, the tax-collecting agency has been hamstrung by a lack of resources that the wealthy exploit to their benefit, leading to $18 billion in lost government revenue each year.
---
Evening Reads
(Jae C. Hong / AP)
When Chinese immigrants first moved to the United States, they forged their own ethnic enclaves to stave off discrimination. However, Chinatowns across urban America are now at risk of becoming historical remnants:
But now, as Baby Boomers and Millennials move back into center cities, Chinatowns are some cities' hottest neighborhoods. Sale prices in Boston's Chinatown were among the fastest-growing in the city in 2017, increasing by $285,000; one of New York City's biggest condo projects is a $1.4 billion, 815-unit tower in Chinatown that features a 75-foot swimming pool, an "adult tree house," and an outdoor tea pavilion. According to an analysis by the website Zumper, rents for a one bedroom in the "historic cultural" neighborhood of Los Angeles, which includes Chinatown, were $2,350 in June 2017—among the highest in Los Angeles, more than listings in popular neighborhoods such as West Hollywood and Silver Lake.
→ Read the rest.
(Mike Segar / Reuters)
Typically, the Super Bowl halftime show is an eye-popping sensory overload that complements the thrill of the game. But this year, Maroon 5's underwhelming performance couldn't enliven the most boring Super Bowl in recent memory:
To the extent that this halftime show will be remembered at all, it'll be for outside factors: a boycott of the NFL triggered by Colin Kaepernick's protests against racism; Atlanta's queasy clearing of homeless camps in preparation for the Super Bowl; Tom Brady's sixth ring; the trauma of seeing the Bud Knight's skull crushed by a Game of Thrones brute. "Moves Like Jagger" is the sort of prescription-grade jingle meant to jam brain circuitry, but even it couldn't, on Sunday night, whistle away the show's dreary context.
→ Read the rest.
---
The Atlantic Crossword
Have you tried your hand at our daily mini crossword (available on our website, here)? Monday is the perfect day to start—the puzzle gets bigger and more difficult throughout the week.
→ Challenge your friends, or try to beat your own solving time.
(Illustration: Araki Koman)
---
Dear Therapist
(Bianca Bagnarelli)
Every Monday, Lori Gottlieb answers questions from readers about their problems, big and small. This week, an anonymous reader writes:
"We recently moved to a new country and my daughter quickly made some friends who make me uncomfortable. Specifically, there is one boy who used spectacularly sexually explicit language with her in a text, which I find degrading and demeaning.
I found this out because after my daughter came home late from an outing with friends for her birthday, I used that as an excuse to go through her phone, as I'd suspected that there was something off about this boy. To complicate matters, he's the son of a colleague."
→ Read the rest, and Lori's response. Have a question? Email Lori anytime at dear.therapist@theatlantic.com.
---