The Atlantic Daily: The Last Undecided 2018 U.S. House Race Will Be Re-Run
Plus understanding the Jussie Smollett controversy, a guide to the hostless 91st Oscars, why cats look like psychopaths, and more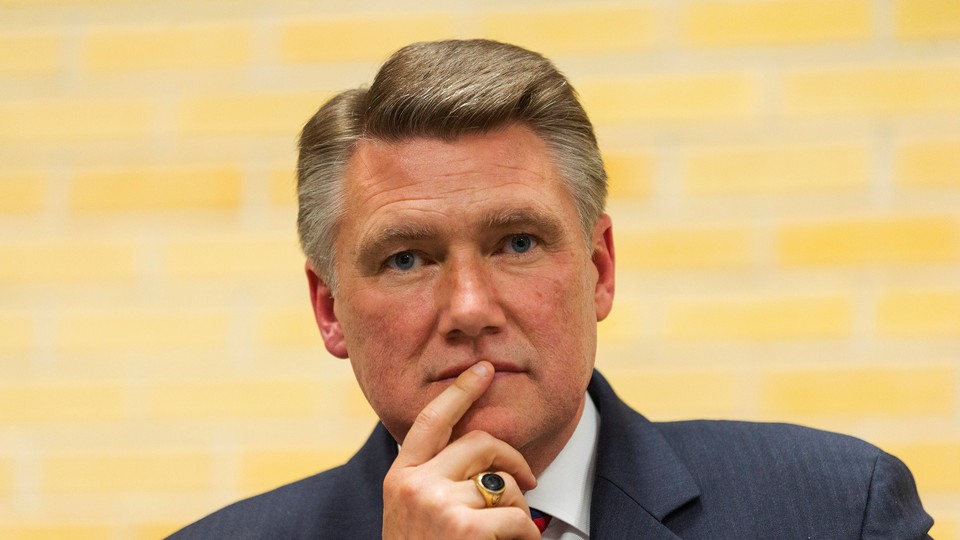 What We're Following
A North Carolina House election tainted by allegations of fraud is getting a do-over. The Republican Mark Harris barely eked out a victory against his Democratic opponent in November, but the win was marred by evidence of suspicious absentee ballots. A hearing on the allegations turned disastrous for Harris, as his son testified that he had warned his dad about hiring the nefarious political consultant who ultimately oversaw the chicanery. The dates of a new election have yet to be hammered out, and in the meantime voters in the district will be voiceless in the House of Representatives.
The 91st Academy Awards are this Sunday. For the first time in 30 years, the awards-show bonanza will go hostless, after the initial pick, Kevin Hart, dropped out once his homophobic tweets resurfaced. That's not the only controversy: Bohemian Rhapsody, which took home the top prize at January's Golden Globes and is nominated for Best Picture, has been clouded by sexual-assault allegations against its director, Bryan Singer. The star of the night could be Roma, the Netflix-produced Spanish-language film that is the first to be nominated for both Best Picture and Best Foreign Language Film, while other top contenders include Green Book, BlacKkKlansman, and Black Panther.
The Jussie Smollett case gets thrown on its head. The actor relayed a horrific story of being victimized in a hate crime, but then came the twist: He allegedly orchestrated the whole thing. That Smollett, who is black, would go to such drastic lengths to fake the incident is a quintessential example of "victimhood chic," argues John McWhorter—having fame and wealth wasn't enough for the actor; he also was seeking to become the poster child against MAGA-style racism. Faking hate crimes is exceedingly rare, and the Smollett drama could lead some to question the damage done by future incidents. Adam Serwer writes that Smollett's mendacity isn't the exoneration of Trumpism that some of the president's supporters have suggested.
---
Evening Reads
(Corbis / Getty)
Dieting fads typically call for pared-down meals that leave people feeling famished for most of the day. But a new trend called "intuitive eating," founded by the dietitians Evelyn Tribole and Elyse Resch, encourages people to eat whatever they want.
"Intuitive eating sounds like permission to sit on your couch and eat pizza until you pass out. But Tribole and Bahr don't deny that different foods have different nutritional benefits, or aim to tear down public-health initiatives that tell kids to eat vegetables. Instead, they say they want to help people who have struggled with eating understand how food makes their body feel when the act is untangled from stress or shame. Both Tribole and Bahr find that in the first week or two, new adherents of intuitive eating do sometimes binge on the things they had always tried to skip. But the two researchers say the vast majority of their clients quickly habituate to burgers or donuts and then crave the variety and nutrition represented by the 'healthy' foods they once used as punishment."
(Sergey Zaykov / Shutterstock)
Why do some people think blank-faced cats are psychopaths? It has all to do with their resting cat face.
"Cats, she pointed out, simply don't have the facial muscles to make the variety of expressions a dog (or human) can. So when we look at a cat staring at us impassively, it looks like a psychopath who cannot feel or show emotion. But that's just its face. Cats communicate not with facial expressions but through the positions of their ears and tails. Their emotional lives can seem inscrutable—and even nonexistent—until you spend a lot of time getting to know one."
---
Our Critic's Picks
(Cinema Guild)
Read: Chloe Aridjis's Sea Monsters is a mysterious novel that doesn't have much of a plot, but rather comes to life through its vivid symbols and metaphors.
Watch: Hale County This Morning, This Evening is up for Best Documentary Feature at the Academy Awards, and a win for the director RaMell Ross would make him just the third black Oscar-winning documentarian.
---
Poem of the Week
Here is an excerpt from "Hog-Nosed Skunk," by Ellen Bryant Voigt:
she cannot raise her tail entirely over her back
in order to use her one weapon her one defense
when you come to the squirrel trap from behind
and cover with a blanket the wire box
→ Read the rest, from The Atlantic's 2011 Fiction issue.
---
Renewal Awards

The Renewal Awards, a national competition now in its fourth year, recognizes local organizations and individuals who are driving change in their communities—and helps them make an even bigger impact.

This year's voting is now open. You can support the efforts of these nonprofits by voting for one of the 15 finalists, here. Five winners, including the Allstate Youth Empowerment Award winner, will receive $20,000 in funding from Allstate.
---