The Atlantic Daily: This Is America
Grammy-night winners: Childish Gambino, who wasn't even there; Drake, who criticized the show; and Lady Gaga, who returned to her old-school performance antics. Plus: the women in science's footnotes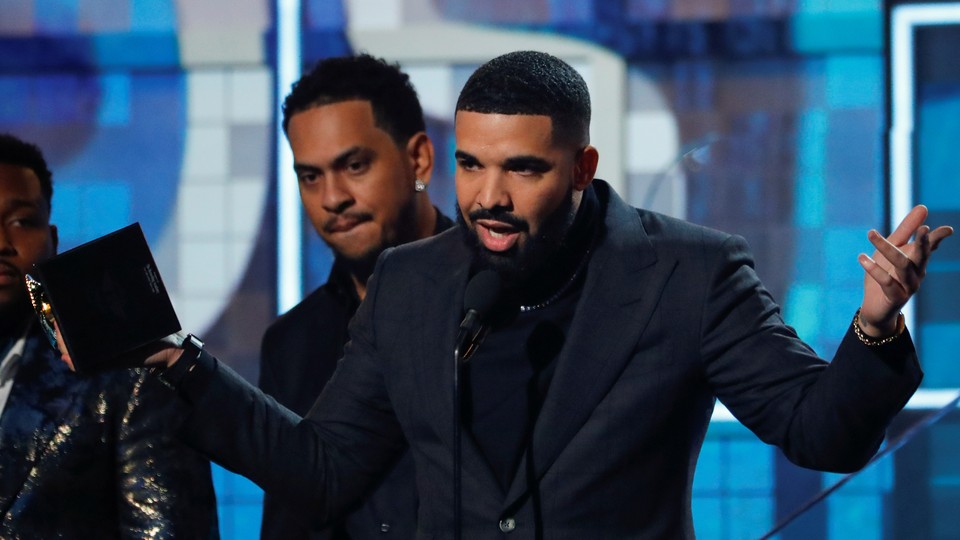 What We're Following
At the Grammys on Sunday night, Childish Gambino captured both Song of the Year and Record of the Year for his hit "This is America." But that wasn't the big story of the night. In his acceptance speech for Best Rap Song, Drake delivered a punchy polemic against the award show's failure to reward the work of women artists and artists of color—a blunt recognition of the Grammys' decreasing relevance. And Lady Gaga gyrated and lurched sporadically, while making a gesture about cocaine use, leaving the audience to discern her intent. Gaga, of course, was just doing what Gaga does best.
The #MeToo moment led publication after publication to call 2018 "the year of the woman," but journalists themselves didn't necessarily enact that message of gender inclusivity. The imbalance is especially stark when it comes to international reporting, including at The Atlantic, where in 2018 women constituted 41 percent of writers and 27 percent of those quoted in our Global section. It leads to a chicken-and-egg scenario in which women who aren't cited aren't called upon as sources. It's not just journalism where the input of women is being belatedly recognized: A new study scoured two decades' worth of genetics papers and found dozens of women programmers who made key contributions to the field but had their name buried in the acknowledgements section rather than being listed as an author.
The idea that Jews run the world through a cabal of money and power has been a stubbornly persistent anti-Semitic trope. In the United States, anti-Semitism has a particularly long and violent history, which is perhaps why a tweet by the freshman congresswoman Ilhan Omar that was perceived as repeating this trope ignited a wave of criticism. Omar quickly issued an apology, but as a faction of Democrats question American support for Israel, her comments will likely make it harder for them to advance a nuanced debate on the topic.
---
Evening Reads
(Getty)
Since the emoji first debuted in 1999, the playful images have grown in number and verisimilitude; recent additions to the lexicon include garlic and a yo-yo. But there's a downside to the increased specificity of these pictures:
"As a white man whose identity is often the default in emoji, let me say explicitly that increasing diversity in the globe's favorite pictorial language is a good thing. But all together, emoji are becoming more specific and less flexible as more icons appear. That shift doesn't just add more choice among emoji, it also changes their semiotic function. Over time, the visual language has shifted away from abstract, ideographic uses and toward specific, illustrative ones."
→ Read the rest.
(Dan Kitwood / Getty / Thanh Do / The Atlantic)
Bridal expos have exploded in popularity in recent decades, bringing together soon-to-be-married couples and the (many) companies vying for their business in what is often a consumerist bonanza:
"It's possible, though, to believe in two fundamental truths of weddings at the same time. First, there is nothing wrong with being in love, getting married, and wanting to celebrate that. Second, a lot of people make a lot of money by  convincing couples that they can buy the perfect wedding day. 'There's part of me that thinks, If it didn't involve money, would I care? What's the harm? … But it does involve money—it involves a lot of money and a lot of debt.'"
→ Read the rest.
---
The Atlantic Crossword
Have you tried your hand at our daily mini crossword (available on our website, here)? Monday is the perfect day to start—the puzzle gets bigger and more difficult throughout the week.
→ Challenge your friends, or try to beat your own solving time.
(Illustration: Araki Koman)
---
Dear Therapist
(Bianca Bagnarelli)
Every Monday, Lori Gottlieb answers questions from readers about their problems, big and small. This week, Mike from Philadelphia writes:
"My oldest daughter (from my first marriage) hasn't wanted a relationship with me for more than 25 years. I remarried about 28 years ago and have two children, both daughters, with my current wife. My oldest daughter was a bridesmaid at the second wedding and seemed accepting of the new family dynamic. Her mother had also remarried, a few years earlier. My daughter is now 48 years old, and her sisters are 27 and 28. Although we have encountered one another at extended-family events (christenings, graduations, her brothers' weddings, etc.), she does not acknowledge me, my wife, or her sisters."
→ Read the rest, and Lori's response. Have a question? Email Lori anytime at dear.therapist@theatlantic.com.
---
Concerns, comments, questions, typos? Email newsletters editor Shan Wang at swang@theatlantic.com

Did you get this newsletter from a friend? Sign yourself up.

Not seeing anything you like here in this newsletter, or just want something else? We have other other free email newsletters on a variety of other topics, and at different frequencies. Find the full list here.