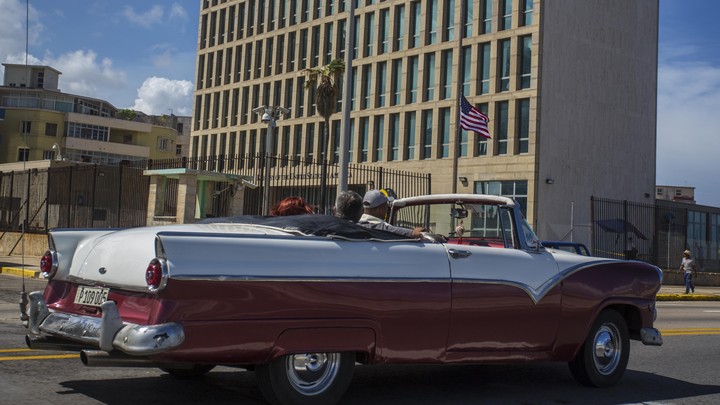 What We're Following
The quiz question in the Monday, January 7 edition of the Daily incorrectly referred to T.M. Landry as a "New Orleans" private school. The school is located in Breaux Bridge, Louisiana. Thanks to our many sharp-eyed readers for pointing out the error.
Instagram meme accounts take on child porn. The platform is notoriously adept at ferreting out nudity, but users are still using it to find explicit photos of underage children by searching for a specific hashtag and trading links shared though direct messages. That is, until hundreds of accounts flooded the hashtag with memes to try and root out the child pornography. The issue spread widely and quickly, in part because many of these Instagram vigilantes and meme-account admins were themselves young teenagers.
Those mysterious high-pitched noises American diplomats living in Cuba were hearing, that in the past two years years led to reports of all sorts of troubling health effects and became a global incident, were just … crickets? When two scientists recently listened to a recording of the noise, they didn't hear evidence of governmental warfare, but something else entirely: the Indies short-tailed cricket, which makes a chirp identical to the sound in the recording. While not an explanation of the diplomats' illnesses, it's a useful reminder that animal noises are a lot more intricate, complicated, and unexpected than a dog's bark or cat's meow: Listen to some of these animal sounds here.
Trump will address the nation in a prime-time presidential address. The major networks have agreed to broadcast his speech on immigration and the government shutdown in real time, a decision that James Fallows says was a mistake that will let the president spread falsehoods and advance his spin on the situation. Trump eagerly wants to build a wall along the southern border, and tonight he's expected to mention alternatives on how to accomplish that if Congress keeps refusing to acquiesce to his demand. He could theoretically do so by declaring a national emergency—but there would still be plenty of hurdles before he could send troops to the border and have them build his wall.
---
Snapshot
---
Evening Read
Hitting the proverbial "Inbox Zero" when it comes to email is a Pyrrhic victory. Why not just let it go?
There is simply no way for anyone with a full-time job and multiple inboxes to keep up with the current email climate. Even after deleting and sorting my 2,700 unread messages, I awoke the next day to more than 400 more. The writer Emily Dreyfuss told me she has more than 300,000 unread messages in her inbox. After complaining about my email problem publicly on Facebook, friends in fashion, tech, corporate finance, law, advertising, and retail all bemoaned their multiple inboxes swelling with messages.

Some people still delude themselves into thinking they can manage their email. They adopt strange rituals: emailing first thing in the morning, never emailing in the morning, reading email but not responding to it, organizing everything into folders, emailing exclusively like a boss. Software fixes such as Gmail smart replies have made responding to email easier, but often a response just elicits more email.
Read the case for making peace with inbox infinity. (We recognize a hint of irony in including this story in an email newsletter and appreciate that you're still opening the Daily.)
---
What Do You Know … About Family?
1. This proportion of Americans don't know the first names of all of their grandparents, according to Ancestry.com.
Scroll down for the answer, or find it here.
2. The likelihood that a given marriage would end in divorce doubled, to 50 percent, between 1965 and 1980. But after 1980, the likelihood of divorce specifically among this group of Americans plummeted.
Scroll down for the answer, or find it here.
3. American children on average receive approximately this much in allowance money each year, according to the American Institute of Certified Public Accountants.
Scroll down for the answer, or find it here.
Answers: One-third / College-Educated Americans / $800
---
Urban Developments
Our partner site CityLab explores the cities of the future and investigates the biggest ideas and issues facing city dwellers around the world. Gracie McKenzie shares their top stories:
Before Saturday Night Live, Kate McKinnon once starred in a series of shorts as an angry SUV lobbyist railing against the pedestrianization of Times Square.

How many trees are in your city? It might seem like a straightforward question, but finding the answer can be a monumental task. A team of cartographers and applied scientists is turning to artificial intelligence to figure it out. See the resulting maps.

Despite the promise of Uber and Lyft, vehicle ownership (and traffic) is on the rise in America's biggest, most transit-oriented cities. So how is mobility really changing?
For more updates like these from the urban world, subscribe to CityLab's Daily newsletter.
---
Looking for our daily mini crossword? Try your hand at it here—the puzzle gets more difficult through the week.

Concerns, comments, questions, typos? Email Shan Wang at swang@theatlantic.com

Did you get this newsletter from a friend? Sign yourself up.
We want to hear what you think about this article. Submit a letter to the editor or write to letters@theatlantic.com.
Saahil Desai
is an associate editor at
The Atlantic,
where he covers politics and policy.
Shan Wang
is a senior editor at
The Atlantic
, where she oversees newsletters.