The Atlantic Daily: Removing a President
The Larry Nassar fallout claims a second Michigan State president. Plus the case for impeaching Donald Trump, Saturn's mysterious rings, behind that viral Gillette ad, and more
What We're Following
More than two years after the Larry Nassar scandal rocked Michigan State University, the fallout continues to grow. On Wednesday, President John Engler, appointed a year ago after the scandal first hit, resigned after implying that some of the women whom Nassar assaulted are "enjoying" the "spotlight." It's the latest example of how the incident has turned into a full-on catastrophe for the university.
Scientists have long been flummoxed by the majestic rings that surround Saturn, but data from the NASA spacecraft Cassini is providing fresh insight into their existence and origins. Researchers now believe that the rings, which are about half the mass of the Antarctic ice shelf, are leftover shards from a cosmic object that disintegrated in the planet's vicinity.
The shaving brand Gillette put out a new commercial to mark its 30th anniversary, reflecting on the hypermasculine ideals the company has at times endorsed. While the ad went viral and led to a wave of mixed reactions, Gillette's decision to release it shows how the brand is trying to tap into social-justice-minded Millennial shoppers who are wary of consumerism and big business.
---
Evening Reads
(Benjamin Lowy / Getty / The Atlantic)
In a stunning piece, deeply rooted in history, the Atlantic editor Yoni Appelbaum lays out the nonpartisan argument for impeachment. Why start the process now? "The protections of the process alone are formidable," he writes. They come in five forms:
The first is that once an impeachment inquiry begins, the president loses control of the public conversation. Andrew Johnson, Richard Nixon, and Bill Clinton each discovered this, much to their chagrin.

It isn't just the coverage that changes. When presidents face the prospect of impeachment, they tend to discover a previously unsuspected capacity for restraint and compromise, at least in public.

Trump is easily the most pugilistic president since Johnson; he's never going to behave with decorous restraint. But if impeachment proceedings begin, his staff will surely redouble its efforts to curtail his tweeting, his lawyers will counsel silence, and his allies on Capitol Hill will beg for whatever civility he can muster. His ability to sidestep scandal by changing the subject—perhaps his greatest political skill—will diminish.
---
(Andrew Kelly / Reuters)
Would taxing Americans' income over $10 million at 70 percent, a discussion kicked off by the freshman representative Alexandria Ocasio-Cortez, discourage entrepreneurship and depress innovation? Derek Thompson argues no:
As John Fernald, an economist at the Federal Reserve, once told me, economists can't rule out the possibility that productivity has slowed down recently because "we picked all the low-hanging fruit from the information-technology wave." If capitalist entrepreneurs want to pluck new fruits of innovation, he said, somebody needs to plant new seeds of scientific research.

The U.S. government used to do this well. Fracking, which has made the United States the world's energy leader, came from federally funded research into drilling technology. The latest surge in cancer drugs came from the War on Cancer, announced in 1971. But the U.S. government doesn't plant seeds like it used to.
---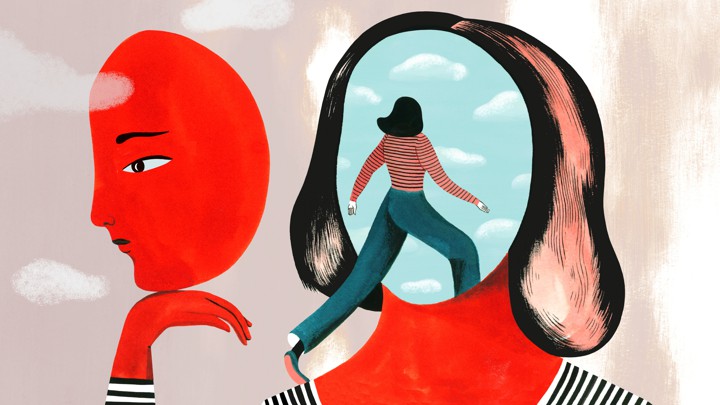 (Sarah Wilkins)
What is it like to visit an existential therapist, who specializes in the weighty issues of the human condition, such as death, meaninglessness, isolation, and freedom? Faith Hill attended a session:
She laughed along with me at some of my more absurd anxieties; she even told me at times that she worried about the same things. At several points, she said, "You might not feel better after I say this," or "Well, this isn't comforting, but …" and proceeded to confirm my deepest fears. No, we can't ever know anyone else's internal experience. No, there is no objective meaning, and yes, we will all fail at times to create it. Yes, you will die.
---
Unthinkable
(Samuel Corum / Anadolu Agency / Getty)
Unthinkable is The Atlantic's catalog of 50 incidents from the first two years of President DonaldTrump's first term in office, ranked—highly subjectively!—according to both their outlandishness and their importance.
At No. 2: "Very fine people on both sides."
Join the conversation: Which moments from the Trump presidency would you add to this list? Email us at letters@theatlantic.com with the subject line "Unthinkable," and include your full name, city, and state. Or tweet using the hashtag #TrumpUnthinkable.
John Crusius of Seattle, Washington State, writes: "Even more important, and even more unthinkable (although not attributable to this presidency), are the facts that virtually no Republican in Congress has challenged this president when any of these 50 events have occurred."
Ann Ringland, of Durham, North Carolina, writes:"In New Bern, North Carolina, as he was looking at the aftermath of the hurricane, Trump said to a homeowner with a big boat in his front yard, 'At least you got a nice boat out of the deal.'"
---