The Atlantic Daily: The Record-Shattering, Teeth-Chattering Cold Snap
Record-breaking temperatures across the Midwest. Plus the lingering effects of the shutdown, Venezuela's migrant crisis, and more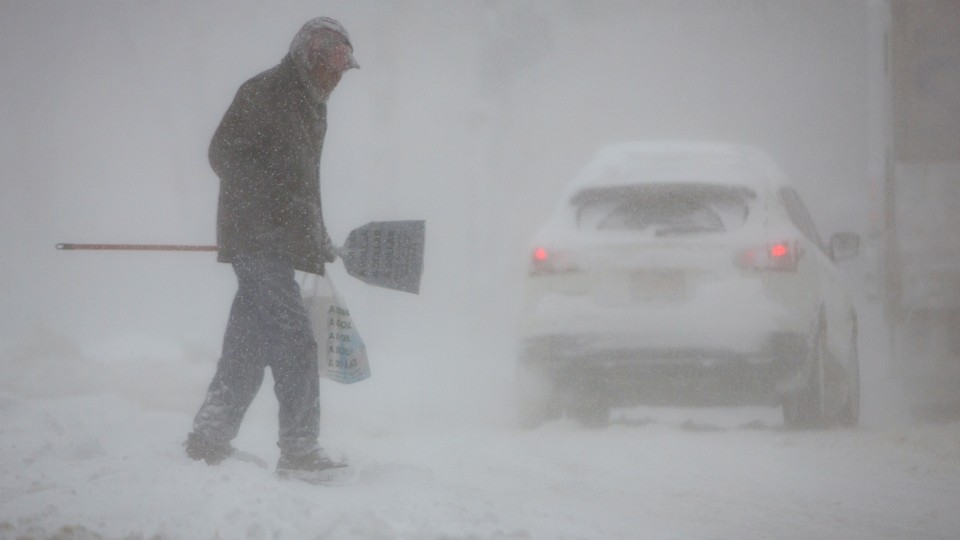 What We're Following
A deep freeze is working its way through the Midwest. Schools are closed and states of emergency have been declared as cities from Minneapolis to Indianapolis deal with subzero temperatures that plunged to 20 below. The chill is the result of a polar vortex—and because of the marvel of modern meteorology, which precisely predicted the event a week ago, cities and states were able to cobble together response plans ahead of time. Of course, this cold front shouldn't calm any anxieties about climate change: The past four years were the warmest on record.
After going 35 days without pay during the government shutdown, many federal-government workers were left lining up at food banks or filing for unemployment assistance. The longest-ever shutdown was a glaring reminder of the financial instability of working- and even middle-class Americans—and the lack of social programs to keep them afloat. It could take some households months to fully recover, especially in families with government contractors, who likely won't receive any back pay.
Venezuela's economy has been on the verge of collapse, leading to a mass exodus of millions of Venezuelans to neighboring Colombia. The country has responded to the influx of migrants in an unorthodox way: welcoming them with open arms. The continued stream of border crossers, however, is heightening the pressure on Colombia to reconsider its strategy. Venezuela's economic crisis has also incited a political power struggle, and the Trump administration has flirted with sending troops to the country to force the ouster of Nicolás Maduro. Conor Friedersdorf writes that, if Trump indeed stokes a war, it would be a reckless blunder that should have Congress thinking seriously about impeachment.
---
Evening Reads
(Tim Kopra / NASA)
If humans ever do travel to a planet beyond Earth—whether it's by choice or necessity—they'll face a major challenge apart from just getting there: food. The journey would be so long that astronauts would need to grow crops from seeds in space, but figuring out how to achieve that is easier said than done:
Outer space, as you might expect, is not kind to plants, or people, or most living things, except maybe for tardigrades, those microscopic creatures that look like little bears. If you stuck a daisy out of the International Space Station and exposed it to the vacuum of space, it would perish immediately. The water in its cells would rush out and dissipate as vapor, leaving behind a freeze-dried flower.
→ Read the rest.
(Towfiqu Photography / Getty)
Millions of struggling Americans are turning to their grandparents as a safety net. The average grandparent couple gives more than $2,000 to their grandkids each year—an amount that has risen considerably over the past decade:
But no matter how well intentioned these transactions are, the fact that many young Americans turn to the Bank of Grandma and Grandpa is evidence of their struggles and the lack of an adequate safety net to keep them afloat. Giving money to grandchildren is also one way that well-off families pass on privilege and wealth not just to the next generation, but to the one after that—a way that Americans stay rooted in the social stratum into which they were born.
→ Read the rest.
---
Look Back
Coretta Scott King, who passed away 13 years ago today, is remembered as an afterthought to her larger-than-life husband, Martin Luther King Jr. But, as The Atlantic wrote in its reflection on the latter's legacy, Scott King was more than her husband's sidekick:
Notably, she pushed him to come out publicly against U.S. involvement in Vietnam. He held back, fearing criticism, but she did not. In 1965, she addressed an anti-war rally at Madison Square Garden, in New York. Later that year, she took her husband's place when he changed his mind about addressing a peace rally in Washington, D.C. Asked whether he had educated his wife on these issues, he said, "She educated me."
Read the full piece by Jeanne Theoharis.
---