The Books Briefing: To All the Books I've Yet to Read
Your weekly guide to the best in books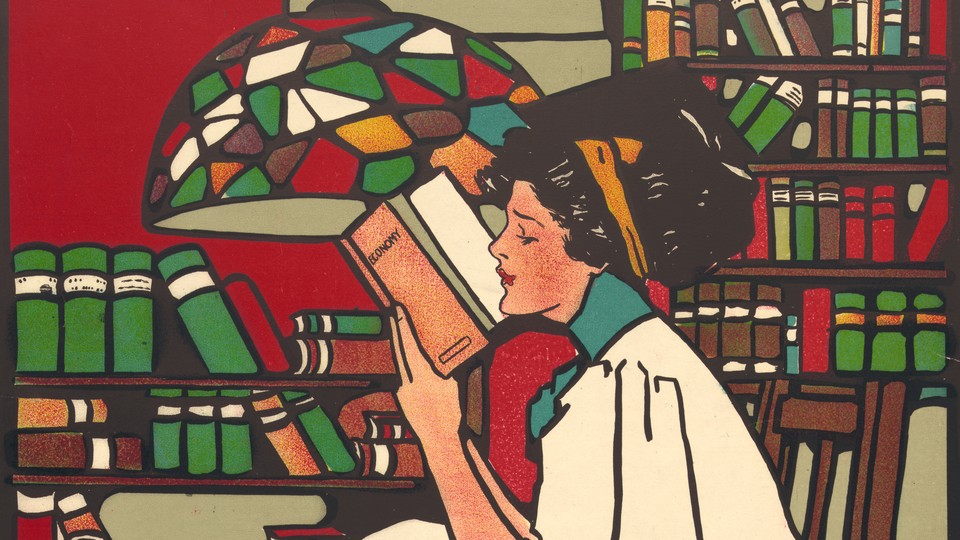 Whether your resolutions for 2019 involve tackling your most persistent demons or simply finishing all the books you've started, the new year is a good time to turn over a new leaf. John Kaag finds an antidote to both modern ennui and self-improvement platitudes in the epigraph of Friedrich Nietzsche's graduate dissertation, while Karen Swallow Prior writes that the very process of thoughtful reading can build skills for living a better life—as many of the characters in Jane Austen's novels learn.
Michelle Obama's memoir about the punishing tasks of political life also includes her heartfelt reflections on personal struggles. The Wilco front man Jeff Tweedy reckons with the implications of large- and small-scale suffering in life and music. And the novelist Scott Spencer explains how Rudyard Kipling found a way to transform grief and guilt into art.
Each week in the Books Briefing, we thread together Atlantic stories on books that share similar ideas, and ask you for recommendations of what our list left out.

Check out past issues here. Know other book lovers who might like this guide? Forward them this email.
---
What We're Reading
How to live better, according to Friedrich Nietzsche
"Nietzsche knew that if philosophy can serve as therapy, it's by delivering an electric jolt to the soul."
📚 HIKING WITH NIETZSCHE: ON BECOMING WHO YOU ARE, by John Kaag
---
A former first lady's uncommon, requisite resolve
"It's not surprising that Michelle Obama would have felt overwhelmed by the unrelenting negativity hurled at her and her daughters during her husband's campaigns and presidency. What is startling about Becoming, however, is her willingness to admit to—and detail—these moments of doubt, of fear, of anxiety."
📚 BECOMING, by Michelle Obama
---
The Wilco bandleader Jeff Tweedy says it's okay to be okay
"He's spoken out against the archetype with which he got tagged: the tortured artist. His memoir is now, on some level, a 304-page takedown of that cultural myth."
📚 LET'S GO (SO WE CAN GET BACK), by Jeff Tweedy
---
How Rudyard Kipling turned his guilt into fiction
"He was a man who glorified war without ever having fought in one—and that's where you get into the intense mix of grief and shame that Kipling surely brought to this story. "
📚 "THE GARDENER," by Rudyard Kipling
📚 RIVER UNDER THE ROAD, by Scott Spencer
---
What Jane Austen's novels teach readers about reading—and living better
"For Austen, the way a character reads is emblematic of other forms of interpretation: One's skills in comprehending written language are linked to one's ability to understand life, other people, and oneself."
📚 NORTHANGER ABBEY, by Jane Austen
📚 PERSUASION, by Jane Austen
📚 PRIDE AND PREJUDICE, by Jane Austen
📚 ON READING WELL: FINDING THE GOOD LIFE THROUGH GREAT BOOKS, by Karen Swallow Prior
---
You Recommend
Last week, we asked you to tell us about particularly memorable literary party scenes. Karen, a reader in Vancouver, British Columbia, recommends "Babette's Feast" by Isak Dinesen, in which "Babette awakens the dinner guests from their humdrum lives." Elizabeth Rambo, of North Carolina, describes a scene in Dorothy Dunnett's Checkmate, in which "Dunnett captures every ridiculous detail and disaster of the feast and entertainment, where too many people crush into an inadequate space, painted decorations are still dripping, and members of the nobility have had to lend their own serving dishes and flatware to accommodate the King's 'invitation.' Somehow everyone gets out alive!"
What stories of self-reinvention, resolve, and renewal do you think everyone should read? Tweet at us with #TheAtlanticBooksBriefing, or fill out the form here.
This week's newsletter is written by Rosa Inocencio Smith. The book she got from her Secret Santa last week is Autumn, by Ali Smith.
---