The Atlantic Daily: Mayday
No Brexit deal, and just 10 weeks left before Britain is scheduled to leave the EU. Plus suicide and campus hazing, when kids know they are trans, and more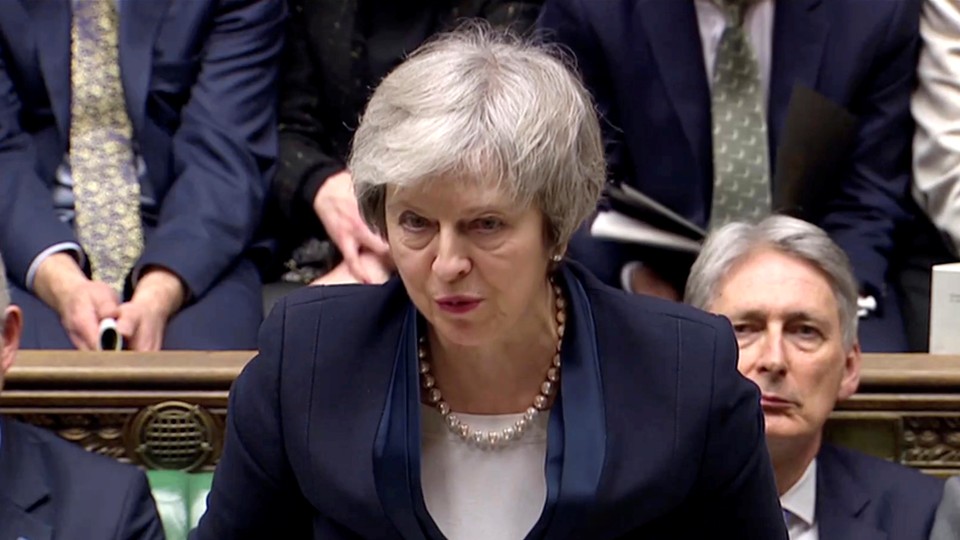 What We're Following
The political impasse over the U.S. government shutdown continues, matched now by the tumult across the Atlantic. More than two years after citizens in the United Kingdom voted in favor of Brexit, the strategy on how to actually leave the European Union is more muddled than ever. On Tuesday, the British Parliament voted down Prime Minister Theresa May's Brexit plan, just 10 weeks before the country is scheduled to officially depart from the EU. The stunning rebuke of May could signal the looming end of her tenure as the country's leader, as the opposition Labour Party is seeking a vote of no confidence that could result in a new election.
Can a sorority be held legally accountable for a student's suicide? The mother of Jordan Hankins, a Northwestern University student who took her own life in 2017, filed a complaint in federal district court this week alleging that hazing from the sorority Alpha Kappa Alpha incited the depression that ultimately led to her death. It's a unique case, because the overwhelming majority of campus hazing fatalities tend to be male, not female. Regardless, the fallout after Hankins's suicide is following a familiar pattern that echoes past incidents: First, the sorority or fraternity is suspended from campus for a time, and then bereaved parents attempt to channel their grief into action, only to realize that achieving closure through legal means is a lot harder than anticipated.
New research suggests that trans kids are confident in who they are, which provides insight into the fraught question of when kids are old enough to transition. A University of Washington psychologist studied 85 nonconforming kids ages 3 through 12 who defy gender stereotypes as measured through a series of tests that noted, for example, their preference for particular types of toys and clothes. After tracking the cohort over time, she saw that a significant number of them eventually transitioned. The finding bolsters the case that there is something distinctive about transgender children. In other words, "Children change their gender because of their identities; they don't change their identities because they change their gender."
---
Unthinkable
(Mikhail Klimentyev / AFP / Getty)
Two years into President Donald Trump's first term in office, The Atlantic looks back on the moments that have defined his presidency. "Unthinkable" is our catalog of 50 incidents, ranked—highly subjectively!—according to both their outlandishness and their importance.
At No. 4: Putin and Trump meeting, without chaperones.
Join the conversation: Which moments from the Trump presidency would you add to this list? Email us at letters@theatlantic.com with the subject line "Unthinkable," and include your full name, city, and state. Or tweet using the hashtag #TrumpUnthinkable.
---
Evening Read
Food and drinks infused with cannabidiol, or CBD, have become trendy of late, but regulators haven't kept up with the fad:
The problem is, it's not easy to know what you're actually ingesting, or if it'll actually change how you feel. At best, CBD in America exists in a confusing state of quasi-legality and yet-to-be-realized potential. Experts estimate that the market for it could balloon to $22 billion by 2022, but with cannabis and hemp laws changing rapidly across the country, the chemical is almost entirely unregulated on the consumer market, with no end-product labeling or composition standards to help shoppers understand what they're buying.

The market is rife with misinformation even when CBD is sold as a relatively simple oil or supplement. When it's squirted into a latte or baked into a cookie, CBD's uses and effects get even more opaque. The chemical's loudest advocates make health claims far beyond the current scientific evidence, and its harshest critics often dismiss the compound entirely as just another snake oil in America's long tradition of health scams. Journalists are starting to get a handle on what CBD actually does and what is actually known about it, but along with researchers and regulators, we're still playing catch-up when it comes to the people who have pushed the compound into what feels like mainstream overnight success: entrepreneurs.
---
What Do You Know … About Family?
1. Amazon founder Jeff Bezos is splitting up with his novelist wife MacKenzie Bezos—meaning they'll now be divvying up an estimated how many billion in assets?
Scroll down for the answer, or find it here.
2. A lawsuit filed recently by Felicia Hankins, the mother of Jordan Hankins, a Northwestern student who committed suicide in 2017, alleges that sorority hazing triggered Jordan's __________________ disorder.
Scroll down for the answer, or find it here.
---
Urban Developments
Our partner site CityLab explores the cities of the future and investigates the biggest ideas and issues facing city dwellers around the world. Gracie McKenzie shares their top stories:
Manual keigo, Japan's honorific speech used by store clerks, swept the country in the 1990s. But what was once an immutable aspect of Japanese customer service is now evolving, as a language debate erupts.

The rise of the rented e-scooter has also brought safety fears and injury-related lawsuits. What happens when a new mobility mode meets the American legal system?

When Detroiters were refusing city-sponsored "free trees," a researcher wanted to know why. What she found: It's not that people didn't trust the trees; they didn't trust the city.
For more updates like these from the urban world, subscribe to CityLab's Daily newsletter.
---