The Atlantic Daily: New Congress, Same Shutdown
How the 116th U.S. Congress began. Plus the significance of China's lunar probe landing, AI and Flint's water crisis, inventing a new holiday, and more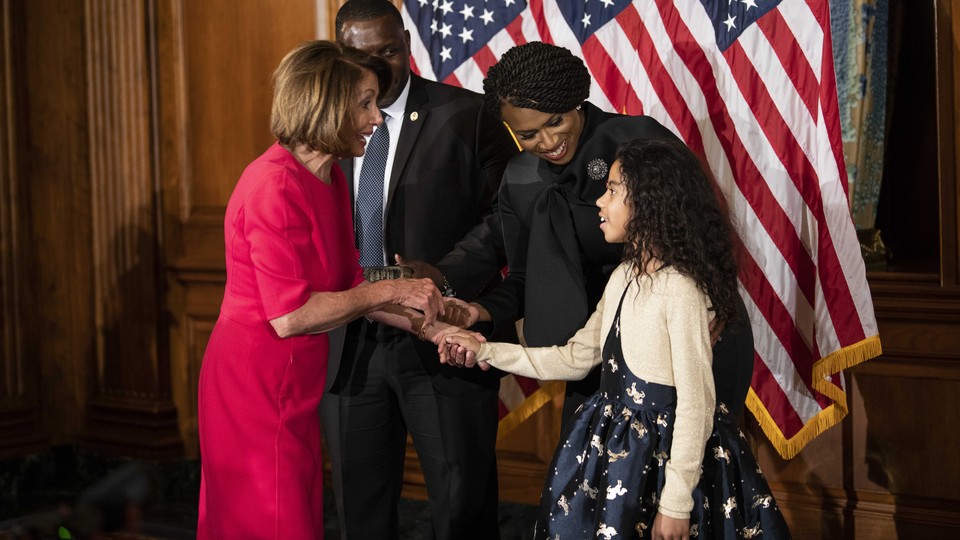 What We're Following
Still Down: New year, new U.S. Congress, new Speaker of the House, same government shutdown. In its first order of business, the House elected Nancy Pelosi as speaker, mostly along party lines (here's a less often-cited milestone: she's the first person in more than six decades to reclaim the position).
Now in the majority, House Democrats started the 116th Congress looking to pass a pair of bills aimed at re-opening the government, neither of which offer funding for President Trump's border wall. The president isn't conceding: "I've never had so much support" for his position on the wall, he said at an impromptu press conference Thursday afternoon. Is there a way to put an end to all government shutdowns, for once and for all? Annie Lowrey has a suggestion.
The Dark Far Side of the Moon: China landed a spacecraft on the far side of the moon—on its own a thrilling feat of engineering. But there's geopolitical subtext to the achievement, given that national government-supported space exploration began as a patriotism-drenched quest for national power (with a side of scientific discovery).
---
Snapshot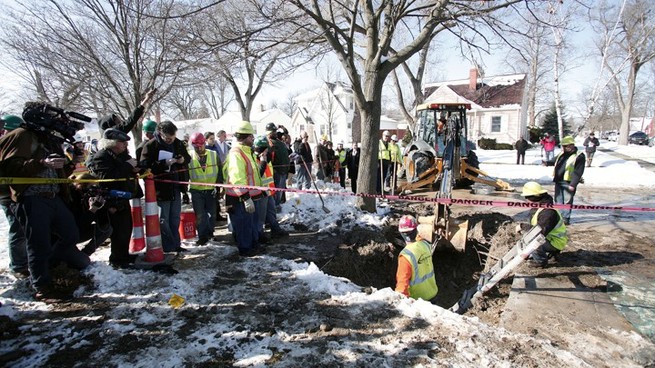 ---
Let's Invent a New Holiday
Last month, we asked readers to share some of the unique traditions their families engaged in during the year-end holiday season. The rituals you shared were often quirky and uniformly delightful. They made us think, Why concentrate all these fantastic festivities into one always-too-fleeting month?
With that: We're in search of a brand new holiday, and we want your help inventing one! National Stress-Bake Day? Turn off the Internet Day? Let us know here by January 11, and come back at the end of the month, when we'll have you vote for your favorite new holiday.
---
Evening Read
A "white-sounding" name can significantly impact how a person is treated, including in "hypothetical life-and-death situations," recent research from two psychologists found:
In one experiment, Zhao and Biernat had participants—about 850 white American citizens recruited through Amazon's Mechanical Turk platform, which researchers often use to pay subjects small sums in exchange for completing tasks—imagine the famous scenario of the "trolley problem," in which an out-of-control train is about to run over five people on the tracks; pulling a lever to divert it would save them, but kill a helpless individual on another track. The identities of the five and the one were varied—for instance, the individual was referred to as either an Asian immigrant named Xian, an Asian immigrant named Mark, or a white male named Mark.

As is typical of trolley-problem studies, a majority of subjects said they'd pull the lever, but the names of the individual played a role in the decision. The shares of participants who decided to sacrifice the white Mark and the Asian Mark were about 68 percent and 70 percent, respectively; subjects were more likely to divert the train to hit Xian, which they chose to do 78 percent of the time.
---
What Do You Know … About Global Affairs?
1. This former Boeing executive is now the acting secretary of defense, replacing his outgoing boss Jim Mattis.
Scroll down for the answer, or find it here.
2. He was sworn in this week as the president of Brazil, making moves on day one to target the rights of minority groups in the country.
Scroll down for the answer, or find it here.
3. In his first visit to American troops in an overseas combat zone, U.S. President Donald Trump arrived for an unannounced trip late last month to which country?
Scroll down for the answer, or find it here.
---
Urban Developments
Our partner site CityLab explores the cities of the future and investigates the biggest ideas and issues facing city dwellers around the world. Gracie McKenzie shares today's top stories:
For more updates like these from the urban world, subscribe to CityLab's Daily newsletter.
---