The Atlantic Daily: When America's Teachers Get Mad
At least 409,000 educators have gone on strike over the past year. Plus putting millions behind a push for 2020 Democrats to support impeachment, 2019 Oscar nominations, and more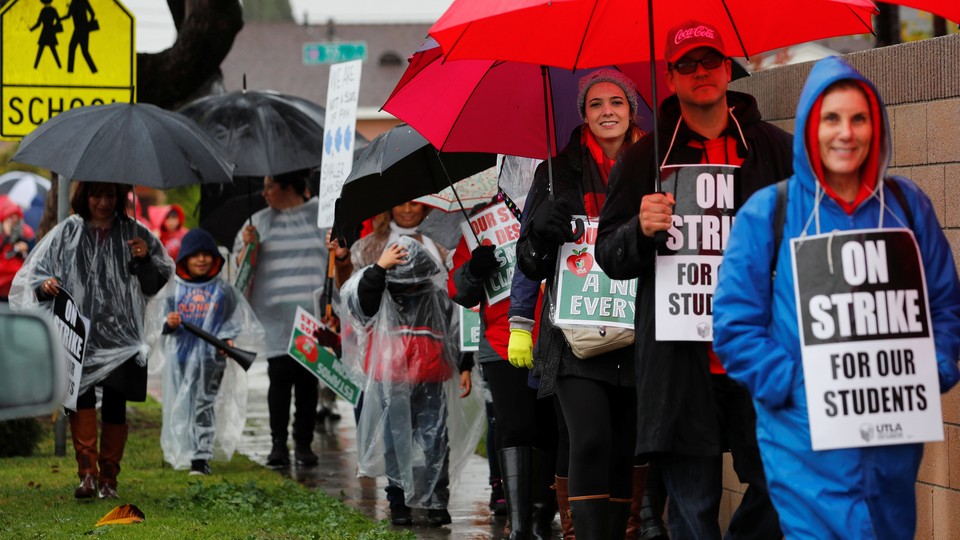 What We're Following
City and teachers' union officials in Los Angeles appear to have reached a tentative agreement to end a week-long strike, but the L.A. strike is just the latest flashpoint in an unprecedented wave of recent teacher activism. Over the past year, at least 409,000 educators have staged walkouts, nearly four times the number who did so in the major spate of strikes a half-century ago. What makes these recent strikes so stunning is that they come amid a decades-long slump in the influence of, and public support for, unions and labor activism.
The Academy Awards released its shortlist of 2019 Oscar nominees, in a year with no clear Best Picture front-runner. The 10 nominations for Roma are significant for the "firsts" that they mark: the film is the first produced by Netflix to get a Best Picture nod, and if it goes on to win the award, it would be first foreign-language film to do so. Yet even as the Academy attempts to grapple with its own relevance and blindspots, its nods this year largely ignored female filmmakers and several younger black directors. See the full list here.
Kamala Harris officially joins a crowded field of candidates vying to unseat President Donald Trump. In her campaign announcement, the California senator gestured at how she'll differentiate herself from the rest of the pack—by eschewing a singular focus and trying to cobble together a broad coalition of support. Harris and other 2020 Democratic contenders will face some pressure to support impeaching Trump, as one prominent California billionaire looks to spend tens of millions of dollars to make the topic a major campaign issue.
---
Evening Reads
(A nudibranch. Image: Little Dinosaur / Getty)
There's a whole ecosystem living at the ocean's surface, and it may be at risk—from what seems to be a well-meaning but misguided attempt to clean up plastic.
→ Read the full story here
---
(David Sacks / Getty)
Do you have violent fantasies—of hurting a boss, or a bully, or a sworn enemy? While indulging in these thoughts might feel like a cathartic process, there's research to suggest doing so really has the opposite effect.
→ Read the full story here
---
Urban Developments
Our partner site CityLab explores the cities of the future and investigates the biggest ideas and issues facing city dwellers around the world. Gracie McKenzie shares their top stories:
For more updates like these from the urban world, subscribe to CityLab's Daily newsletter.
---