The Atlantic Daily: Primary Sources
Trump announces his replacement for Jeff Sessions. Plus teaching the Civil War in the Deep South, our exclusive interview with Nikki Haley, and more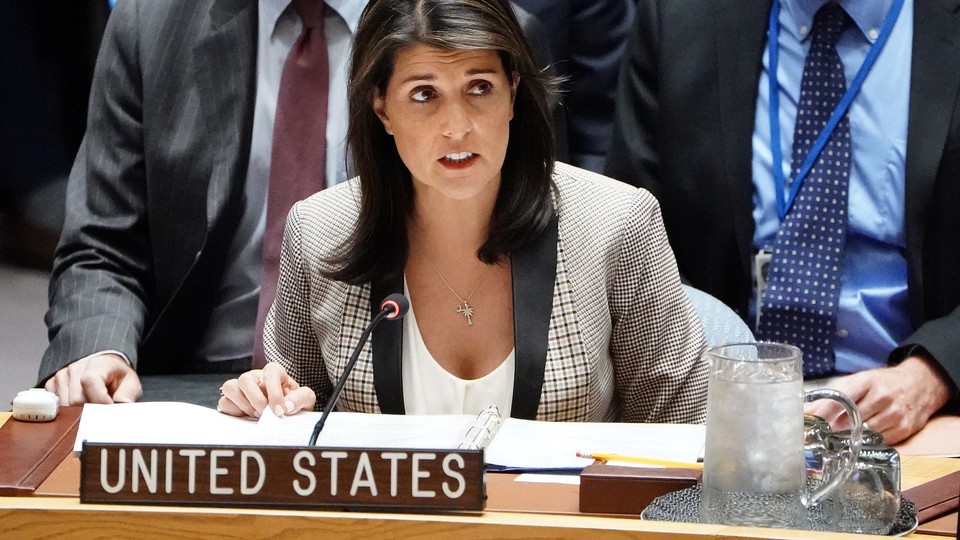 What We're Following
We're working on improving our email newsletters and your opinion is important to us. Will you help us by answering this short survey, so we can make our newsletters a better fit for you?
Climate Changed: Climate change—the consequences of which can often be of ungraspable scope—might be made more tangible through the lens of public health, and, inextricably, the question of health care: "The way I think about it is: Somebody was made sick yesterday from climate change, someone is being made sick today as we speak, and someone is going to be made sick from climate change tomorrow."
Personnel Matters: Russell Berman close-reads President Donald Trump's latest confusing early-morning tweetstorm, which was stuffed with the usual cast of nicknamed characters and charges of a 'Witch Hunt,' and topped off with a dash of conspiracy theory—ahead of more documents released by Special Counsel Robert Mueller. Meanwhile, the president announced new nominations: Heather Nauert to succeed Nikki Haley as the U.S. ambassador to the United Nations after Haley leaves at the end of the year, and the longtime Washington insider William Barr for the post of attorney general, replacing Jeff Sessions.
Celebrity Shadows: The astrophysicist Neil deGrasse Tyson, long seen as a champion of science and a celebrity in his own right, now stands accused of sexual misconduct by four different women. The follow-up that's often glossed over amid headlines about the accused: truncated, traumatized careers, writes Megan Garber.
---
Snapshot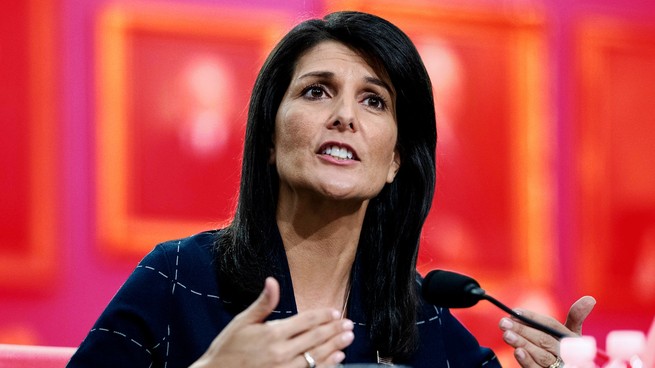 ---
We want to know what you think.
What was your favorite book of 2018, and why? Write to us at letters@theatlantic.com, or by replying to this email. We'll share some of our favorite recommendations in our Letters section next Friday.
---
Evening Read
How do teachers teach the Civil War and the following decade of Reconstruction in schools in the Deep South?
Even though the U.S. history course for juniors in Mississippi is supposed to cover the period from 1877 on, Chuck Yarborough begins each year with the Civil War and Reconstruction. Students read Mississippi's 1861 Ordinance of Secession, which, in Yarborough's view, leaves little doubt that slavery played the key role in the Civil War. "Our position is thoroughly identified with the institution of slavery—the greatest material interest of the world," the document states. "Its labor supplies the product which constitutes by far the largest and most important portions of commerce of the earth. These products are peculiar to the climate verging on the tropical regions, and by an imperious law of nature, none but the black race can bear exposure to the tropical sun. These products have become necessities of the world, and a blow at slavery is a blow at commerce and civilization."

Meanwhile, students start their research for what is known as the Tales From the Crypt project with primary sources—court and census records, diaries, family and business files, among others—using them to write a paper about an individual buried in Friendship or Sandfield Cemeteries.
---
What Do You Know … About Culture?
1. The Golden Globes divide awards into "comedy or musical" and "drama," but that division is imperfect: A Star Is Born and Bohemian Rhapsody, for instance, are both competing under which category?
Scroll down for the answer, or find it here.
2. The internet has been astir over the recent wedding of this former Bollywood star and this former boy-band member.
Scroll down for the answer, or find it here.
3. A recent Saturday Night Live clip honored George H. W. Bush in flashbacks to this longtime SNL cast member's impersonations of the late president.
Scroll down for the answer, or find it here.
---
Poem of the Week
Here is a portion of "Villanelle With a Refrain From the Wall Street Journal," by Andrew Hudgins, from our November 2009 issue:
you're rising so fast rising's almost dull,
your daily highs untested by a low.
Your twenties, thirties, forties, you're a bull,

and life, for now, is fast and overfull—
for now, you might say, chuckling, for now—
though death, of course, is unavoidable.
---