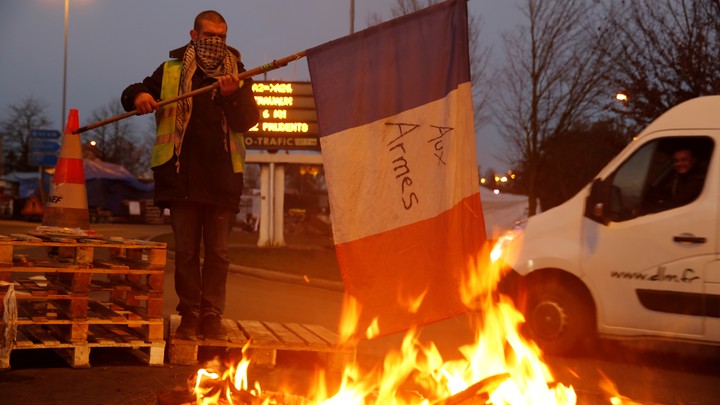 ---
Snapshot
---
Evening Read
The television-news industry is nearly incompatible with the needs of working mothers, writes the journalist Julianna Goldman:  
"There's an unease" among young women correspondents in the NBC Washington bureau who would like to become moms someday, said a producer there who asked not to be identified. "No one wants to be the test case, because it hasn't been a common concern, and people are so committed to their jobs, they're worried about being able to juggle it all." (CBS News, NBC News, ABC News, and CNN did not respond to requests for comment on this story.)

Being a TV-news correspondent is tough for anyone, but it presents structural challenges that are particularly rough on moms. For one, the industry is bound to the nature of news, which is unpredictable, 24/7, and happens everywhere. You're often racing out of town without much warning. Moms are expected to do their job like it's their only responsibility, even though they're also working the mom shift. Covering a forest fire or a mudslide is rarely compatible with being home for back-to-school night.

If you decline an assignment, you may be labeled a problem or deemed not to be a team player.
---
What Do You Know … About Family?
* Study says: Do American dads have, on average, a much stronger or much weaker preference for having sons than moms do for having daughters?
Scroll down for the answer, or find it here.
* A concrete porch decoration in the shape of this animal is a staple in homes across rural and suburban midwestern America.
Scroll down for the answer, or find it here.
Answers: much stronger / goose
---
Urban Developments
Our partner site CityLab explores the cities of the future and investigates the biggest ideas and issues facing city dwellers around the world. Gracie McKenzie shares their top stories:
After last weekend's "yellow vest" demonstrations in Paris left cars burned, shops gutted, and more than 100 people injured, the French government says it will concede to the protesters, suspending plans to raise taxes on gasoline and diesel.

The woman's restroom lounge is "a curious combination of Victorian culture, class and race divisions, retail marketing, and what men thought women needed when they ventured out in public," writes Elizabeth Yuko. More on its glamorous, sexist history.

In Brendan Bartholomew's first year and a half as a San Francisco bus driver, he's learned a few things. Even if you ride a bus every day, some of them might surprise you.
For more updates like these from the urban world, subscribe to CityLab's Daily newsletter.
---
Looking for our daily mini crossword? Try your hand at it here—the puzzle gets more difficult through the week.

Concerns, comments, questions, typos? Email Shan Wang at swang@theatlantic.com

Did you get this newsletter from a friend? Sign yourself up.
We want to hear what you think about this article. Submit a letter to the editor or write to letters@theatlantic.com.
Shan Wang
is a senior editor at
The Atlantic
, where she oversees newsletters.