The Family Weekly: The Stress of Upholding the Santa Myth
Americans' obsession with paper towels, the joys of no-gift Christmas, and the confusing request for 'space' in relationships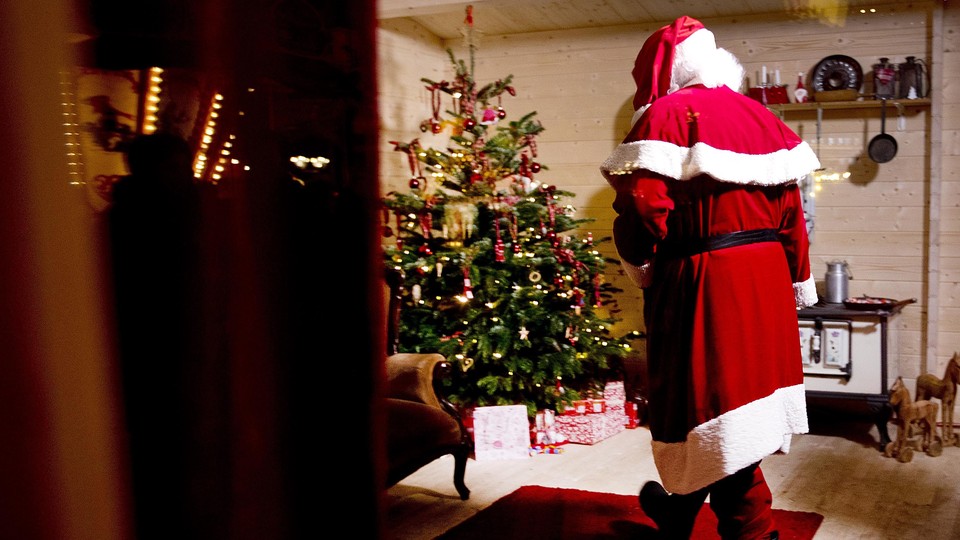 This Week in Family
Protecting a child's belief in Santa in 2018 requires a lot of effort beyond leaving behind half-eaten cookies near the fireplace—parents have started to take measures such as installing browser extensions to hide web pages that might reveal the truth. The Santa myth is a stressful tradition that might be more trouble than it's worth for parents, says the Atlantic staff writer Ashley Fetters. She explores the reasons why families try so hard to preserve their kids' belief in Santa, and why it might be time to bring the illusion to an end.
The stress of spending money on holiday presents has led a contingent of people to rethink their gift-giving traditions entirely, says the Atlantic staff writer Joe Pinsker. While lower-income families often opt out of the tradition out of necessity, wealthier people are starting to join them, choosing new customs such as focusing on the holiday's religious significance, donating to charity, or giving nonmaterial gifts like music lessons.
---
Highlights
The United States dominates the world in one peculiar metric: paper-towel consumption. The competition isn't even remotely close; Americans spend almost as much on paper towels as the rest of the  world combined, writes Joe Pinsker. A lot of this obsession has to do with Americans' high income levels—households with more money can afford more disposable cleaning supplies—but it also says a lot about their desire for convenience.
Asking for "space" in a relationship has become such a common request that it verges on cliché, but in the 1970s, it was completely novel. The idea of putting yourself first didn't come out of nowhere, writes the Atlantic senior editor Julie Beck—it's a concept that can trace its roots to the sexual revolution, the women's-rights movement, and the rising popularity of self-help books.
---
Dear Therapist
Every Monday, the psychotherapist Lori Gottlieb answers readers' questions about life's trials and tribulations, big or small, in The Atlantic's "Dear Therapist" column.
This week, a 21-year-old reader wants to know how to deal with his parents as they go through a divorce, since they have been dragging him and his brothers into the conflict. He doesn't want to be his parents' mediator, but he still wants to help somehow.
Lori's advice: Set boundaries with your parents, and enforce them firmly.
I know this is a tremendously hard conversation to have, because you may feel like you aren't offering help to someone you love. But that's not your role here. The truth is that you can't help your parents through this, and your involvement won't only compromise your relationship with one or both of them, but it will also affect your ability to set boundaries in relationships to come. In preserving your relationships with your parents, you'll also be giving yourself important practice for your future.
Send Lori your questions at dear.therapist@theatlantic.com.
---