The Atlantic Daily: Memorials
A $5.3 million building for a Confederate statue. Plus sanctions hesitations, George H. W. Bush's legacy, and more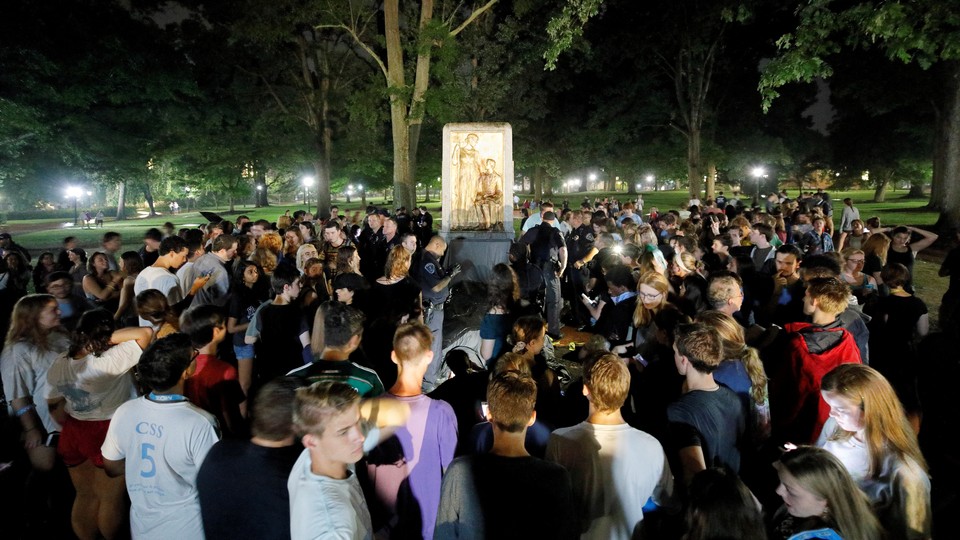 What We're Following
We're working on improving our email newsletters and your opinion is important to us. Will you help us by answering this short survey, so we can make our newsletters a better fit for you?
Sanctions Lite: It's not only the U.S.—Britain and France, for instance, have also rejected harsher measures against Saudi Arabia, such as halting arms exports. Why are countries treading delicately when it comes to criticism of the Saudi government and Crown Prince Mohammed bin Salman, who is suspected of having a hand in the killing of the journalist Jamal Khashoggi?
Confederate Monuments: Months after the toppling of the Confederate monument Silent Sam, administrators at University of North Carolina at Chapel Hill announced a new plan: to build a $5.3 million museum to house the statue. "The construction of a new facility is unlikely to please many people on either side of the conversation," reports Adam Harris. (Related reading: a history teacher on why he changed his mind about Confederate monuments. Plus: why this retired U.S. Army general threw away his prized portrait of Robert E. Lee.)
41: Former U.S. President George H. W. Bush died at home Friday night. More here on the question of how presidents are remembered after their deaths, Bush's unexpected friendships—including with the man who made him a single-term president—and an argument that Bush was the last U.S. president whose opponents still saw him as "fully legitimate."
---
Snapshot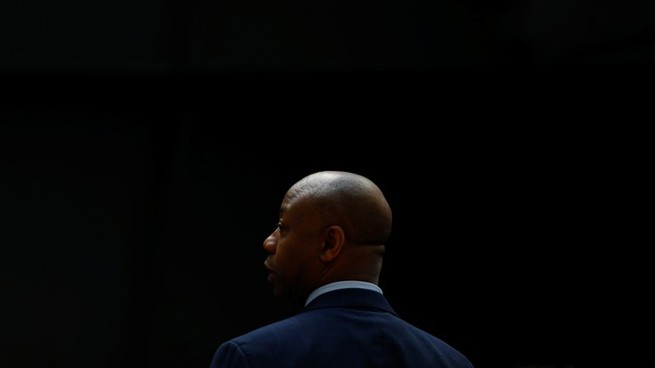 ---
Evening Read
Ed Yong parses the most damning details about the Chinese researcher He Jiankui's recent claim that he'd succeeded in creating CRISPR-edited twin girls:
1. He didn't address an unmet medical need.

He focused on a gene called CCR5, which the HIV virus uses as a doorway for infiltrating human cells. To lock the virus out, several scientists have tried extracting the immune cells of HIV patients and deactivating CCR5 using gene-editing techniques before injecting the cells back into the body. Although Nana and Lulu's father is HIV-positive, neither of the infants actually had HIV. As I've written before, He's team deactivated a perfectly normal gene in an attempt to reduce the risk of a disease that neither child had—and one that can be controlled through safe-sex education or antiviral drugs. Even if you wanted to block CCR5 specifically, there are drugs out there that could do the job, many of which have been repeatedly tested in clinical trials. The rationale for using a method as extreme and untested as gene editing doesn't hold up.
---
What Do You Know … About Education?
1. A new class-action lawsuit filed in federal court in this state makes an argument that a high-quality education is a constitutional right.
Scroll down for the answer, or find it here.
2. Controversy recently arose over the resurfacing of a prom photo in which students at a Baraboo, Wisconsin, high school mimicked this pose.
Scroll down for the answer, or find it here.
3. According to a recent study of economics Ph.D. candidates, only around this percent of the graduate students surveyed felt that their work was beneficial to society, compared with 63 percent of the entire working-age population.
Scroll down for the answer, or find it here.
---
Dear Therapist
Every week, the psychotherapist Lori Gottlieb answers readers' questions in the Dear Therapist column. This week, an anonymous reader writes about struggling with jealousy over a co-worker's promotion:
About four months ago, I was passed over for a promotion. This was a once-in-a-lifetime opportunity, a longtime goal, and when I found out, I was devastated. It precipitated a depressive episode; I have been working with my therapist since then, and have been making some progress.

While the depression itself seems to be improving, I am deeply envious of the three people who were chosen for the role. Even now, I find it difficult to be in the same room as them, let alone talk to them. I avoid contact with them as much as I can; when that is not an option, I have managed to be civil. I would hate for anyone to know I am so deeply affected by this situation. I dislike being the person so consumed by jealousy that I am unable to celebrate any of my successes or even find the will to work toward a different goal.
Read Lori's response, and write to her at dear.therapist@theatlantic.com.
---