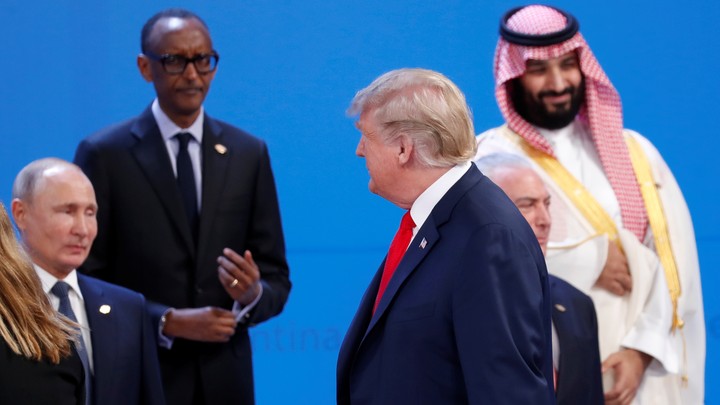 ---
Snapshot
---
We want to hear from you
Send us stories of the strangest, silliest holiday traditions that are unique to your family, and we'll commission illustrations of our favorite ones—we're interested in hearing about eccentric traditions that you and your loved ones have around any of the winter holidays. Let us know here.
---
Evening Read
Nuance and humanity are often lost amid a frenzy of juicy headlines. Jemele Hill writes gracefully about her continued working relationship with John Skipper, who as ESPN's president suspended her over a series of tweets:  
About a year ago, I sent a tweet calling President Donald Trump a white supremacist. The president's press secretary, Sarah Huckabee Sanders, promptly called for me to be fired from ESPN, where I was an anchor. John Skipper, then ESPN's president, was furious. We had an emotional meeting. I cried …

A few weeks later, Skipper suspended me for two weeks, for another set of tweets. In that instance, I suggested that Dallas Cowboys fans upset at the owner, Jerry Jones—who said he would bench any player who took a knee during the national anthem—should boycott the team's advertisers. It was too much, too soon.

The Trump drama and ensuing suspension were the first moments of tension in my 11-year working relationship with Skipper.

Tension, not anger.
---
What Do You Know … About Culture?
1. Stephen Hillenburg, the animator behind this beloved sea-dwelling cartoon character and his other undersea pals, died this week at the age of 57.
Scroll down for the answer, or find it here.
2. This Rocky spinoff, directed by Steven Caple Jr., dominated the Thanksgiving-weekend box office.
Scroll down for the answer, or find it here.
3. The latest Fantastic Beasts movie, an extension of J.K. Rowling's Harry Potter universe, features this actor playing the younger Albus Dumbledore.
Scroll down for the answer, or find it here.
Answers: SpongeBob SquarePants / Creed II / Jude Law
---
Poem of the Week
Here is a portion of "Rainbow" by John Updike, from our November 2000 issue:
when it fades, today,
it leaves behind on the bay's flat glaze
a strange confetti of itself, bright dots
of pure, rekindled color, neon-clear.
What are we seeing?
---
Looking for our daily mini crossword? Try your hand at it here—the puzzle gets more difficult through the week.

Concerns, comments, questions, typos? Email Shan Wang at swang@theatlantic.com

Did you get this newsletter from a friend? Sign yourself up.
We want to hear what you think about this article. Submit a letter to the editor or write to letters@theatlantic.com.
Shan Wang
is a senior editor at
The Atlantic
, where she oversees newsletters.