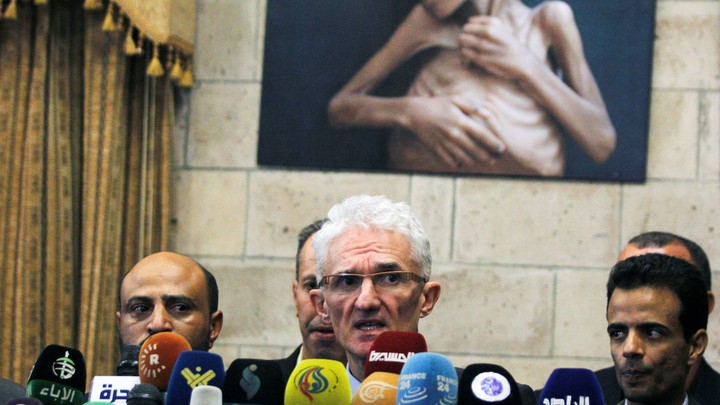 What We're Following
We're working on improving our email newsletters and your opinion is important to us. Will you help us by answering this short survey, so we can make our newsletters a better fit for you?
Life Expectancy: Americans are dying younger, according to new reports from the Centers for Disease Control and Prevention. Death rates are increasing among young people, particularly those between the ages of 25 and 34, Olga Khazan reports. The takeaway from this somber trend? "Whatever we are doing in the U.S. to improve health and survival in our population … we need to do more."
Civil War: Yemen has become home to what the United Nations has deemed the world's worst humanitarian disaster. A nearly four-year-long civil war has left tens of thousands of Yemeni people dead and half the population on the brink of famine. As the U.S. Senate considers withdrawing support for Saudi Arabia in Yemen, Yasmeen Serhan and Kathy Gilsinan take a look at the crisis in the country, and how America's involvement there became a tangle of conflicting interests.
Coen Bothers: Best known as the loyal lawyer-fixer for President Donald Trump, Michael Cohen pleaded guilty in Manhattan federal court on Thursday. To which charges, and to what end? "With Trump now at war with someone who for years was his most loyal lieutenant and fixer, Cohen's court appearance underscored the peril he presents for the president," writes Natasha Bertrand. "These are the sorts of developments that would, under normal circumstances, end a presidency," argues the former prosecutor Ken White. Meanwhile, Trump has taken a stand against Russia, declining meetings with the Russian leader Vladimir Putin. Krishnadev Calamur looks at the series of events leading to Trump's new stance.
---
Snapshot
---
The Renewal Awards
The Atlantic and Allstate are issuing a call for the 2019 Renewal Awards, a nationwide competition created to celebrate local nonprofit organizations driving positive change in America. Nominate a nonprofit here by Friday, November 30.
---
Evening Read
This year's hottest children's toy is … extra packaging? Toy makers have created a product based on a new phenomenon among kids—"unboxing" videos, featuring nothing more than people unwrapping, and then assembling, various objects:
Enter the L.O.L. Surprise! doll, a sphere the size of a bocce ball that consists of seven layers of packaging. Kids peel away the layers of crinkly plastic, which contain stickers and messages and tiny accessories that are surely crunched under many a parental foot, and find a small, nearly naked plastic doll with giant Bette Davis eyes who measures just a few inches tall.

More than 800 million L.O.L. Surprise! toys have been sold since their debut in late 2016, and they were one of the top products sold on Cyber Monday this year, according to Adobe Digital Insights. This year, even more toy makers have caught on to the trend. Parents can now buy eggs, pods of foam, cake pops, burritos, and balls of many shapes and sizes containing mystery animals and figurines. Some balls contain "boy-themed" surprises, which include insects, octopuses, skateboards, ninjas, and a packet of a powdery substance, as well as my personal favorite, Poopeez, which are rolls of toilet paper that hold mystery capsules with names including Lil' Squirt, Skid Mark, and Toot Fairy.
---
What Do You Know … About Global Affairs?
1. U.S. President Donald Trump canceled plans for a meeting with Russian President Vladimir Putin at which upcoming global forum?
Scroll down for the answer, or find it here.
2. China is under fire, including from officials in the Trump administration, for its detainment of an estimated 1 million of this ethnic minority.  
Scroll down for the answer, or find it here.
3. Two decades after this agreement formally ended a long-standing sectarian conflict between Catholics and Protestants in Northern Ireland, vigilante violence still lingers.
Scroll down for the answer, or find it here.
Answers: g20 / Uighurs / Good friday agreement
---
Urban Developments
Our partner site CityLab explores the cities of the future and investigates the biggest ideas and issues facing city dwellers around the world. Gracie McKenzie shares today's top stories:
There's a connection between the militarization at the border and urban policing in American cities like Ferguson, Chicago, and Baltimore, CityLab's Tanvi Misra writes: As one expert told her, "We're seeing the failed policies of the War on Drugs played out in an immigration context."

Berlin has vowed to build 200,000 new homes, with half reserved for affordable rents. But where can they go?

"We often treat transit like a highly technical and complicated set of choices. But what makes it good is pretty straightforward," Christof Spieler says. Here's how his new "transit atlas" grades the U.S. cities with the best and worst public-transportation systems.
For more updates like these from the urban world, subscribe to CityLab's Daily newsletter.
---
Looking for our daily mini crossword? Try your hand at it here—the puzzle gets more difficult through the week.

Concerns, comments, questions, typos? Email Shan Wang at swang@theatlantic.com

Did you get this newsletter from a friend? Sign yourself up.
We want to hear what you think about this article. Submit a letter to the editor or write to letters@theatlantic.com.
Shan Wang
is a senior editor at
The Atlantic
, where she oversees newsletters.