The Family Weekly: The Health Crisis for Black Moms in Georgia
Plus: apologizing for a sexual assault, refusing to give in to fear, and ads in kids' apps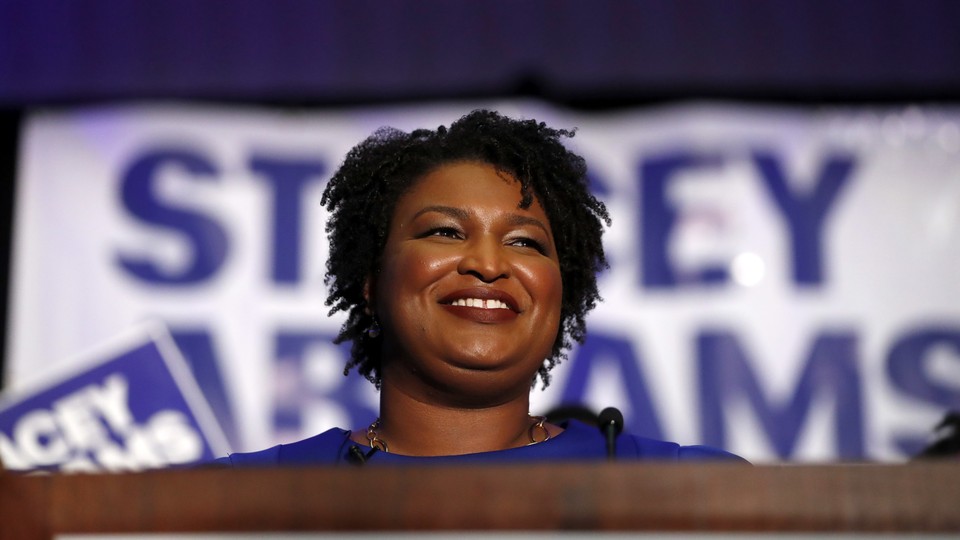 This Week in Family
Stacey Abrams, a candidate for governor in Georgia, has put forward a plan to help solve one of the most pressing problems for women, particularly black women like herself, in the state—infant and maternal mortality. The Atlantic staff writer Vann R. Newkirk II puts the crisis in context: "If black Georgia were a separate country, it would be one of the riskiest places in the entire Western Hemisphere for new mothers and for infants." He spoke with Abrams and other black women in the state about the maternal-health crisis and how to fix it.
In the aftermath of the Pittsburgh synagogue shooting, the Atlantic staff writer Emma Green talked with teachers at Jewish schools who are grappling with the realization that some people hate them and their students for their religion. But a local Jewish school isn't interested in sending a message of fear to its students, she writes, and the students are helping Jewish community members figure how to recover and move forward from the incident.
Although many kids' apps may seem innocuous, filled with bright colors and loud noises, they actually contain loads of advertising targeted at children ages 5 and under, writes the Atlantic staff writer Joe Pinsker. Researchers characterized the methods that advertisers and app makers use to influence young children as "manipulative and disruptive," with one scholar even calling the practices "abominable."
---
In Case You Missed It
Halloween came and went in a flash, but to sum up our coverage:
---
Dear Therapist
Every Monday, the psychotherapist Lori Gottlieb answers readers' questions about life's trials and tribulations, big or small, in The Atlantic's "Dear Therapist" column.
This week, however, was a little different. She answered a question that multiple men have asked in her inbox and in her own therapy practice: Is it possible to apologize for a sexual assault? And if so, how?
Lori's response is simultaneously complex and simple: Prioritize the other person's emotions and needs. Understand if they don't want to speak to you or if they express anger. Don't ask for forgiveness or absolution—you're not doing this for your benefit. Take ownership of what you've done.
Whatever you choose to do—and whatever she decides to do with it, even if she does come to a place of forgiveness—you're still going to have to find a way to come to terms with what you did. … What you need to consider is: What would help you give yourself permission to forgive yourself while also taking full responsibility for what you did? Forgiveness generally comes in stages and while you can't force it, you can encourage it along, reflecting on all this by yourself or perhaps talking it over with a therapist or trusted friend. In that process, you should remember that punishing yourself isn't productive—it doesn't change what happened, or help the person you assaulted.
Lori also responded to a question about whether or not to invite an estranged sibling to Thanksgiving dinner. Her advice: Try to have a conversation with your brother to see if you can mend ties before excluding him.
Of course, you can simply not invite him to this year's Thanksgiving and write him out of your life, which could ultimately be what happens anyway. Doing so now might provide immediate relief, but if you take a risk and open yourself up to hearing him out, you may discover the richness and healing that come from a long-overdue reconciliation.
Send Lori your questions at dear.therapist@theatlantic.com.
---