The Family Weekly: Why Everyone You Know Is Hosting a 'Friendsgiving'
Plus: when families un-adopt a child, digital reminders of a lost pregnancy, and a millennial who wants to stop living with relatives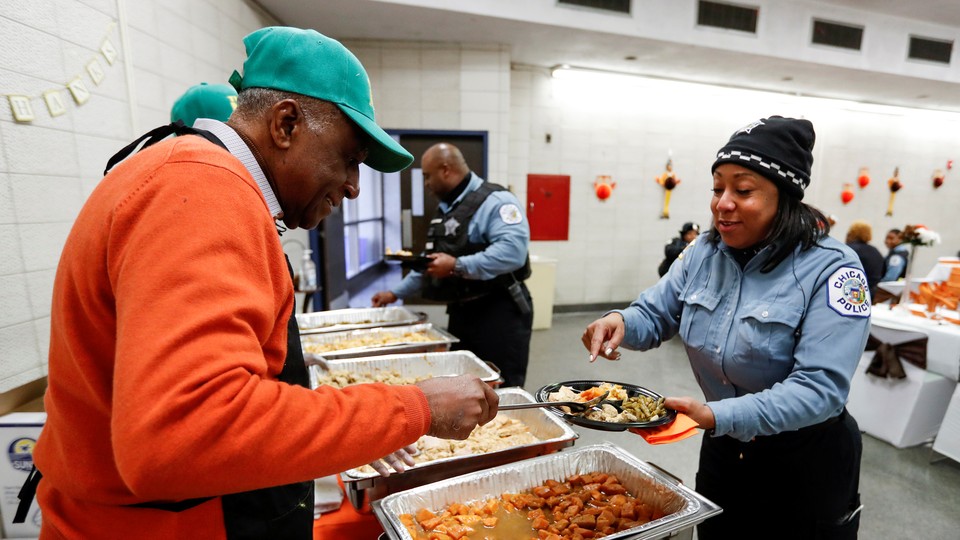 This Week in Family
For most of the history of American Thanksgiving, it's been considered a day to spend with family, but in recent years, a twist on the centuries-old holiday has exploded in popularity among young adults: "Friendsgiving." On the weekend before Thanksgiving, or perhaps the weekend prior, a group of friends convene for a potluck-style meal. As the Atlantic staff writer Ashley Fetters writes, "Friendsgiving seems to have evolved in recent years from a sort of ad hoc Thanksgiving replacement (implemented when people found themselves far away from family on the holiday but near friends) to a common in-addition-to-Thanksgiving event, one that's exclusively for friends."
Most of the time, an adoption culminates with euphoric parents who are eager to love and care for their new child. But sometimes it doesn't work out: Each year in the United States, between 1 and 5 percent of all adoptions end up being legally dissolved. These kids sometimes get put up for adoption again, writes Jenn Morson, in what are called "second-chance adoptions." And, not surprisingly, the experience of being un-adopted can be a traumatic one: "Children who end up in need of adoption a second time will have their lives deeply disrupted, and the experience could leave them with lifelong doubts about their worth."
---
Highlights
When older Americans are asked to reflect on their financial decisions, one particular feeling regularly surfaces—regret. For instance, in a recent survey, 59 percent of 60-to-79-year-olds said that they would save more if they could get a do-over. But, writes the Atlantic staff writer Joe Pinsker, such pangs of regret mask the failings of the retirement-savings system as a whole.
After a miscarriage, bereaved couples have long had to suffer with tangible souvenirs that evoke what they have lost. But in the digital age, they must also contend with an array of online ads and notifications from pregnancy apps that remind them of their once-promised future. "These reminders can be upsetting," writes Fiona Tapp, "and stopping the onslaught of notifications and ads isn't always an easy endeavor."
---
Dear Therapist
Every Monday, the psychotherapist Lori Gottlieb answers readers' questions about life's trials and tribulations, big or small, in The Atlantic's "Dear Therapist" column.
This week, Lori fields a question from a disgruntled 24-year-old reader who lives with their mother and grandparents. The living situation was tenable while the reader was in college, but now the reader is growing frustrated by having to tend to these relatives' seemingly endless requests and nit-picking.
Lori's advice: Clarify your goals, assess your options, and try to speak up respectfully.
One option is to talk to your employer—in this case, your mom—and see if there's a way to keep your job and its paycheck (the roof over your head) while also allowing for more flexibility and compatibility with the job of being 24—looking for full-time work, having time for more typical 20-something activities outside work that can help you develop important relationships, and so on. In this conversation, you might learn that your employer is "nitpicking" because she—or her parents—feels that her college-educated employee should bring in more revenue or has a bad attitude about a job she feels he's lucky to have.
Send Lori your questions at dear.therapist@theatlantic.com.
---