The Family Weekly: He Was a Cop Fighting the 'Drug War.' Then His Daughter Overdosed.
Plus: the effects of spanking kids, struggling with a decade-old secret, and the ballooning number of American bridesmaids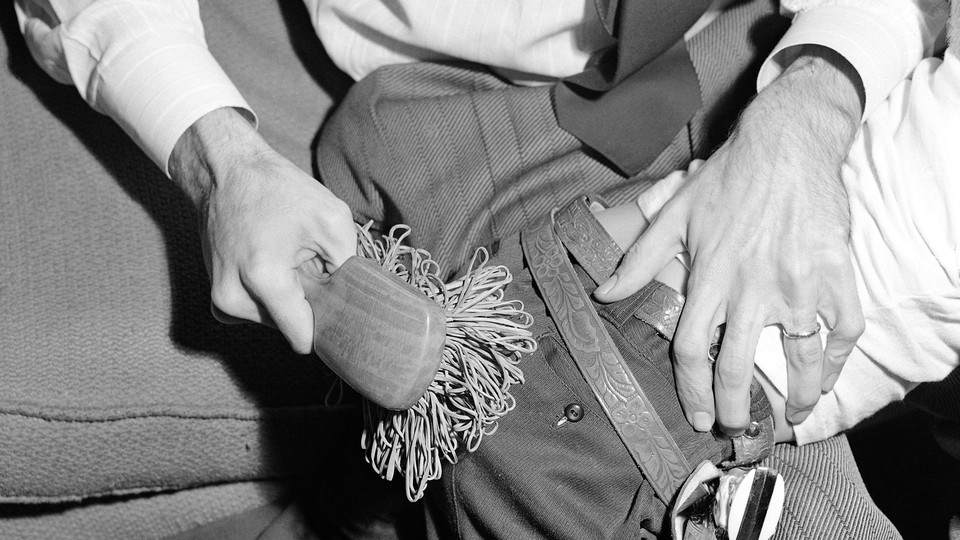 This Week in Family
When a Maryland police officer found out that his daughter had become addicted to opioids, he resorted to the same solution he had for other drug addicts: throwing her in jail. Nick Varner had spent decades incarcerating people for drug possession, though he soon learned that locking his own daughter up wouldn't cure her addiction—in fact, he now worries it may have led to her eventual death from overdose. The Atlantic video producer Jeremy Raff documented the family's story and wrote about the difficult lessons Varner learned by watching his daughter struggle with opioids.
Even though parents are less likely to spank their children today than they were in the past, researchers have estimated that 80 percent of children in the U.S. are spanked at least once by the time they reach fifth grade. Scholars and doctors are in agreement that the practice doesn't help children—in fact, the American Academy of Pediatrics announced on Monday that it is taking a strong stance against spanking. Physical punishment doesn't change kids' behavior, says the Atlantic staff writer Joe Pinsker—yet the practice still persists.
---
Highlights
In this past election cycle, the Atlantic assistant editor Saahil Desai noticed an unusual trend: a spate of Americans denouncing their political-candidate relatives in op-eds or TV ads. He spoke with people who chose to publicly condemn their kin despite the risk of tattered family ties.
Bridesmaids have long been a staple of the wedding experience, complete with matching dresses and perfectly done hair, writes the Atlantic associate editor Caroline Kitchener. However, the number of bridal party members has slowly crept up over the years; while the average American wedding today has five bridesmaids, it's common for some weddings to have upwards of 10 and sometimes as many as 50. While the role of bridesmaids is purely symbolic, Kitchener writes, it's a way of signaling to the wider world the depth and sheer number of a bride's friendships.
---
Dear Therapist
Every Monday, the psychotherapist Lori Gottlieb answers readers' questions about life's trials and tribulations, big or small, in The Atlantic's "Dear Therapist" column.
This week, a reader asked a question that's been haunting them for the past decade. The reader's father sexually abused them as a child, and now they don't know whether to tell family members who may deserve to know about the father's behavior but are also known "fabulous gossips."
Lori's advice: Prioritize your comfort, and don't forget you can choose to only share part of your story with your family. And make sure you ask yourself what you hope will happen after telling your family.
These questions are important for you to answer because sometimes people hope that by telling the people who should have protected them, these people will take their heads out of the sand and provide some form of healing. Sometimes that happens, but in case it doesn't, it helps to go into the conversation with a different orientation: that the telling is being done just for you—for the psychic relief in letting the secret out, and of not colluding in the family's fiction but instead shedding the helplessness and taking action, of which this telling might just be a first step.

Send Lori your questions at dear.therapist@theatlantic.com.
---