The Atlantic Daily: Where the Midterms Leave America
The wave was purple? Plus the Republican-majority Senate and the courts, the Democratic-majority and health care, and more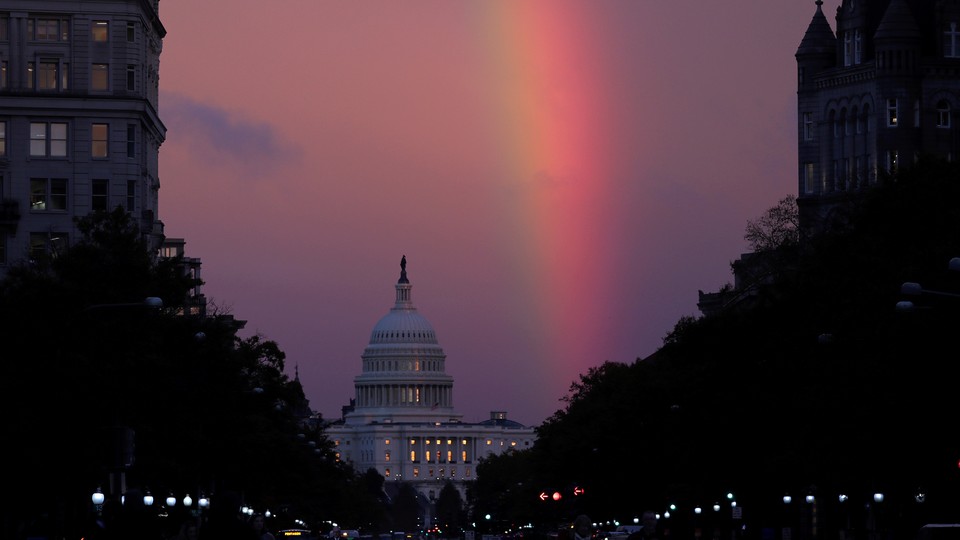 Editor's note: In a midterm election with unprecedented turnout, Democrats regained control of the House, while Republicans extended their margin in the Senate. High-profile candidates like Beto O'Rourke fell just short; others are making a new name for themselves. Voting problems abounded; some voting rights were restored. The suburban-rural-divide is sharpening. The consequences of these 2018 elections will radiate locally, nationally, and globally over the next few years. Here's what we know now.
---
What to Read
How Senate Republicans will use their new power
"Because Democrats appear to have won back the House, any further efforts to repeal the Affordable Care Act, for example, are doomed. But Republican control of the Senate, however narrow, will allow Trump to make an even deeper mark on the federal judiciary, and potentially on the Supreme Court. Republicans have confirmed dozens of appellate and district-court judges in the past two years, and they have cemented a conservative Supreme Court majority with the elevation of Justices Neil Gorsuch and Brett Kavanaugh." → Read on.
Democrats took control of the House, dealing President Donald Trump a stiff rebuke
"While it will be all but impossible for Democrats to actually turn any of their priorities into law, House control provides them a position to conduct strict oversight of the Trump administration and to further bog down an already sclerotic presidency." → Read on.
America's divide, or just the government's?
"Republicans expanded their majority in the Senate to 51 seats—though 10 million more people voted for Democrats than Republicans. Democrats took the majority in the House, picking up 25 seats; that's more tide than wave, though 3.5 million more people voted for Democrats than Republicans. The division can seem like it's right down the middle, but in a country where the Republicans have only won the popular vote once in the past 25 years of presidential elections, Tuesday's results are in part a picture of how much power is tilted away from Democrats structurally." → Read on.
Female candidates were some of the biggest winners in the 2018 midterms. But they have a long way to go before such success is just the norm
"Perhaps the biggest gain for women was in the House of Representatives, where women broke well past the 107 seats they held in the 115th Congress. But by comparison, far fewer Republican women put their names on the ballot this year, and they had far fewer victories." → Read on.
---