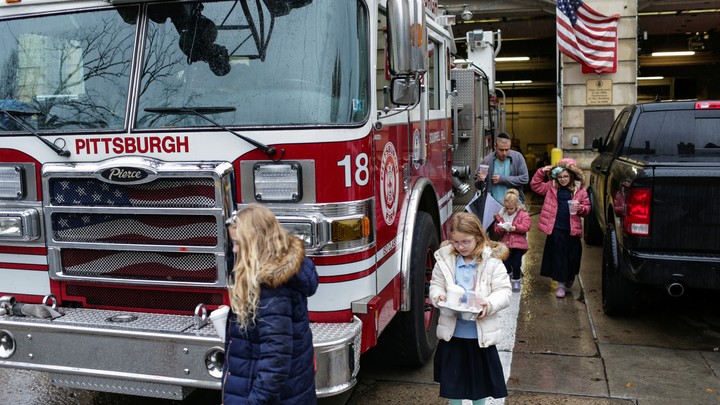 What We're Following
HQ2 II: Amazon's promise of a multibillion-dollar investment and job growth in the form of a massive second headquarters has had cities across America scrambling to court the technology giant. While recent reports point to Amazon opening "HQ2s" in New York and Virginia, these other major finalist cities haven't given up, with some approving enticing subsidies as recently as this week. Remember: Here's what can happen to some cities when Amazon comes to town.
Forecasting: Heavy rain fell across many well-populated regions of the U.S. as voters turned out for the U.S. midterm elections. Snow fell in parts of Idaho, Montana, and Wyoming. Bad weather, research suggests, can depress voter turnout, and it can even nudge voters to lean conservative in their choices. Democrats elected on rainier days even tend to act more conservatively in Congress. But a national gloom about the country has lifted slightly, according to recent polls: Over the course of 2018, people seem to be reporting more satisfaction with where the country is headed.
Leave Them Alone: Did you awww over a viral video of a baby bear clawing its way up a snowy precipice to its mother? It's not a heartwarming image of resilience, but likely a dramatic scene brought about by a drone operator scaring the bears: "It's staggering—all the misuses that people are proudly posting because they don't know any better."
Programming note: We'll be in your inbox Wednesday morning with a brief extra edition of the Daily on U.S. midterm-elections results. In the meantime, follow along at TheAtlantic.com.
---
We want to know what you think about …
Voter turnout for midterm elections is traditionally mediocre, though there are signs of a swell this year. While some eligible voters sit out because they've become disillusioned with the political process, others become excluded from the process through what is tantamount to voter suppression. If you voted—or tried to—on Tuesday, tell us about your experience by writing to letters@theatlantic.com.
---
Snapshot
---
What Do You Know … About Family?
1. Spanking as punishment for children's misbehavior is pervasive—some estimates say that up to ______ percent of kids in the U.S. have been spanked by the time they reach the fifth grade.
Scroll down for the answer, or find it here.
2. By one measure, intra-family political disagreements ended up cutting Thanksgiving dinners short by a collective 34 _______________ hours in 2016.
Scroll down for the answer, or find it here.
3. Among the most frequently downloaded apps aimed at children ages 5 and under—even those categorized as "educational" and even ones that cost money—are full of _______________.
Scroll down for the answer, or find it here.
---
Urban Developments
Our partner site CityLab explores the cities of the future and investigates the biggest ideas and issues facing city dwellers around the world. Gracie McKenzie shares their top stories:
Stockbridge, Georgia—the city used for the Wakanda scenes in Black Panther—elected a black mayor and an all-black city council last year, for the first time in its 100-year history. Today, the wealthier, whiter residents of its Eagle's Landing neighborhood are voting on whether to secede and form their own city.

A new book examines how urban Boomer homeowners, in their quest to fend off "density" in their neighborhoods, have consistently—and incredibly successfully—blocked the construction of affordable housing, leaving Millennial home buyers in the lurch.

The results of today's midterm elections will depend on turnout. Historically speaking, though, voting in midterm elections isn't something that a majority of Americans do. This map shows the sad state of U.S. voter turnout.
For more updates like these from the urban world, subscribe to CityLab's Daily newsletter.
---
Looking for our daily mini crossword? Try your hand at it here—the puzzle gets more difficult through the week.

We're always looking for ways to improve The Atlantic Daily. Concerns, comments, questions, typos? Email Shan at swang@theatlantic.com

Did you get this newsletter from a friend? Sign yourself up.
We want to hear what you think about this article. Submit a letter to the editor or write to letters@theatlantic.com.
Shan Wang
is a senior editor at
The Atlantic
, where she oversees newsletters.